For the latest legislative updates and policy briefs, NAM members rely on their weekly Cap Briefing e-mail, which provides quick information on our top priorities in a dynamic format.
A Publication of the National Association of Manufacturers

May 3, 2013

NAM Fights to Safeguard Manufacturers' Reputations Against Unwarranted Attacks. The NAM took an important step this week to protect manufacturers' reputations against erroneous reports of unsafe products. We led a coalition of business groups in filing an amicus brief April 29 opposing an appeal that seeks to prohibit the confidentiality of manufacturers that challenge attempts by the Consumer Product Safety Commission (CPSC) to post materially inaccurate reports of product safety complaints to its online database, SaferProducts.gov.
The CPSC attempted to publish on its database a report that a company claimed was materially inaccurate. The CPSC rejected the claim, and the company challenged the agency in court. A U.S. district court ruled in favor of allowing the company to proceed through the use of a pseudonym, sealed certain court documents and issued an injunction to stop the CPSC from publishing the report. Consumer groups appealed the court's decision and insisted that the company's name and the inaccurate complaint be disclosed. "As the district court recognized, if a business, by filing suit to protect its reputation, must disclose its identity and repeat the details of the inaccurate report in the public record, then it 'would sacrifice the same right it sought to safeguard by filing suit,'" the NAM and other trade associations, including members of our Council of Manufacturing Associations, said in the brief.
The NAM fought hard against the creation of the commission's database in the Consumer Product Safety Improvement Act (CPSIA) of 2008 because of the risk of harm to corporate and product reputation from false and misleading complaints. The database is different from any private website that allows users to post product reviews because it is run by the government and conveys a perception of government endorsement and a higher degree of reliability. A common consumer complaint could achieve a new level of status, damaging not only a specific product but also a company's reputation. Manufacturers' ability to police inaccuracies and even product misidentification within the database requires an effective process at the CPSC and the ability to use the courts when necessary.
Congress limited the categories of people who may file complaints in the database to protect its integrity. Among the opportunities for mischief in the database is the CPSC's expansive definition of the consumer category to include trial lawyers and advocacy groups that have no firsthand knowledge of a claim. Such actors with motives other than the safety of consumers could post false or duplicative reports or even use complaints in service of litigation.
"We have long fought to prevent the CPSC from providing inaccurate information on its website," said NAM Vice President of Litigation and Deputy General Counsel Quentin Riegel. "Having to disclose the name of a company falsely accused of product safety issues unfairly punishes the company and does nothing to further consumer safety."
Once the information is published, the damage is done. As a result, the NAM fought for and won improvements in a 2011 CPSIA reform bill that provides manufacturers with extra time to resolve a challenge to an inaccurate complaint in the database. It also provides a mechanism for the CPSC to request additional identifying information about the product, including product identifiers or serial numbers.
Neither manufacturers nor consumers benefit from misguided or false product reviews. "Complaints that are just plain wrong have no place on a government-run website that is designed to provide consumers with accurate information," Riegel said.
Without commonsense protections of manufacturers' rights to challenge inaccurate information, they would be subject to innuendo or even backlash. Manufacturers need confidentiality to ensure the integrity of the product safety database.
Details: Rosario Palmieri, (202) 637-3177 and Quentin Riegel, (202) 637-3058.

Comprehensive Immigration Reform Is on the Move. The Senate Gang of Eight's immigration reform plan - the Border Security, Economic Opportunity and Immigration Modernization Act (S. 744) - is scheduled to be marked up in the Senate Judiciary Committee on May 9. Senate leaders are determined to bring the bill to the floor in June. The NAM is actively engaged in the process and will evaluate amendments as they come up in the committee and on the Senate floor. The bipartisan legislation represents a firm step in the right direction, but there are still some details we are addressing to make sure that it is workable for manufacturers. Overall, we remain optimistic about the structure of the legislation and its prospects.
On the House side, Judiciary Committee Chairman Bob Goodlatte (R-VA) has chosen to begin consideration of immigration reform by promoting two bills - one on border security and another on agricultural workers. It is expected that legislation to address other components of immigration will be introduced when Congress returns from its one-week break next week. This strategy has long been considered the most likely for the House to pursue. The House's own "Gang of Eight" continues to look toward a broader approach with one piece of legislation, but has generally been positive about these latest developments.
Click here to urge Congress to support pro-manufacturing comprehensive immigration reform. 
Details: Joe Trauger, (202) 637-3127 and Christine Scullion, (202) 637-3133.

NAM President and CEO Jay Timmons (second from left) watches the highly automated process of marrying the engine and transmission to a BMW X3 in Spartanburg, South Carolina. The factory produces more than 1,000 vehicles each day and employs 7,000 team members to manufacture BMW's X3, X5 and X6 models for the world. About 40 suppliers in South Carolina provide parts to the automaker, supporting 21,000 additional jobs in the state.

Photo courtesy of BMW Manufacturing Co.

The Big Apple's "Big Gulp" Regulation Is Too Much to Swallow. Last year, New York City implemented a regulation that bans certain sales of large sugary drinks. Several groups sued, and a trial judge ruled that the Board of Health did not have the authority to limit or ban a legal item, and that in any event the rule was arbitrary and capricious, with uneven enforcement and loopholes. The city appealed, and the NAM and other business groups filed an amicus brief, calling the ban "a reckless, ill-conceived, top-down regulation that has little chance of meaningfully affecting the Board's purported health objectives." New York's rule has far-reaching implications and public policy consequences across the country. Rules like this are costly to businesses and consumers, balkanizing economies and disrupting finely tuned distribution chains. Instead, the Board should stick to fundamental principles of responsible regulation, including consideration of costs and benefits, and the city should consider a variety of alternatives, including voluntary public–private initiatives that more effectively and fairly improve national health and wellness. For more information, click here. 
Details: Quentin Riegel, (202) 637-3058.
NAM Challenge to Conflict Minerals Regulation Suffers Procedural Setback. On April 29, the D.C. Circuit canceled oral arguments scheduled in our challenge to the Securities and Exchange Commission (SEC) rule requiring an extensive inquiry and disclosure of information relating to a company's use of certain minerals mined in the Republic of the Congo and surrounding countries. In a similar case last week, this court held that it lacked jurisdiction over a petition to review an SEC rule, and that the case should instead first be heard by a federal district court. In light of this development, we moved to transfer our case to district court, and the court did so on May 2. Unfortunately, this will delay final resolution of the issue, as a trial judge will now have to hear the case, and it could then be appealed back to the D.C. Circuit after a decision is reached. The rule burdens manufacturers in the United States, many of which are subject to its requirements this year. Click here for more information. 
Details: Quentin Riegel, (202) 637-3058.
Timmons, Engler, Donohue: Activists Attempting to Silence Business. In a "letter to the editor" published in The Wall Street Journal on May 2, NAM President and CEO Jay Timmons and his counterparts at the Business Roundtable and U.S. Chamber of Commerce wrote: "Your editorial 'The Corporate Lobbying Proxy War' (April 28) correctly points out that the activists pushing for political disclosures from publicly held corporations are more interested in chilling speech than improving corporate governance and responsiveness to shareholders...Given the political animus driving this campaign and the potential great harm to shareholders, we believe the new SEC Chairman, Mary Jo White, should focus on the important work of protecting investors and facilitating capital formation, not getting bogged down by unpopular and nonessential pet agenda issues by certain activists." Read the full letter here.
Details: Rosario Palmieri, (202) 637-3177.
Pritzker Nomination Good for Businesses and Manufacturing. As expected, President Obama on May 2 nominated Penny Pritzker to be the secretary of commerce. In a press statement issued immediately following the announcement, NAM President and CEO Jay Timmons said: "Manufacturers welcome the nomination of Penny Pritzker to lead the Department of Commerce. Penny brings to the table an extensive business background and understands what it takes for businesses to create jobs.  She comes from a family with a rich history in manufacturing as her uncle, Bob Pritzker, served as chairman of the NAM...We are looking forward to working closely with Penny on policies to increase trade promotion, reduce tariffs, reform our export control system and improve enforcement of our trade rules." Read an article from The Hill quoting Timmons here.
Details: Jeff Ostermayer, (202) 637-3090.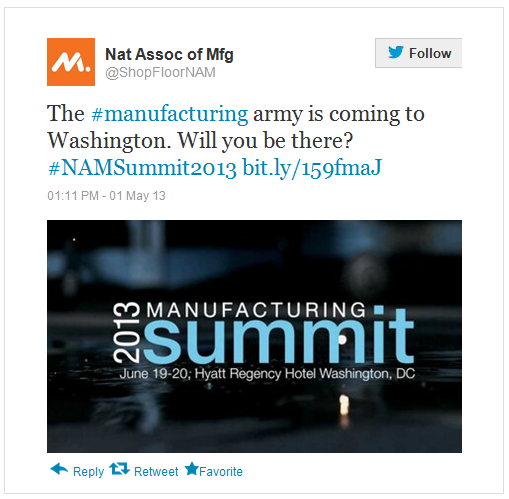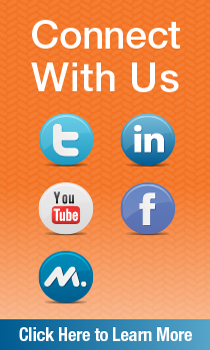 Details: Julia Smekalina, (202) 637-3083.
Slash Shipping Costs with the NAM/FedEx Freight Alliance Program. FedEx can help your business reach its goals with outstanding shipping and office support solutions. Save up to 24 percent on the most popular FedEx services and up to 70 percent on FedEx Freight shipments when you join the NAM's Freight Alliance Program. Click here to enroll or call (1-877) 831-2597. Be sure to provide passcode PAMSR6.
Details: Wendy McIntyre, (202) 637-3197.
On Wednesday, South Korean President Park Geun-hye will address a joint session of Congress.
Senate Hearings: TUESDAY - The Energy and Natural Resources Committee holds a hearing on the Responsible Helium Administration and Stewardship Act (H.R. 527). The Banking Committee considers the nomination of Fred Hochberg to serve another term as president of the Export-Import Bank. The Homeland Security and Governmental Affairs Committee reviews the immigration reform bill (S. 744). WEDNESDAY - A Judiciary subcommittee holds a hearing on "Cyber Threats: Law Enforcement and Private Sector Responses." The Health, Education, Labor and Pensions Committee votes on the nomination of Thomas Perez to serve as secretary of labor. The Small Business and Entrepreneurship Committee holds a hearing on "Strengthening the Entrepreneurial Ecosystem for Minority Women." The Commerce Committee considers "The Role of Immigrants in America's Innovation Economy." THURSDAY - The Judiciary Committee marks up the immigration reform bill.
House Hearings: TUESDAY - An Energy and Commerce subcommittee holds a hearing on "U.S. Energy Abundance: Exports and the Changing Global Energy Landscape." The Financial Services Committee marks up a number of bills dealing with derivatives. Science, Space and Technology subcommittees hold a hearing on the Keystone XL pipeline. A Foreign Affairs subcommittee holds a hearing on exports to Africa. WEDNESDAY - The Natural Resources Committee examines fracking regulation. An Appropriations subcommittee reviews the Environmental Protection Agency's budget. THURSDAY - An Oversight and Government Reform subcommittee considers "Federal Government Approaches to Issuing Biometric IDs."
Joint Committees: WEDNESDAY - The Joint Economic Committee holds a hearing on "Immigration and Its Contribution to Our Economic Strength."
Economic Reports: The monthly consumer credit report comes out on Tuesday. Thursday's reports include weekly jobless claims and wholesale trade.
Details: Larry Scholer, (202) 637-3082.
Register for the NAM's Manufacturing Summit! The NAM's annual Manufacturing Summit will be held June 19–20 in Washington, D.C. Join your fellow manufacturers as we meet with members of Congress and demonstrate the vital role of manufacturing to our nation's economy. This year's annual fly-in event will focus on four key policy issues impacting manufacturing competitiveness: tax reform, energy, comprehensive immigration reform and infrastructure. Click here to watch our 2013 Manufacturing Summit video and here to register.
Details: Tiffany Adams, (202) 637-3118.
---
Questions or comments?
Contact Senior Director, Executive Communications Laura Brown Narvaiz at lnarvaiz@nam.org.
President and CEO: Jay Timmons
Senior Vice President, Policy and Government Relations: Aric Newhouse
Senior Vice President, Communications: Erin Streeter

Copyright © 2013 National Association of Manufacturers