For the latest legislative updates and policy briefs, NAM members rely on their weekly Cap Briefing e-mail, which provides quick information on our top priorities in a dynamic format.
A Publication of the National Association of Manufacturers

September 12, 2014

Federal Regulations Cost More Than $2 Trillion Annually. Federal regulations cost the U.S. economy more than $2 trillion annually, equivalent to more than 12 percent of GDP, according to a new study commissioned by the NAM.
The study, conducted by economists Nicole V. and W. Mark Crain, finds that manufacturers bear a disproportionate share of the burden. The average manufacturing firm spends $19,564 per employee per year to comply with federal regulations, more than double the per-employee rate of $9,991 for all firms. For manufacturers with fewer than 50 employees, the per-employee, per-year cost rises to $34,671, with nearly 59 percent of those costs coming from environmental rulemaking.
"With growing regulatory compliance burdens, policymakers should be alarmed that our nation's smallest manufacturers are being put at a competitive disadvantage within the global economy," said NAM President and CEO Jay Timmons in the NAM news release. "Now is the time to return clear-eyed economic analysis to the policy process and ease the burden on job creators across the country."
Numerous news outlets reported on the study, including The Hill, Reuters, The Daily Caller and the Pittsburgh Post-Gazette. Click here to watch Timmons' interview on CNBC and here to read NAM Chief Economist Chad Moutray's op-ed on FoxNews.com.
The study includes a survey of manufacturers on the costs they incur in complying with regulations and provides validation for the magnitude of both the overall cost estimate and the costs incurred by manufacturers of varying firm size. Manufacturers continue to cite regulatory uncertainty as a top concern.
When asked about how they might better use the resources devoted to regulatory compliance, 63 percent suggested that they would reallocate dollars back into their businesses with more investment, and 22 percent specifically indicated that funds would be used for worker initiatives, such as creating or preserving jobs and expanding employee training, wages and benefits.
The newly released NAM study builds on previous studies conducted by the Crains for the U.S. Small Business Administration's Office of Advocacy. An updated estimate for the total cost of federal regulations helps policymakers understand the impact of federal rules on the economy and how the regulatory burden continues to expand. The study provides a clear rationale for why it is important for agencies to consider the cumulative effects of their rules and the impact on manufacturers.
"These costs don't even include the more significant regulations heading our way, such as a new ozone standard from the Environmental Protection Agency that would be the most expensive regulation in U.S. history," said Timmons. "These and other regulations mean an even larger burden on our country's small manufacturers."

For more information, including the full study and the executive summary, click here. Join the Twitter conversation #RealCostofRegs.
Details: Rosario Palmieri, (202) 637-3177 and Chad Moutray, (202) 637-3148.

Ex-Im Reauthorization Tied to Spending Bill. The House introduced a continuing resolution on September 9 that would fund the government through December 11 and renew the U.S. Export-Import (Ex-Im) Bank's charter through June 30. A vote on the continuing resolution is expected next week, with possible modifications to the bill.
The NAM and its members have pushed hard to secure a multiyear reauthorization of the bank, as reported by Bloomberg News and other news sources. Several NAM members who use the bank met with reporters at the NAM on September 9 and then headed to Capitol Hill to advocate a long-term extension of the bank's charter before it expires on September 30. The Los Angeles Times and Pittsburgh Post-Gazette were among the media outlets that featured the NAM members.
"I don't think it's good for anybody to have this fight all over again in a few months. But what we can't let happen is to let the charter expire," NAM President and CEO Jay Timmons told The Dallas Morning News. Click here for Timmons' commentary, "Washington Games Threaten Texas Manufacturing," in the Houston Business Journal and here for his op-ed in The Washington Times.
As reported by Politico (subscription required), 10 other association CEOs joined Timmons on September 10 in calling on Congress to pass a long-term reauthorization of the Ex-Im Bank, and the NAM will continue to make reauthorization a top priority. The Exporters for Ex-Im coalition, formed by the NAM and U.S. Chamber of Commerce, generated more than 63,000 letters to Congress over the summer.
Click here to tell Congress to act now on Ex-Im reauthorization.
Details: Lauren Airey, (202) 637-3141.


House Passes Water Regulatory Overreach Bill. The House passed H.R. 5078, the Waters of the United States Regulatory Overreach Protection Act, by a vote of 262–152 on September 9. Prior to the vote, the NAM sent a Key Vote letter to all House offices urging support for the bill.
The Environmental Protection Agency (EPA) and Army Corps of Engineers (Corps) proposed a new rule to redefine the term "waters of the United States," and with it, the agencies' jurisdiction over waters they can regulate. The rule extends federal jurisdiction well beyond traditional navigable waters to tributaries, adjacent waters (such as ponds) and vaguely defined "other waters."
The NAM opposes overly broad interpretations of the term "waters of the United States" and believes the term should mean waters that are navigable in fact or that have a relatively permanent navigable surface connection to water. The proposed rule fails this test, exposing many new facilities and projects to federal permitting, triggering new upfront costs, project delays and threats of litigation.
H.R. 5078 requires the EPA and the Corps to revisit the proposed rule with direct consultation with state and local officials to determine which bodies of water should be covered under the Clean Water Act. By doing so, the bill provides manufacturers with the opportunity to work with their local officials in addition to the federal agencies to craft the best possible regulation that protects our nation's waters without creating undue regulatory burdens.
Details: Chip Yost, (202) 637-3175.

NAM Chief Economist Testifies on the Hill. NAM Chief Economist Chad Moutray testified before the Small Business Subcommittee on Contracting and Workforce on September 11. The hearing, titled "The Decline in Business Formation: Implications for Entrepreneurship and the Economy," focused on why start-up rates in manufacturing and other businesses continue to fall. Moutray discussed possible reasons, including slower economic growth, economic and political uncertainty, perceptions about the overall business climate and rising health insurance costs. He also testified that the best way to increase business formation is to have a growing economy. Click here for the NAM's Growth Agenda.
Details: Chad Moutray, (202) 637-3148.
Survey: Manufacturers Optimistic but Frustrated by Washington. The latest NAM/IndustryWeek Survey of Manufacturers shows manufacturers continue to face significant challenges due to policies from Washington, including a broken tax code and energy regulations, and remain extremely frustrated as a result. While manufacturers continue to be mostly upbeat, their optimism can be tied to confidence in their own workforce and ability to grow their business in the face of increasing regulatory burdens and rising health care costs.
Those rising health care costs maintained its ranking as the top business challenge for manufacturers in the United States. This issue has ranked the highest in terms of primary challenges all year.

Key survey findings include the following:
More than 77 percent of manufacturers identified rising health care and insurance costs as their most important challenge.
More than 85 percent of respondents said they believe their health care costs will increase by at least 5 percent—a harmful reality, particularly for small businesses.
More than half said they would be forced to increase health care copays and deductibles (55.8 percent) and/or increase the share of premiums paid by employees (54.4 percent).


Due to increased labor regulations, roughly one-quarter of respondents said they would be less likely to hire in the coming 12 months, with essentially the same percentage noting that they would be less likely to bid on federal contracts.
The survey was conducted among the NAM's membership of small, medium-sized and large manufacturers. Click here to watch IndustryWeek's interview with Moutray and here for our news release.
Details: Chad Moutray, (202) 637-3148.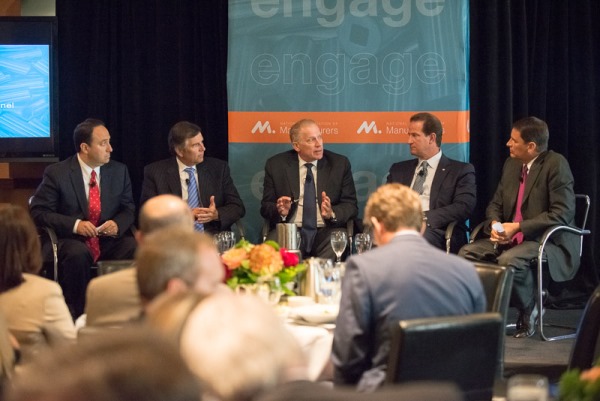 NAM President and CEO Jay Timmons joined several NAM board members in Houston earlier this week for our nationwide Leadership Engagement Series to elevate top manufacturing priorities. Click here for our Shopfloor blog post on the forum.

Left to Right: Marlin Steel Wire Products LLC President and Owner Drew Greenblatt; Emerson Chairman and CEO David Farr; BP America, Inc. Chairman and President John Mingé; Fluor Corporation Chairman and CEO David Seaton; and Timmons.
Photo by David Bohrer/National Association of Manufacturers
Help Make Manufacturing Day a Success—Register Your Event. The NAM will once again join manufacturers from across the United States, Puerto Rico and Canada to celebrate the third-annual Manufacturing Day on October 3. This coordinated effort is aimed at improving public perceptions about manufacturing and its rewarding career opportunities.
Manufacturers are opening their doors to host plant tours, career workshops and other activities that engage their community. By working together, manufacturers can address skilled labor shortages, connect with future generations and take charge of manufacturing's public image. Please register your event today.
For more information on Manufacturing Day and how to host or attend an event, click here. Join the Twitter conversation #MFGDay14.
Details: Jeanine Arnett, (202) 637-3121.
Manufacturers Weigh in on Indian Prime Minister's First 100 Days. NAM Vice President of International Economic Affairs Linda Dempsey issued a press statement on September 9 assessing Indian Prime Minister Narendra Modi's first 100 days in office. Business Standard and other Indian news outlets picked up her comments. Along with its partners in the Alliance for Fair Trade with India, the NAM is urging the Indian government to eliminate discriminatory barriers that are harming U.S. manufacturing and jobs.
Details: Chris Moore, (202) 637-3142.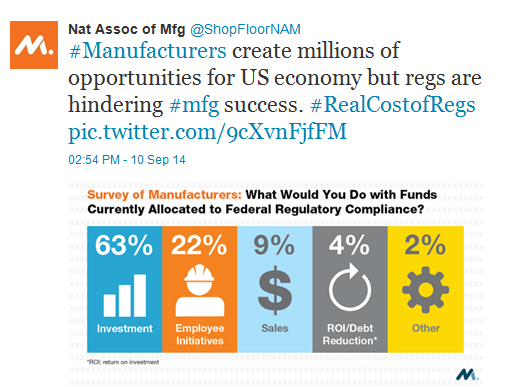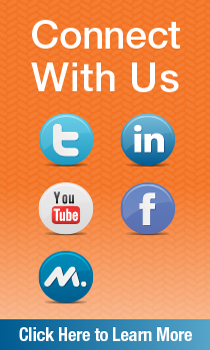 Details: Martha Sprague, (202) 637-3083.
Register for NAM Webcast on Key Labor, Health Care and Workforce Issues. The NAM Human Resources Policy team will lead a webinar on September 18 at 3:00 p.m. EDT on critical human resources issues affecting manufacturers, including updates on the Affordable Care Act, proposals before the National Labor Relations Board and the Occupational Safety and Health Administration, skilled worker shortages, workforce training and more. For more information and to register, click here.
Details: Wendy McIntyre, (202) 637-3197.
NAM D.A.T.A. Center Event Coming to San Francisco in September. Manufacturing technology leaders from Verizon Enterprise Solutions, Intel Corporation, Trimble and Teradata will be the featured speakers for a luncheon panel discussion, titled "The Intersection of Manufacturing and Technology: How It Impacts Silicon Valley," in San Francisco on September 23. The event is sponsored by the NAM, Verizon, the California Manufacturers & Technology Association and the Silicon Valley Leadership Group. For more information and to register, click here.
Details: Brian Raymond, (202) 637-3072.
Senate Hearings: WEDNESDAY—The Judiciary Committee holds a hearing on "Why Net Neutrality Matters: Protecting Consumers and Competition Through Meaningful Open Internet Rules." The Health, Education, Labor and Pensions Committee considers the nomination of Sharon Block to serve as a member of the National Labor Relations Board.
House Hearings: WEDNESDAY—An Energy and Commerce subcommittee holds a hearing on H.R. 4526, the 21st Century Energy Workforce Development Jobs Initiative Act of 2014. The Committee on Science, Space and Technology discusses "The Administration's Climate Plan: Failure by Design." The Ways and Means Committee holds a hearing on private employer-defined benefit pension plans. An Energy and Commerce subcommittee holds a hearing on "Cross-Border Data Flows: Could Foreign Protectionism Hurt U.S. Jobs?"
Economic Reports: Monday's reports include industrial production numbers and the New York Fed Empire State Manufacturing Survey. Producer price data are due out Tuesday. Wednesday's releases include data on consumer prices and the NAHB Housing Market Index. Housing starts and permits data are slated for a Thursday release as well as the Philadelphia Fed Manufacturing Survey. The Conference Board's Leading Economic Indicators round out the week.
Details: Mahta Mahdavi, (202) 637-3176 and Chad Moutray, (202) 637-3148.
---
Questions or comments?
Contact Senior Director, Executive Communications Laura Brown Narvaiz at lnarvaiz@nam.org.
President and CEO: Jay Timmons
Senior Vice President, Policy and Government Relations: Aric Newhouse
Senior Vice President, Communications: Erin Streeter

Copyright © 2014 National Association of Manufacturers