For the latest legislative updates and policy briefs, NAM members rely on their weekly Cap Briefing e-mail, which provides quick information on our top priorities in a dynamic format.
A Publication of the National Association of Manufacturers

April 11, 2014
Capital Briefing will take a break next week during the congressional recess and resume publication on April 25.

Act Now to Help Ensure Ex-Im Bank Reauthorization. Manufacturers and members of Congress spoke out this week in Washington about the need for a timely reauthorization of the U.S. Export-Import (Ex-Im) Bank, highlighting the crucial role it plays in supporting and creating U.S. jobs.
The Ex-Im Bank's authorization is set to expire in September, and a lapse in authorization would threaten the competitiveness of manufacturers in the United States.
Manufacturers including FirmGreen and Boeing participated in a panel on April 8 hosted by House Financial Services Committee Ranking Member Maxine Waters (D-CA) to highlight the critical importance of reauthorizing the Ex-Im Bank. FirmGreen CEO Steve Wilburn has used the Ex-Im Bank to support exports of his company's proprietary biogas cleaning equipment for projects in Brazil.
The panel also featured Ex-Im Bank Chairman and President Fred Hochberg; International Association of Machinists and Aerospace Workers Chief of Staff Owen Herrnstadt; and House Democratic Whip Steny Hoyer (D-MD). Rep. Hoyer also raised the importance of reauthorizing Ex-Im this year during a press conference with House Democrats on April 9.

As the official export credit agency of the United States, the Ex-Im Bank assists in financing U.S. exports from thousands of American companies and bolsters our global competitiveness. In fact, nearly 90 percent of the Ex-Im Bank's transactions directly support U.S. small business.
The NAM has been very active on Capitol Hill, meeting with dozens of members of Congress and their staff over the past few weeks. However, your stories matter most. Members of Congress need to hear from you about the Ex-Im Bank's positive impact on manufacturing competitiveness. Click here to tell policymakers how the Ex-Im Bank has helped boost exports or support jobs within your company or in your region. These testimonials are invaluable when communicating with lawmakers about how the Ex-Im Bank can help your business.

Two years ago, efforts to reauthorize the Ex-Im Bank faced significant opposition. The 2012 reauthorization passed the House only after months of intense efforts. The NAM's work to reauthorize the Ex-Im Bank was noted by The Hill newspaper as one of the biggest lobbying victories of 2012. This year, the reauthorization process could be an even greater challenge.
Click here for our Shopfloor blog post with more information about this week's Ex-Im activities and here for our cover story, "Ex-Im Fuels Lone Star Exports," in the March issue of Member Focus, our monthly digital magazine. Hochberg spoke with Member Focus last year about Ex-Im's efforts to help businesses of all sizes.
Details: Lauren Airey, (202) 637-3141.

Timmons Addresses World's Largest Manufacturing Trade Show. As the capstone of his European trip, NAM President and CEO Jay Timmons spoke at the Hannover Messe trade fair in Hannover, Germany, on April 7 on the importance of innovation and trade to the growth and success of manufacturing. Hannover Messe is the world's largest industrial trade fair and showcases the breakthrough technologies and manufacturing of many NAM member companies.
Timmons also joined a panel discussion on advanced technology, highlighting the factors important in growing machine-to-machine and other connected manufacturing technologies. During his stops in Brussels, Berlin and Hannover, he emphasized the importance of strong outcomes in the Transatlantic Trade and Investment Partnership (T-TIP) on a range of issues from regulatory cooperation and market access to intellectual property, investment and cross-border data flows.
Politico Morning Trade (subscription required) reported that Timmons' Hannover Messe remarks emphasized the importance of protecting intellectual property and trade secrets in a transatlantic trade deal and featured the following quote from Timmons: "Europe and the United States are both considering ways to strengthen the protection and enforcement of trade secrets in domestic law. We must champion that work and ensure the results are reflected in an ambitious and comprehensive transatlantic trade agreement."
While recognizing the many challenges ahead, Timmons explained in his April 7 op-ed in Forbes that "it's the enormous potential of a well-structured and sound T-TIP that makes it worth the challenges and why negotiators must remain diligent throughout the process."
Another key component of Timmons' trip was meeting with the NAM's counterpart organizations, such as Business Europe and BDI, to expand partnerships and develop coordinated efforts to advance our common commercial goals in the T-TIP and beyond.
NAM member companies and associations can participate in these efforts by sharing stories of either your current success on trade with the European Union or ways in which your manufacturing production can increase if the T-TIP is successfully concluded. Please share your story with NAM Vice President of International Economic Affairs Linda Dempsey below.
Details: Linda Dempsey, (202) 637-3144.


Manufacturers Push Back as Labor Issues Heat Up. The Senate this week rejected, by a vote of 53–44, proceeding to the Paycheck Fairness Act, which would limit employer justifications for pay differences and lift the cap on damages on lawsuits related to wages. The NAM key voted against this legislation, which would allow for uncapped damages, invite more frivolous class-action suits against manufacturers and substantially restrict employers' ability to negotiate and base pay decisions on legitimate factors, such as professional experience, education, training, employer need, local labor market rates, hazard pay, shift differentials and the profitability of the organization.
In relation to the Paycheck Fairness Act, President Obama announced an executive order and a presidential memorandum that would prohibit federal contractors from retaliating against employees who discuss their pay with one another and would require employers with federal contracts to disclose wage information to the government based on gender and race. The memorandum goes further in pushing federal agencies to target companies that might demonstrate pay differentials in their data.
The National Labor Relations Board (NLRB) continued its movement toward adopting its proposed "ambush election" regulation by holding a public hearing. The proposal would shorten significantly the time frame for a union organization election to take place and make other unnecessary changes.
The NAM presented at the hearing, focusing on the key points of our comments filed on April 7. We noted that the "ambush election" rule would radically impair the right and ability of employees to make an informed choice regarding their right to join a union and would deny employers' rights to communicate vital information to their employees regarding unionization. The NAM has led efforts to push back against the NLRB and will continue to do so.
Details: Joe Trauger, (202) 637-3127 and Amanda Wood, (202) 637-3128.

NAM Member Cites Benefits of LNG Exports at House Hearing. Chart Industries Vice President, General Counsel and Secretary Matt Klaben testified on behalf of Chart and the NAM on April 9 before the House Ways and Means Subcommittee on Trade at a hearing, titled "Trade Implications of U.S. Energy Policy and the Export of Liquefied Natural Gas (LNG)." Chart is a leading independent global manufacturer of equipment for a wide variety of cryogenic and gas processing applications. Chart's equipment is used in the production, storage, distribution and end-use of atmospheric and industrial gases as well as natural gas itself.
"Chart's participation in the LNG value chain has put us in a position to create many good-paying jobs in communities across the U.S.," Klaben testified. "In recent years, we have invested tens of millions of dollars to expand our facilities in various American communities to be prepared for these opportunities."
Like the NAM, Chart believes principles of free trade and open markets should apply to the export of energy, including LNG. Klaben's testimony addressed the potential opportunities that exist for companies like Chart and its employees in communities across the United States.
Click here for coverage of Klaben's testimony by the Houston Chronicle's Fuelfix blog.
Details: Ross Eisenberg, (202) 637-3173 and Chip Yost, (202) 637-3175.
NAM Highlights Shortcomings of the EPA's Rulemakings. The NAM filed comments this week with the Environmental Protection Agency (EPA) in response to the agency's review of methodologies for modelling the costs and benefits of major air regulations. The NAM and others have long maintained that the EPA's economic analyses of its regulations fail to capture adequately the full costs to the industry and the potential negative impacts to the economy. The NAM's comments highlight some of the shortcomings in the EPA's past analyses of its rulemakings and suggest that modelling the whole economy, rather than only subsections of it, may paint a more accurate picture of the impacts of regulations. Attached with our comments was a 2012 study that highlighted just how different the EPA's cost estimates were for its regulations compared to that of independent studies of the same regulations.
Details: Greg Bertelsen, (202) 637-3174.

NAM Member Testifies on Need for a Permanent R&D Credit. During a hearing this week, House Ways and Means Committee Chairman Dave Camp (R-MI) signaled his intention to make permanent certain tax policy provisions typically found in the expired tax "extenders" package. NAM member and Brunswick Corporation Vice President of Tax Judith Zelisko urged members of the House tax-writing committee to reinstate the R&D tax credit and to make the incentive permanent.
Brunswick, a manufacturer of recreation products including marine engines and boats, utilizes the R&D credit in the design and technological development for its 14 boat brands and Mercury Marine engines, helping the company innovate and compete successfully in the global marketplace. In her testimony, Zelisko said that Brunswick shared the position of the NAM and the R&D Credit Coalition that the tax code should include both a strengthened and permanent R&D tax credit and a current deduction for R&D expenses.
Since its lapse at the end of 2013, the NAM and the R&D Credit Coalition have urged Congress to extend seamlessly the R&D tax credit as soon as possible. However, the Senate and House appear to be taking different approaches to addressing this and other expired tax credits. The Senate Finance Committee last week approved a tax extender package, which includes a two-year extension of the R&D tax credit. On the House side, the Ways and Means Committee intends to focus on permanency with plans to consider legislation to make the R&D tax credit, Section 179 and other provisions typically found in the extenders package permanent.
Reps. Kevin Brady (R-TX) and John Larson (D-CT) will lead efforts to advance the permanent R&D bill, which will enhance the alternative simplified credit to 20 percent and make it permanent. The bill continues to allow the credit to apply to supplies and computer software, instead of making the controversial changes proposed in Chairman Camp's tax reform discussion draft to remove these items from qualifying for the credit. The bill is expected to be considered in committee after Congress returns from its two-week spring recess. Meanwhile, the Senate may bring the extenders package to a floor vote during the same work period.
As both chambers move forward with their separate approaches, the NAM will continue to advocate a strengthened, permanent R&D incentive and, at a minimum, that the now-expired R&D tax credit be extended retroactively as soon as possible.
Details: Christina Crooks, (202) 637-3076.
NAM-Supported Manufacturing Innovation Bill Passes Senate Committee. NAM President and CEO Jay Timmons sent a letter on April 8 to the chairman and ranking member of the Senate Commerce, Science and Transportation Committee urging committee members to support legislation that would authorize funding to create a national network of advanced manufacturing technology hubs around the country. The Revitalize American Manufacturing and Innovation Act (S. 1468) will create regional partnerships among industry, universities, nonprofits and the government focused on developing new manufacturing products and processes with groundbreaking advanced manufacturing technologies. Many NAM members are involved in the existing pilot program in Youngstown, Ohio, and the three other centers being launched in Raleigh, Detroit and Chicago. Committee Chairman Jay Rockefeller (D-WV) cited the NAM's support of the bill in his opening statement, and the bill was passed favorably by voice vote on April 9. Read the NAM's most recent Shopfloor blog on the issue here.
Details: Brian Raymond, (202) 637-3072.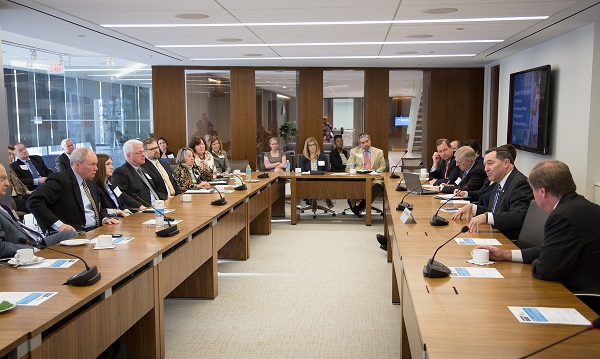 Sen. Joe Donnelly (D-IN) spoke with NAM members about the political and legislative outlook and took questions on a broad range of pro-growth issues, including workforce development, tax, regulatory and energy policy, on April 9 at NAM headquarters in Washington, D.C.
Photo by David Bohrer/National Association of Manufacturers
NAM President to Receive 2014 Friends of Adam Smith Award. The Friends of Adam Smith Foundation and the Business Industry Political Action Committee announced this week that NAM President and CEO Jay Timmons and Sen. Bob Corker (R-TN) are the recipients of the 2014 Adam Smith Award. The award ceremony will be held June 11 in Washington, D.C. Timmons will receive the Business Citizen Award and Sen. Corker will receive the Public Official Award. They will be recognized for their outstanding records of achievement in supporting and advancing the principles of free enterprise. Click here for more information.
Details: Ned Monroe, (202) 637-3111.
Building America's Fuel Bridge. The Hill featured an op-ed on April 9 about forging a 21st-century energy policy by Walter Galvin, immediate past chairman of the NAM Tax Committee and retired vice chairman of Emerson, a diversified global manufacturing and technology company based in St. Louis, Mo.
"Building a coalition to craft a responsible energy policy that meets our commercial and consumer needs while reducing carbon emissions is not easy and it will be incremental," Galvin wrote. "That is what makes the NAM, the Center for Climate and Energy Solutions (C2ES) and like-minded groups so valuable in building that coalition."
Details: Ross Eisenberg, (202) 637-3173.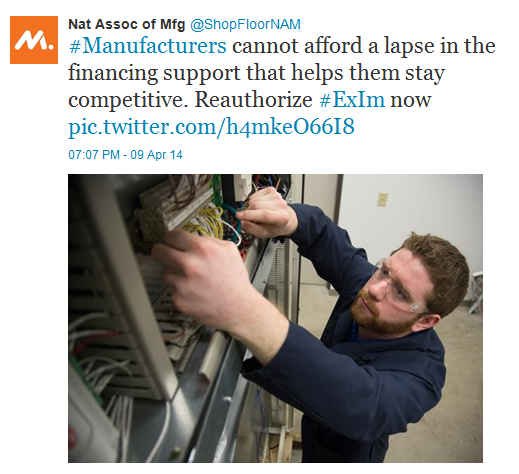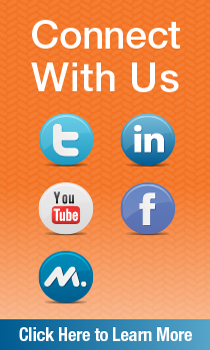 Details: Martha Sprague, (202) 637-3083.
Mark Your Calendar for the NAM's 2014 Manufacturing Summit. The NAM will host the 2014 Manufacturing Summit in Washington, D.C., June 10–11. Join your fellow manufacturers on Capitol Hill as we continue to promote a pro-manufacturing legislative agenda in the 113th Congress. This is the perfect time to connect with key members of Congress to discuss a host of issues that will affect the business community. Click here to register today!
Details: Candice Daniels Austin, (202) 637-3122.
The Senate and House are out for the next two weeks.
Economic Reports: Monday's reports include retail sales and business inventories. The consumer price index is slated for a Tuesday release as is the Empire State Manufacturing Survey. On Wednesday, housing starts and industrial production numbers come out. Thursday's reports include the Philadelphia Fed's manufacturing survey.
Details: Larry Scholer, (202) 637-3082.
---
Questions or comments?
Contact Senior Director, Executive Communications Laura Brown Narvaiz at lnarvaiz@nam.org.
President and CEO: Jay Timmons
Senior Vice President, Policy and Government Relations: Aric Newhouse
Senior Vice President, Communications: Erin Streeter

Copyright © 2014 National Association of Manufacturers