For the latest legislative updates and policy briefs, NAM members rely on their weekly Cap Briefing e-mail, which provides quick information on our top priorities in a dynamic format.
A Publication of the National Association of Manufacturers

July 18, 2014

House Moves NAM-Supported Temporary Highway Trust Fund Fix. The House passed critical legislation (H.R. 5021) on July 15 by a solid bipartisan vote of 367-55 to provide temporary relief to the Highway Trust Fund through May 2015 as a solvency crisis nears.
Prior to the vote, the NAM sent a Key Vote letter to every House member and led efforts on a business community letter signed by more than 60 members of the Council of Manufacturing Associations and State Associations Group urging support for the bill.
"The need to keep the Highway Trust Fund financially solvent extends far beyond state transportation departments and road builders," the NAM Key Vote letter stated. "Manufacturers need stable and reliable infrastructure to thrive and compete in today's economy."
The NAM letter spelled out that "the impending low balance in the Highway Trust Fund threatens approximately 100,000 road, bridge and transit construction sites, which support 700,000 jobs nationwide. Losing these jobs would be devastating to the economy." Click here for more on the NAM's Key Vote letter in The Hill.
"Manufacturers commend the House for swift passage of H.R. 5021, which temporarily ends the uncertainty facing the Highway Trust Fund," commented NAM Vice President of Infrastructure, Legal and Regulatory Policy Rosario Palmieri in the NAM press statement. "However, there is still much work to be done. Passing a fully funded, multiyear surface transporation bill is the next order of business for improving infrastructure, and manufacturers will continue to make the case to policymakers that investing in infrastructure supports competitiveness, growth and jobs."
Politico (subscription required) reported that the NAM and 62 industry groups and unions representing every sector of the economy signed on to a letter this week urging Congress to find a long-term fix for the Highway Trust Fund in 2014.
The nearly $11 billion transportation funding package passed by the House is similar, but not identical, to a measure approved last week by the Senate Finance Committee. The Senate is expected to take up H.R. 5021, along with two other transportation funding measures, next week.
A survey on infrastructure conducted by the NAM and Building America's Future shows two-thirds of 400 manufacturers polled doubt that our infrastructure is positioned to respond to the competitive demands of a growing economy.
Modernizing and investing in infrastructure is a key priority of the NAM's Growth Agenda to make the United States the best place in the world to manufacture and attract foreign direct investment.
Details: Robyn Boerstling, (202) 637-3178.

NAM Leadership Engagement Series Launches Nationwide. Top manufacturing leaders participated this week in the first two executive panel discussions of the NAM's new Leadership Engagement Series to be held around the country in an effort to elevate key manufacturing priorities.

The series launched in Chicago on July 15 with a lively panel discussion featuring Caterpillar Chairman and CEO and NAM Board Chair Doug Oberhelman; Tenneco Chairman and CEO and NAM Board Vice Chair Gregg Sherrill; Emerson Chairman and CEO David Farr; and Neenah Enterprises President and CEO Tom Riordan.

Approximately 100 manufacturing leaders from companies of all sizes attended the Chicago event. NAM President and CEO Jay Timmons moderated the panel discussion, which focused on why it is critical for manufacturers and their employees to be engaged in the political process and why it is more important than ever for the business community to unite in support of a Growth Agenda.

Politico Pro (subscription required) and Crain's Cleveland Business reported the NAM "is kicking off a national roadshow campaign featuring top manufacturing executives." The event "will include manufacturers of all sizes as well as NAM board members," and they will talk about the "policy and governance issues that manufacturers around the country are facing."

Our Cleveland program on July 17 featured Sherwin-Williams Chairman and CEO Chris Connor; Eaton Chairman and CEO Alexander Cutler; and Materion Technical Materials President and NAM Small and Medium Manufacturers Group Chair Al Lubrano.

Principal manufacturing executives are encouraged to attend these meetings to connect with manufacturers of all sizes, expand their leadership role in the manufacturing comeback, gain analysis of industry sectors and challenge the way Washington is doing business.

Click here for our Shopfloor blog post and here for more information about upcoming leadership activities in Houston (September 9); Pella, Iowa (September 15); New York City (September 24); Milwaukee (October 10); Pittsburgh (October 17); Charlotte (October 27); and more.

To RSVP, please contact the NAM membership team below.

Details: Jeannine Tini Pierce, (248) 210-5570 or Adria Funkhouser Brockman, (858) 449-9190.

Governors Join the Fight to Reauthorize Ex-Im Bank. The NAM applauded the 31 governors from across the country who urged Congress this week to reauthorize the U.S. Export-Import (Ex-Im) Bank before it expires on September 30. In their letter to the House and Senate leadership, the governors wrote, "It is the right thing to do for our economy, companies and workers."
"Thirty-one states have spoken, and now 535 members should listen," said NAM Vice President of International Economic Affairs Linda Dempsey in the NAM press statement. "It is clear through the bipartisan leadership of governors from Delaware to Washington that the Ex-Im Bank is a critical tool for manufacturers of all sizes throughout the nation, especially at a time when economic growth continues to lag."
Dempsey's recent op-ed in the Milwaukee Journal Sentinel pointed out how Wisconsin companies will be put at a competitive disadvantage globally should Congress choose not to reauthorize the Ex-Im Bank. Former Sen. Blanche Lincoln (D-AR) penned an op-ed in Roll Call stating that reauthorizing the Ex-Im Bank is one thing our government can do to help the nation's economy.
National Public Radio reported on its website the NAM is "putting on a full-court press" in its efforts to get the Ex-Im charter renewed. CNBC noted the NAM's strong support for Ex-Im reauthorization.
Click here for our Shopfloor blog series focused on the importance of the Ex-Im Bank to small manufacturers and here for our "A Minute in Manufacturing" video featuring AGCO subsidiary GSI Group, Inc. Global Business Development Analyst Jed Leonard on how the Ex-Im Bank is helping his small company grow internationally.
The NAM will continue to advocate reauthorization of the Ex-Im Bank before its charter lapses at the end of September. Click here to urge Congress to move quickly on Ex-Im reauthorization.
Details: Lauren Airey, (202) 637-3141.
NAM Presses for Tariff Elimination on Manufactured Goods by TPP Partners. The NAM continued its ongoing push for an ambitious, comprehensive, high-standard, market-opening Trans-Pacific Partnership (TPP) agreement by spearheading a July 11 letter, signed by a wide range of manufacturing associations, to U.S. Trade Representative (USTR) Michael Froman. The letter was intended to ensure that our TPP partners eliminate tariffs on a broad spectrum of manufactured goods in the final agreement.
The cross-industry sign-on letter emphasizes to the USTR that manufacturers across various industry sectors expect the TPP agreement to eliminate tariffs immediately on as many goods as possible, especially with large TPP partners with which the United States does not already have bilateral trade agreements--namely, Japan, Malaysia and Vietnam.
Chief negotiators from the 12 TPP countries met in Ottawa, Canada, July 3-12 to make progress on outstanding issues. President Obama recently indicated that his goal is for the TPP talks to conclude by the end of this year, while House Ways and Means Committee Chairman Dave Camp (R-MI) recently stated that Trade Promotion Authority legislation is required before the strongest possible TPP agreement can be negotiated.
The NAM continues our strong efforts to ensure a TPP agreement with concrete market-opening outcomes that level the playing field, new disciplines to ensure cross-border data flows and strong protections for intellectual property rights and investment, among other key issues.
Details: Jessica Lemos, (202) 637-3078.
NAM and Global Industry Urge G20 to Combat Forced Localization Barriers. The NAM joined more than two dozen business associations from across Asia, Europe and Latin America on a letter this week urging Group of Twenty (G20) trade ministers meeting in Sydney, Australia, on July 19 to fight against forced localization policies and "the increasing number of national and subnational protectionist measures around the world that disrupt free trade."
Forced localization barriers threaten manufacturing, jobs and innovation in the United States by requiring mandatory technology transfer, local production, forced local ownership of foreign firms and their intellectual property, import restrictions and restrictions on the cross-border flow of data, including domestic data center location and data hosting requirements.
The NAM continues to combat forced localization measures in India and other countries around the world. However, as NAM Senior Director of International Business Policy Chris Moore wrote in a Shopfloor blog post that coincided with the release of the letter, such barriers are spreading quickly around the world, and some G20 members are among the leading offenders. The letter calls on G20 governments to lead by example and to resist measures that isolate their own markets to imported goods and services.
Details: Chris Moore, (202) 637-3142.

Manufacturers Score Victory in Effort to Stop Burdensome CPSC Regulation. The House passed a spending bill on July 16 to provide fiscal year 2015 funds (H.R. 5016) for the Internal Revenue Service, Department of Treasury, Securities and Exchange Commission and other agencies, including the Consumer Product Safety Commission (CPSC).
The House approved an amendment to the bill by Rep. Marsha Blackburn (R-TN) that would stop the CPSC from proceeding with a proposed rule that would greatly damage the effectiveness and cooperative nature of the voluntary recall program for consumer products. The NAM spearheaded efforts to pass the amendment and sent representatives a Key Vote letter urging lawmakers to support the Blackburn amendment.
The NAM is the leading voice of the business community in opposing the proposal which, if finalized, would cause manufacturers of consumer products to face increased enforcement jeopardy and legal consequences in product liability, civil penalty matters or other commercial contexts.
The House also approved by voice vote another amendment by Rep. Blackburn that would direct money to be used by the CPSC to proceed with regulations that would decrease the costs associated with third-party testing. We will work to ensure that these important amendments are included in legislation to fund the federal government.
The NAM continues to lead the charge at stopping ill-advised CPSC policies that would place significant and unnecessary burdens on manufacturers.
Details: Erik Glavich, (202) 637-3179.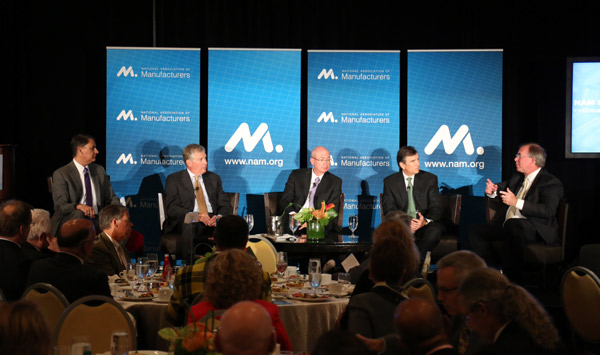 NAM President and CEO Jay Timmons joined several NAM board members in Chicago on July 15 to launch the first event of the NAM's nationwide Leadership Engagement Series aimed at elevating top manufacturing priorities.
Left to right: NAM President and CEO Jay Timmons; Caterpillar Chairman and CEO and NAM Board Chair Doug Oberhelman; Tenneco Chairman and CEO and NAM Board Vice Chair Gregg Sherrill; Emerson Chairman and CEO David Farr; and Neenah Enterprises President and CEO Tom Riordan.
Photo by David Bohrer/National Association of Manufacturers

Manufacturing Institute Receives Grant for Women in Manufacturing. The Manufacturing Institute received a $135,000 multiyear grant from the Ingersoll Rand Charitable Foundation this week. The grant will be used as part of the Institute's Science, Technology, Engineering and Production (STEP) Ahead Initiative, which promotes the role of women in the manufacturing industry through recognition, research and leadership.
Specifically, the funds will be used to develop a leadership program and networking and mentoring capabilities in 2015 for 30 women in manufacturing.
Women make up approximately 50 percent of the labor force, but only 24 percent of the manufacturing workforce. STEP Ahead honors and promotes the role of women in manufacturing to inspire the next generation of female leaders to pursue careers in the manufacturing industry.
Details: AJ Jorgenson, (202) 637-3115.

Timmons Highlights Importance of Political Engagement. NAM President and CEO Jay Timmons told USA Today this week that business leaders need to begin backing candidates and turning out voters not only in general elections but also in Democratic and Republican primaries to counter the rise of extremist elements in both parties that has led to congressional gridlock on some key manufacturing priorities. Click here to watch the video and read the news story.
Details: Ned Monroe, (202) 637-3111.
Texas Instruments Makes the Case for Immigration Reform. NAM member and Texas Instruments Chairman, President and CEO Richard Templeton made the case for immigration reform in an op-ed on July 14 in The Dallas Morning News. "Americans are hungry for immigration reform," he wrote. "Four-fifths of voters want Congress to act this year, according to a poll released July 9 by the Partnership for a New American Economy, the Business Roundtable and the National Association of Manufacturers."
Details: Matt Lavoie, (202) 637-3085.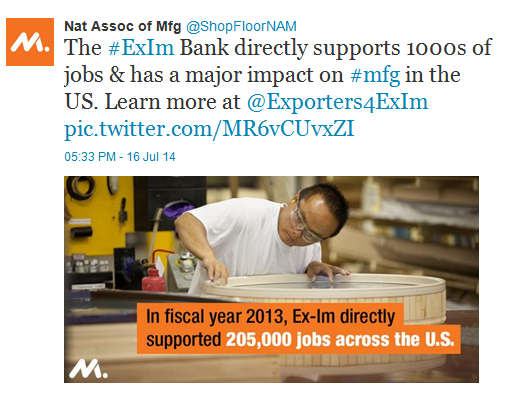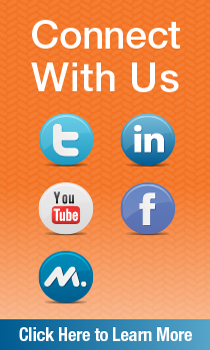 Details: Martha Sprague, (202) 637-3083.

Senate Hearings: TUESDAY--The Energy and Natural Resources Committee holds a hearing on "Leveraging America's Resources as a Revenue Generator and Job Creator." WEDNESDAY--The Rules Committee holds a hearing on the Democracy Is Strengthened by Casting Light on Spending in Elections (DISCLOSE) Act (S. 2516). The Small Business Committee considers "Empowering Women Entrepreneurs: Understanding Successes, Addressing Persistent Challenges and Identifying New Opportunities." The Environment and Public Works Committee examines the Environmental Protection Agency's proposed rules on emissions from existing power plants.
House Hearings: WEDNESDAY--A Transportation and Infrastructure subcommittee discusses "Domestic Aviation Manufacturing: Challenges and Opportunities." A Natural Resources subcommittee looks at "American Metals and Mineral Security: An Examination of the Domestic Critical Minerals Supply and Demand Chain." An Education and Workforce subcommittee holds a hearing on "Improving the Federal Wage and Hour Regulatory Structure." An Energy and Commerce subcommittee discusses "Modernizing the Business of Environmental Regulation and Protection."
Economic Reports: On Monday, the Chicago Federal Reserve releases its National Activity Index. Tuesday's reports include the Richmond Federal Reserve's Manufacturing Index, the consumer price index and existing home sales. On Thursday, the Kansas City Federal Reserve releases its Manufacturing Index; other reports released Thursday include the PMI Manufacturing Flash Index and new home sales. Durable goods orders round out the week on Friday.
Details: Larry Scholer, (202) 637-3082.
---
Questions or comments?
Contact Senior Director, Executive Communications Laura Brown Narvaiz at lnarvaiz@nam.org.
President and CEO: Jay Timmons
Senior Vice President, Policy and Government Relations: Aric Newhouse
Senior Vice President, Communications: Erin Streeter

Copyright © 2014 National Association of Manufacturers

To unsubscribe from future Capital Briefing emails, click here.

To update your subscription profile, click here.

To customize your Capital Briefing simply click here to select those issues you'd like reflected in your weekly briefing.
You may modify your profile or unsubscribe at any time.