For the latest legislative updates and policy briefs, NAM members rely on their weekly Cap Briefing e-mail, which provides quick information on our top priorities in a dynamic format.
A Publication of the National Association of Manufacturers

August 22, 2014
Capital Briefing will take a short break during the remainder of the congressional recess and resume publication on September 5.

Gear Up for a Busy Fall in Washington. When Congress gets back to work on September 8, lawmakers may be in session only a matter of weeks through the end of 2014. The upcoming midterm elections and lame-duck session to follow will leave precious little time for elected officials to act on key priorities of the NAM's Growth Agenda to increase manufacturing competitiveness and jobs.
As we head into the busy fall, your August recess efforts to engage lawmakers back in their districts are more important than ever—and they are making a difference. We thank you for inviting members of Congress to your shop floor and making the case for three manufacturing policy priorities: the need for responsible and reasonable regulations; the urgency of reauthorizing the U.S. Export-Import (Ex-Im) Bank, which is set to expire on September 30; and manufacturers' push for long-term investment in surface transportation and other key pillars of infrastructure.
Click here to visit our August Recess Action Center for talking points on policy issues, tips for a successful in-district meeting or plant tour and links to other tools to help you tell Congress to finish the job on key manufacturing priorities.
August also is an excellent time to gear up your Get Out the Vote activities for the critical midterm elections on November 4 and help make 2014 the "Year of the Manufacturing Voter." The NAM Election Center serves as a one-stop shop to help you get out the vote and advance the manufacturing agenda. Voters can sign up for text and e-mail reminders about upcoming elections through the NAM's TurboVote site.

Click here for our cover story, "Playing with Congress: How to Advance the Manufacturing Agenda During the August Recess—and Beyond," in the August issue of Member Focus, the NAM's award-winning monthly digital magazine.
Details: Tiffany Adams, (202) 637-3118 and Jeanine Arnett, (202) 637-3121.

The Wall Street Journal Features Two Commentaries from Timmons. NAM President and CEO Jay Timmons voiced manufacturers' concerns about some key threats to U.S. competitiveness in two op-eds this month in The Wall Street Journal.

In his commentary, "The EPA's Latest Threat to Economic Growth," Timmons argues that the agency's pending proposal to tighten the air-quality standard for ground-level ozone could be the most expensive regulation in the nation's history, possibly tanking the economy and costing jobs.

Timmons noted that the potentially stricter ozone standard due from the Obama Administration in December of this year could cost Americans $270 billion annually, put millions of jobs at risk and drastically increase energy prices for consumers and manufacturers, according to a new study by NERA Economic Consulting and commissioned by the NAM.

"Now is not the time to sacrifice millions of jobs and trillions of dollars in pursuit of dubious benefits and unreachable targets," Timmons wrote. "The EPA should put on the brakes and allow the existing ozone standards to be implemented."

Click here to tell your elected officials that you are concerned about these costly new ozone regulations.

In "Delhi Holds Trade Growth for Ransom," Timmons calls India's actions to block a landmark global Trade Facilitation Agreement a missed opportunity that risks hurting economic growth worldwide. The blocked deal, which would streamline customs regulations, cut red tape at borders and potentially boost global GDP by $1 trillion, needs consensus support from all World Trade Organization members in order to move toward ratification. India is blocking movement on the Trade Facilitation Agreement in order to obtain concessions on unrelated agricultural subsidy issues.

"At a time when countries at every stage of development are struggling to grow their economies, increase exports and create jobs, none of us, least of all India, can afford to pass up an opportunity to lower international transaction costs for consumers and businesses," Timmons wrote.

Timmons emphasized the NAM's commitment to ensuring that the benefits of trade facilitation are broadly shared among developing and developed countries, and he urged India's new Prime Minister Narendra Modi to carry out the economic reforms that he embraced on the campaign trail.

The NAM is leading the business community's efforts to eliminate unfair trade practices in India as co-chair of the Alliance for Fair Trade with India.

Details: Ross Eisenberg, (202) 637-3173 and Chris Moore, (202) 637-3142.


Next Step Announced for New Workforce Training Law. The Department of Labor announced a series of webinars to determine how best to proceed with implementation of the Workforce Innovation and Opportunity Act (WIOA). The NAM led business community efforts and key-voted in favor of the legislation in July. The new law streamlines the federal workforce investment system and prioritizes federal training dollars to emphasize programs that result in industry-recognized credentials—a key priority for manufacturers.
The series of webinars will focus on the various areas of the new law and how stakeholders can participate. Click here for more information and to register.

WIOA is just the latest step in the NAM's long history of advocating improvements to the federal workforce development system. Last year, the NAM launched the NAM Task Force on Competitiveness & the Workforce, a Board of Directors–level group aimed at closing the skills gap. Click here for an article in Member Focus detailing how the task force is achieving its goals.

Industry-recognized credentials are a key component to the solution. That is why the Manufacturing Institute, the NAM's independent affiliate organization, launched its Skills Certification System, a system of nationally portable, industry-recognized credentials. Promoting training that is in demand and recognized by employers as necessary for success will go a long way toward creating solutions.

A skilled workforce is necessary to the long-term success of the manufacturing comeback and a key goal of our Growth Agenda. The NAM will continue its work to ensure that manufacturers have the workforce they need to thrive.
Details: Joe Trauger, (202) 637-3127.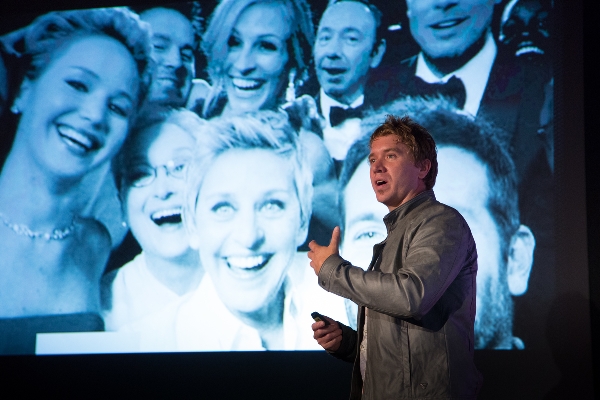 Edge Factor Host and Executive Producer Jeremy Bout spoke about the power of video and new media to tell your manufacturing story and influence your audience at the NAM's Council of Manufacturing Associations' Summer Leadership Conference in Chicago earlier this month. More than 120 association CEOs and senior-level executives attended the conference to collaborate and share insights about current issues and trends impacting their association and the manufacturing industry.
Photo by David Bohrer/National Association of Manufacturers
Help Us Track the Business Outlook for Manufacturers. If you have not already done so, please take a moment to complete the latest NAM/IndustryWeek Survey of Manufacturers. This 20-question survey helps us gauge how manufacturing sentiment might have changed since our June survey. It also includes some special questions on labor regulations and health insurance coverage. To complete the survey, click here. Responses are due by Friday, August 29. As always, all responses are anonymous.
Details: Chad Moutray, (202) 637-3148.
Don't Miss the August Issue of Member Focus. Member Focus, the NAM's monthly digital magazine, is filled with news you can use. The latest issue out this week features commentary on four pillars to get our economy and government working again by NAM President and CEO Jay Timmons; economic analysis of U.S. investments in manufacturing by NAM Chief Economist Chad Moutray; a profile of the Security Industry Association; photos and highlights of the ongoing NAM Leadership Engagement Series; and much more.
Details: Lea Anne Foster, (202) 637-3086.
Manufacturers Make the Case for the Ex-Im Bank. The NAM and our member companies are speaking out loud and clear about the importance of reauthorizing the Ex-Im Bank before it expires on September 30. Recent coverage includes an interview with Vermeer Corporation Senior Director of International Business Development Daryl Bouwkamp on CNBC that spurred an article in The Hill; an op-ed in The Hill by NAM Vice President of International Economic Affairs Linda Dempsey and NAM Chief Economist Chad Moutray; and commentary from Moutray on the CNBC website.

Former Republican Virginia Gov. and Sen. George Allen wrote in a Richmond Times-Dispatch op-ed that if public servants "truly care about American jobs and competitiveness," they should "stop posturing and dawdling" and reauthorize the Ex-Im Bank.

Click here for our new report, "The Global Export Credit Dimension," which documents the massive size and growth of foreign export credit activity, and here for our policy brief, "Forfeiting Opportunity," which discusses the high stakes if the Ex-Im Bank is not renewed.
Details: Jamie Hennigan, (202) 637-3090.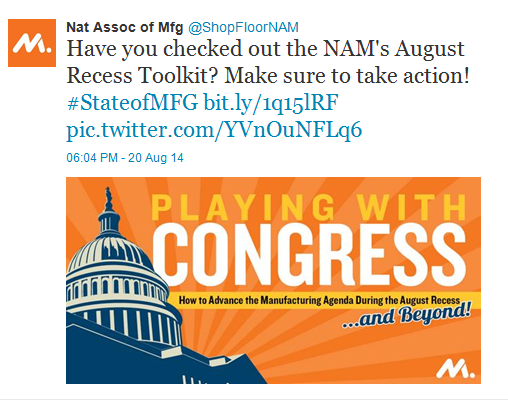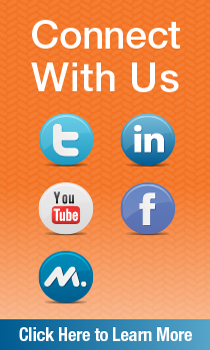 Details: Martha Sprague, (202) 637-3083.
The Senate and House continue their August congressional recess next week and will not return to Washington until September 8.
Economic Reports: Regional manufacturing sentiment surveys from the Dallas, Richmond and Kansas City Federal Reserve Banks are out on Monday, Tuesday and Thursday, respectively. Tuesday's reports also include durable goods orders and a Conference Board report on consumer confidence. Thursday's reports include an update for second-quarter GDP. Personal income and spending and another report on consumer confidence from the University of Michigan close out the week on Friday.
Details: Chad Moutray, (202) 637-3148.
---
Questions or comments?
Contact Senior Director, Executive Communications Laura Brown Narvaiz at lnarvaiz@nam.org.
President and CEO: Jay Timmons
Senior Vice President, Policy and Government Relations: Aric Newhouse
Senior Vice President, Communications: Erin Streeter

Copyright © 2014 National Association of Manufacturers