For the latest legislative updates and policy briefs, NAM members rely on their weekly Cap Briefing e-mail, which provides quick information on our top priorities in a dynamic format.
A Publication of the National Association of Manufacturers

May 10, 2013

NAM Legal Victory Restores Free Speech to Shop Floors. The NAM has been fighting National Labor Relations Board (NLRB) overreach for years. This week, the NAM won a major victory for manufacturers when the U.S. Court of Appeals for the D.C. Circuit unanimously struck down the NLRB's "posting requirement" rule, which would force employers to hang posters informing employees of their right to organize and strike.
"The ruling puts the NLRB on notice," NAM President and CEO Jay Timmons said in a letter to member companies. "It sends a clear message that the NAM and our Labor Policy Institute will fight the agency's attempts to ignore the law and expand its reach into manufacturers' workplace relations." Click here for the NAM's detailed explanation of the ruling.
Forcing manufacturers to display a poster or face being charged with an unfair labor practice not only violates their right to free speech, but is contrary to the National Labor Relations Act, which protects speech so long as there is no threat of reprisal, the appeals court recognized in its ruling. "We are not faced with a regulation forbidding employers from disseminating information someone else has created," the ruling says. "Instead, the Board's rule requires employers to disseminate such information, upon pain of being held to have committed an unfair labor practice. But that difference hardly ends the matter. The right to disseminate another's speech necessarily includes the right to decide not to disseminate it. First Amendment law acknowledges this apparent truth: 'all speech inherently involves choices of what to say and what to leave unsaid.'" The NLRB's poster rule amounts to nothing more than compelled or coerced speech, and no employer should be subject to such an injustice.
The NAM initiated litigation in 2011 immediately after the NLRB issued the rule. The U.S. District Court for the District of Columbia last March ruled that the NLRB has broad authority to issue rules - specifically the poster rule - but lacked the authority to impose some of the penalties for noncompliance. Days later, the NAM moved to file its successful appeal, which asked the court to invalidate the entire rule and asserted the NLRB overstepped its statutory authority and ignored congressional intent by issuing it in the first place. In a similar case last year, the U.S. District Court in South Carolina struck down the poster rule and validated the NAM's arguments. For additional details on the district court proceedings, click here.
Leading media outlets, including The Wall Street Journal, Associated Press, The New York Times and others, recognized the NAM's leadership role in securing the legal victory. The outlets drew from press interviews and a statement we issued immediately after the ruling, reiterating that the poster rule is a prime example of a government agency that seeks to fundamentally change the way employers and employees communicate - for the worse.
Although we are hopeful that we have reached the end of the road on this litigation, we are prepared to continue our aggressive strategy in the courts. A potential U.S. Supreme Court case - as well as the nine other labor and employment cases in which the NAM is currently involved - demonstrates the continued need for resources to fight these battles. The federal government has essentially unlimited resources to litigate these cases; the NAM does not. The NAM's Labor Policy Institute levels the playing field, guarding the rights of manufacturers and their employees by providing critical funding for litigation in defense of manufacturers. "If the NLRB decides to appeal this decision to the Supreme Court, we again will stand up for manufacturers," Timmons pledged.
Details: Joe Trauger, (202) 637-3127 and Quentin Riegel, (202) 637-3058.

Water Resources Bill Sets Sail in Senate. The Senate kicked off debate on S. 601, the Water Resources Development Act of 2013 (WRDA), this week, and a vote on final passage is expected next week. Senate leaders have not reached an agreement on a floor schedule at this time, and amendments to the legislation are being offered.
Manufacturers support S. 601, which would ensure continued investment in our coastal and inland waterways. The bill would begin important reforms that will streamline environmental reviews and enhance delivery of key water infrastructure projects sponsored by the Army Corps of Engineers. Our nation's inland waterways are a critical means of transport for manufacturers, moving coal, petroleum, chemicals, steel, fertilizer, grain and other products and commodities valued at approximately $78 billion annually.
S. 601 also addresses the longstanding issue of underinvestment in our nation's ports and harbors by increasing authorized funding from the Harbor Maintenance Trust Fund for harbor maintenance dredging. Regular maintenance dredging is essential to keeping our nation's ports open for business, and Congress has not kept pace with growing demands to ensure ports are prepared to meet modern shipping needs. Manufacturers also support the legislation's Water Infrastructure Finance and Innovation Act (WIFIA) pilot program, which would help leverage federal investments in critical water infrastructure projects.
The opening of the Panama Canal expansion program in 2015, the goal of doubling the nation's export capacity and the need to support economic growth provide Congress a mandate to advance S. 601. Modernizing and investing in infrastructure is a top priority of the NAM's Growth Agenda to make the United States the best place in the world to manufacture and attract foreign direct investment. The NAM hosted a "From the Shopfloor" event with NAM members and congressional leadership in April to educate key Capitol Hill staff about manufacturers' support for WRDA.

The NAM Key Vote Advisory Committee has authorized a key vote on S. 601 for next week.
Details: Robyn Boerstling, (202) 637-3178.

NAM Member Testifies on High-Skilled Immigration Issues. Caterpillar Chief Technology Officer Gwenne Henricks testified on May 8 before the Senate Commerce Committee at a hearing titled, "The Role of Immigrants in America's Innovation Economy." Henricks' testimony focused on the need to reform the high-skilled immigration system so job creators can obtain better access to a skilled workforce. The current annual cap for H-1B visas given in the United States is set at 65,000 and was filled on April 1 - the first day that companies such as Caterpillar could file new H-1B petitions for fiscal year 2014. The green card backlog is also limiting options for some of the most talented individuals working for manufacturers.
The hearing was timely given that the Senate Judiciary Committee began to mark up the Senate Gang of Eight's comprehensive immigration reform plan (S. 744) on May 9. Markup is expected to last for three weeks with floor time tentatively scheduled for June. The NAM is actively engaged in the process and will evaluate amendments as they come up in the committee and on the Senate floor. 
Improving our immigration system to ensure that manufacturers in the United States will have access to the workforce that the 21st-century economy demands is a top priority of the NAM's Growth Agenda. Click here to urge Congress to support pro-manufacturing comprehensive immigration reform.
Details: Joe Trauger, (202) 637-3127 and Christine Scullion, (202) 637-3133.

NAM-Supported Energy-Efficiency Bill on the Move. The Senate Energy and Natural Resources Committee approved S. 761, the Energy Savings and Industrial Competitiveness Act, on May 8. More commonly known as the Shaheen-Portman bill after its two authors, Sens. Jeanne Shaheen (D-NH) and Rob Portman (R-OH), S. 761 is an NAM-supported bill that promotes increased energy efficiency in the federal government and commercial building sector. The committee passed the bill on a strong voice vote with only three senators voting in opposition. NAM President and CEO Jay Timmons, who spoke at the press conference for the introduction of S. 761 last month, met with Senate Energy and Natural Resources Committee Chairman Ron Wyden (D-OR) on May 7 and discussed, among other energy topics, the NAM's strong support for S. 761. At the markup, Chairman Wyden stated a desire to see the bill on the Senate floor by the end of the month.
Manufacturers are leading the way in innovating and developing new products to make our nation more energy efficient while reducing costs for businesses and families. The NAM will continue to urge Senate Majority Leader Harry Reid (D-NV) to bring this bill to the floor as soon as possible.
Details: Chip Yost, (202) 637-3175.

Manufacturers Urge Swift Action on Ex-Im Bank Chair Nomination. The Senate Banking Committee held a confirmation hearing on May 7 for Fred Hochberg's nomination to serve a second term leading the U.S. Export-Import (Ex-Im) Bank. The Ex-Im Bank plays a vital role in helping to grow U.S. exports and increase American jobs. The NAM has urged the committee to act on Hochberg's nomination before the extension on his current term expires in July.
In his testimony, Hochberg noted that he would ensure the Ex-Im Bank "continues its prudent oversight and due diligence standards to protect taxpayers." In fiscal year 2012, the Bank supported more than 255,000 American jobs at 3,400 companies - 85 percent of which were small businesses. The Bank authorized $35 billion in financing and supported $50 billion in exports last year. The Bank continues to operate at no cost to taxpayers, offsetting its costs with fees, and contributed more than $1 billion to the Treasury last year.
The Hill noted the NAM's work to reauthorize the Bank as the second-biggest lobbying victory of 2012. The NAM and member companies conducted hundreds of House and Senate meetings to refute misinformation and educate Hill members and staff on the critical role Ex-Im plays in helping small and medium-sized manufacturers in the United States grow their businesses and create jobs. The NAM's leadership led to a successful, bipartisan reauthorization of an agency that is integral to manufacturers' competitiveness. Without the Bank as a "lender of last resort," manufacturers in the United States would be facing an even steeper uphill battle to compete globally.
"The 59 other nations with export credit agencies would be waiting in line to take business away from manufacturers in America," NAM Vice President of International Economic Affairs Linda Dempsey wrote in her guest column in The Hill's Congress Blog on May 7.
The NAM will continue to lead the business community's efforts to ensure that competitive export finance is available for all manufacturers.
Details: Lauren Airey, (202) 637-3141.
NAM Board Member Attends Joint Session of Congress as Special Guest. On May 8, South Korean President Park Geun-hye addressed a joint session of Congress on issues ranging from security to continued implementation of the historic U.S.-Korea Free Trade Agreement (FTA). NAM Board Member Sandra Westlund-Deenihan, CEO/design engineer at Quality Float Works, Inc., and Jason Speer, the company's president, viewed the address from the House Gallery as special guests of Speaker John Boehner (R-OH) and met with President Geun-hye at a reception hosted by the Speaker. Quality Float Works was a leader along with the NAM in seeking passage of the U.S.-Korea FTA signed into law by President Obama in 2011. Covering a wide range of trade and investment issues, the U.S.-Korea FTA has yielded significant benefits for manufacturers in both countries. Our Shopfloor blog features a photo of Westlund-Deenihan and Speer in the House Gallery.
Details: Rick Limardo, (202) 637-3038.

Derivatives End-User Bills Ready for House Floor. The House Financial Services Committee completed a markup of a number of bills related to the 2010 Dodd-Frank law on May 7, including H.R. 634, the Business Risk Mitigation and Price Stabilization Act of 2013, which provides end users an exemption from margin requirements, and H.R. 677, the Inter-Affiliate Swap Clarification Act, which ensures that internal, inter-affiliate trades are not regulated in the same manner as external market-facing trades.
H.R. 634 was reported out of committee with a unanimous 59–0 vote, and H.R. 677 was reported favorably with a 50–10 vote. Now that the relevant committees have both completed their review of these commonsense and critical bills, House leadership will bring them to the floor for the full House of Representatives to consider in the coming weeks.
Sens. Mike Johanns (R-NE) and Jon Tester (D-MT) led a large bipartisan group in introducing S. 888, the Senate companion to H.R. 634, on May 7. The full list of original cosponsors also includes Sens. Roy Blunt (R-MO), Mike Crapo (R-ID), Joe Donnelly (D-IN), Kay Hagan (D-NC), Heidi Heitkamp (D-ND), Amy Klobuchar (D-MN), Jerry Moran (R-KS), Richard Shelby (R-AL), Pat Toomey (R-PA) and Mark Warner (D-VA).
The NAM continues to lead on this issue and was the only business group quoted in Sen. Tester's press release. The Senate introduction came on the heels of a concerted effort by end users, led by the NAM and our members, to educate Senate offices on the realities of end-user use of derivatives trades - we use them to hedge everyday commercial risk, not for speculative purposes. Thus, end users like the thousands of manufacturers who use these risk-management tools should not be regulated in the same way as those companies that are speculating. We continue to work with Senate offices to get a Senate companion bill to H.R. 677 and are hopeful that will happen in the near term.
Details: Carolyn Lee, (202) 637-3079.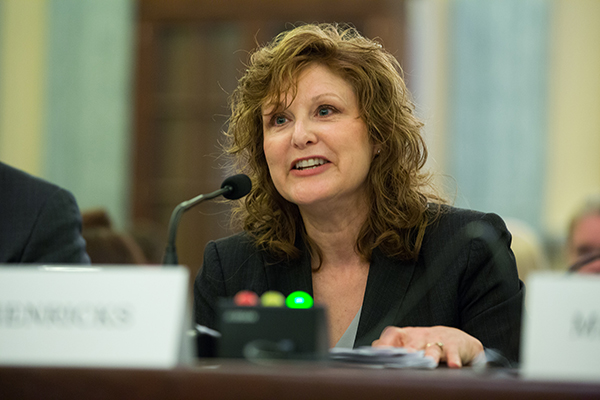 Caterpillar Chief Technology Officer Gwenne Henricks urged Congress to pass high-skilled immigration reform in testimony before the Senate Commerce Committee on May 8. "Our education system in the United States is currently not producing a robust pipeline of graduates in STEM-related fields to meet our workforce needs," Henricks told committee members. "STEM job growth is expected to be higher than any other occupation over the next 10 years. Caterpillar is actively working to increase the supply of skilled STEM talent in the United States and around the world to fill the jobs we have and will need in the future."
Photo by David Bohrer/National Association of Manufacturers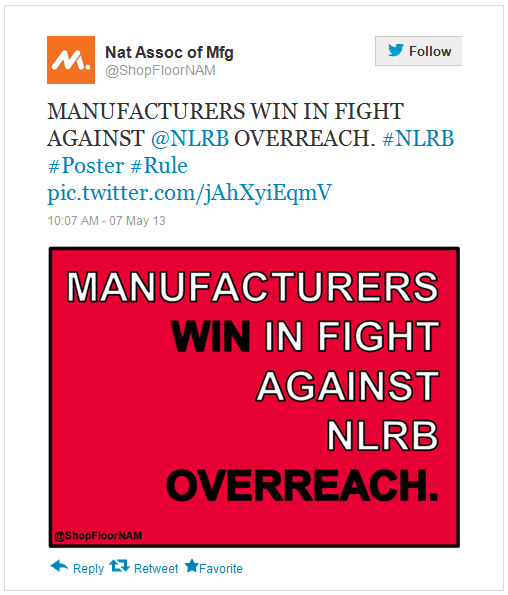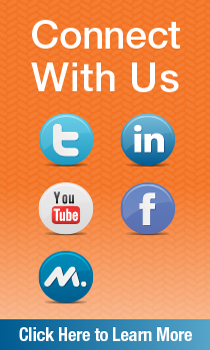 Details: Julia Smekalina, (202) 637-3083.
AFIMAC - Latin America Travel Security Summit. AFIMAC is offering a one-day Travel Security Summit in Toronto on June 20. Learn about crime statistics and trends in Latin American regions, relocation and expatriate assistance, travel security for employees on extended visits to Latin America and how to select the right level of security service for executives and senior management. An expert panel of industry peers will also discuss the challenges, solutions and results directly related to their experiences in Latin America. 
Use promo code "NAM" when you register to receive preferred seating, access to post-education session materials and a free online training course of your choice.

For more information or to register, please contact Jennifer Bretz at (1-800) 554-4622 or jbretz@afimacglobal.com.
Details: Wendy McIntyre, (202) 637-3197.
Senate Hearings: TUESDAY - The Agriculture Committee marks up the farm bill. The Energy and Natural Resources Committee holds a hearing on potential uses for natural gas. WEDNESDAY - The Homeland Security and Governmental Affairs Committee considers "Performance Management and Congressional Oversight: 380 Recommendations to Reduce Overlap and Duplication to Make Washington More Efficient." The Commerce Committee looks at advanced vehicle technology. THURSDAY - The Health, Education, Labor and Pensions Committee votes on the nomination of Thomas Perez to serve as secretary of labor. Later in the day, the committee holds a hearing on nominations to the NLRB.
House Hearings: WEDNESDAY - A Ways and Means subcommittee reviews the "Small Business and Pass-Through Entity Tax Reform Discussion Draft." THURSDAY - A Natural Resources subcommittee holds a hearing on the Lacey Act. A Transportation and Infrastructure subcommittee looks at the progress in implementing the FAA Modernization and Reform Act.
Economic Reports: Monday's reports include retail sales numbers and business inventories. On Tuesday, the National Federation of Independent Business releases its monthly optimism index. On Wednesday, the Federal Reserve releases industrial production numbers. Other reports include the Empire State manufacturing survey and the producer price index. Thursday's numbers include housing starts, weekly jobless claims and the Philadelphia Fed survey.
Details: Larry Scholer, (202) 637-3082.
Register for the NAM's Manufacturing Summit! The NAM's annual Manufacturing Summit will be held June 19–20 in Washington, D.C. Join your fellow manufacturers as we meet with members of Congress and demonstrate the vital role of manufacturing to our nation's economy. This year's annual fly-in event will focus on four key policy issues impacting manufacturing competitiveness: tax reform, energy, comprehensive immigration reform and infrastructure. Click here to watch our 2013 Manufacturing Summit video and here to register.
Details: Tiffany Adams, (202) 637-3118.
---
Questions or comments?
Contact Senior Director, Executive Communications Laura Brown Narvaiz at lnarvaiz@nam.org.
President and CEO: Jay Timmons
Senior Vice President, Policy and Government Relations: Aric Newhouse
Senior Vice President, Communications: Erin Streeter

Copyright © 2013 National Association of Manufacturers