For the latest legislative updates and policy briefs, NAM members rely on their weekly Cap Briefing e-mail, which provides quick information on our top priorities in a dynamic format.
A Publication of the National Association of Manufacturers

February 28, 2014

Timmons: Products, People and Policy Driving the Manufacturing Comeback. NAM President and CEO Jay Timmons heralded the renewed vigor of the manufacturing sector in his annual State of Manufacturing address on February 25. "Today, I'm pleased to report to you that manufacturing in America is making a comeback," Timmons said before an audience of 150 business, professional and community leaders at the Greater Houston Partnership in Houston, Texas, the nation's number-one city for manufacturing. "That's a tribute to the hardworking men and women who produce the goods and generate the ideas that power the U.S. economy as well as the global economy."
Timmons' address garnered significant media coverage in Washington and across the country. His RealClearPolitics op-ed, "Manufacturing: A Key Ingredient for U.S. Growth," reached a national audience (click here to read a joint op-ed from Timmons and Texas Association of Business President and CEO Bill Hammond in the Houston Chronicle). Timmons participated in an interview with the nationally syndicated "Morning in America with Bill Bennett" radio show. Click here to listen.
Timmons outlined just how manufacturing contributes to growing the economy at home and increasing our competitiveness abroad. For the first time in history, manufacturing in the United States surpassed the $2 trillion mark in 2013. Our manufacturing sector alone is larger than the entire economies of all but seven countries, and manufacturing exports have reached an all-time high.
The future of manufacturing could be even brighter. According to the Manufacturers Alliance, manufacturing employment can grow by more than 300,000 jobs every year, and the economy can grow by an additional $1.5 trillion if manufacturing's share of the U.S. economy rose from 12 percent to 15 percent—where it was at the beginning of the last decade. Manufacturers, Timmons said, must therefore confront the question, "How do we ensure that manufacturing in the United States is robust, dynamic and ready to meet the needs of our economy and our workers?"
Timmons' answer called for a focus on products, people and policy. Manufacturers in the United States are making more products today and making them better than ever before. But they need people—specifically, a qualified workforce—to fill manufacturing jobs from the shop floor to the C-suite. Although opportunities abound, 82 percent of manufacturers report unfilled jobs due to the skills gap. The NAM is taking the lead to address the skills shortage. The NAM Task Force on Competitiveness & the Workforce met earlier in February to discuss ways to develop the next generation of manufacturers. The Manufacturing Institute, one of the NAM's independent affiliate organizations, runs a skills certification program that enables U.S. workers to receive a portable credential demonstrating the skills they possess. Manufacturers are also working to increase STEM (science, technology, engineering and mathematics) education and bring women and service members into the fold. Another critical factor in the "people equation" is immigration reform. The NAM has been a strong, consistent voice for comprehensive immigration reform in Washington. Click here to read about our work in 2013 and here for a personal immigration story from one manufacturer who is both contributing to and benefitting from the American dream.
Timmons then moved on to the policy component. The scope of policies that impact manufacturing—and the people who work in manufacturing—is incredibly broad and incredibly impactful. While there are many reasons to be optimistic about the future of American manufacturing, government overreach poses the biggest threat. As the President and his team take more aggressive executive action, and as Congress has become more gridlocked, more of these regulatory battles are playing out in the courts. That's why the NAM is making a strong commitment to litigating on behalf of manufacturers through our Manufacturers' Center for Legal Action. We're involved in a number of cases, including a Supreme Court case against the Environmental Protection Agency's (EPA) greenhouse gas regulations, and we won a major victory against the National Labor Relations Board's overreach into the workplace. The NAM also continues to push back against federal overreach into the workplace; advance an "all-of-the-above" energy strategy; advocate comprehensive tax reform; provide real solutions that bring down health care costs, giving manufacturers and other employers a greater ability to plan for the future; secure a trade agenda that allows our products to reach the 95 percent of consumers who live outside U.S. borders; and more.
The manufacturing sector in the United States holds the key to economic growth and the competitiveness of the United States on the global stage. Click here to read the NAM's Growth Agenda, the foundation of our work on behalf of the men and women who make things in the United States.
Details: Erin Streeter, (202) 637-3087.

NAM Efforts on Greenhouse Gas Regulations Gain Momentum. The NAM has undertaken a multi-front strategy to promote a rational approach to greenhouse gas regulations. In the courts, we are nearing the end of a four-year litigation effort against the EPA's greenhouse gas regulations for stationary sources. Only one step remains: a decision from the U.S. Supreme Court.
Peter Keisler of Sidley Austin LLP, working in consultation with the NAM's Manufacturers' Center for Legal Action, presented our case February 24 in an oral argument before the Supreme Court. The Justices offered questions probing our legal arguments, seeking to determine whether the EPA could sweep greenhouse gas emissions into a regulatory program that has never included gases emitted in such volumes as to make EPA regulations, in its own word, "absurd." Keisler argued that the EPA had to effectively rewrite several provisions of the Clean Air Act, a power the agency did not and does not have. A final ruling is expected by late June.
If the EPA's broad interpretation of its power is upheld, permits may ultimately be needed for 200,000 manufacturing facilities. Not only is this an unworkable regulatory system for all the state permitting agencies, it will also add needless costs, delays and uncertainty to an extraordinary number of normal manufacturing operations. Regardless of the outcome, the EPA is moving ahead with greenhouse gas regulations under another section of the Clean Air Act relating to New Source Performance Standards—first for new electric power plants and later this year for existing ones. The NAM submitted comments on an earlier version of the proposed standard in 2012, and we will do so again this year.
The NAM is also broadening business participation and actively pushing back against unachievable greenhouse gas standards by leading the newly formed Partnership for a Better Energy Future. On the legislative front, the NAM is building support in Congress for the Electricity Security and Affordability Act (H.R. 3826), which would rein in unreasonable EPA regulations that will dramatically increase the cost of electricity and harm our nation's economy. The bill, drafted by Sen. Joe Manchin (D-WV) and Rep. Ed Whitfield (R-KY), will be up for a vote in the House next week.
Together, these judicial, administrative, grassroots and political efforts are designed to make sure that decision makers are fully informed of the serious impact that unreasonable greenhouse gas regulations have on our ability to remain competitive and provide economic security and jobs.
Tell the EPA to adopt a more reasonable path for greenhouse gas regulations. Click here to read Washington Post coverage of the NAM's efforts to keep EPA overregulation in the minds of voters this fall.
Details: Quentin Riegel, (202) 637-3058 and Greg Bertelsen, (202) 637-3174.

Manufacturers Talk Health Care During "ACA University" Webinar. The NAM, in conjunction with the Council for Affordable Health Coverage and the Latino Coalition, continued the successful "ACA University" webinar series this week. The webinars are intended to provide in-depth information on different aspects of the Affordable Care Act (ACA) and their effects on employers, consumers and health care providers. Featured speakers during the session included Doug Badger, former senior White House adviser for health policy to President George W. Bush, and Elizabeth Carpenter, senior manager at Avalere Health.
The webinar focused on where the ACA stands now that we are into a nearly full implementation phase of the law and what impact state-based decisions about expanding Medicaid are having on states and coverage levels.
The ACA and the accompanying uncertainties of implementing provisions of the health care law have placed a roadblock in manufacturers' efforts to invest and grow. According to respondents in December's NAM/IndustryWeek Survey of Manufacturers, more than 77 percent of respondents cited rising health care and insurance costs as their top business challenge. In addition, nearly one-third said they had reduced their outlook for 2014 due to uncertainties surrounding the ACA implementation.
Click here for an estimated breakdown of ACA implementation costs to manufacturers. The breakdown is based on Bureau of Labor Statistics and Congressional Budget Office data as well as NAM staff estimates on the potential cost per employee for the recordkeeping requirements as proposed by the IRS last year.
The NAM will continue to urge policymakers to preserve what is working in our health care system while addressing the inefficiencies and problems that cost manufacturing in the United States billions of dollars a year and fuel uncertainties for our nation's job creators.
Details: Joe Trauger, (202) 637-3127 and Christine Scullion, (202) 637-3133.

NAM Makes the Case for Energy Legislation. The latest findings from a poll released by the NAM and the National Electrical Manufacturers Association on February 27 show Americans broadly support energy efficiency as a solution to our nation's energy challenges.

The poll, conducted among 1,000 likely voters and commissioned by McLaughlin & Associates, found that 9 in 10 support energy-efficiency policies and showed a strong desire for greater adoption of energy-efficient technologies throughout our economy.
"Energy efficiency will continue to play a critical role in our nation's ability to succeed economically, and commonsense energy-efficiency legislation is a win-win that means savings for manufacturers and their communities," said NAM President and CEO Jay Timmons. "These results show that consumers from across the political spectrum agree that energy efficiency is a key part of our nation's energy future."
Click here for the NAM's press release and here for the survey results. See news coverage in Politico Morning Energy.
On the legislative front this week, Sens. Jeanne Shaheen (D-NH) and Rob Portman (R-OH) reintroduced their version of energy-efficiency legislation—the Energy Savings and Industrial Competitiveness Act. The latest version adds additional bipartisan provisions to encourage greater energy efficiency in such areas as residential and commercial buildings, industrial facilities and federal government agencies. None of these provisions contain government mandates or increase spending. Click here for news coverage in The Hill.
Next week, the House is expected to vote on H.R. 2126, the Better Buildings Act, which promotes energy efficiency in industrial, commercial and residential applications. The provisions in this legislation would advance energy efficiency through decreased regulatory burden, increased transparency and reduced taxpayer dollars on energy bills.
Manufacturers use one-third of the energy consumed in the United States. Improving the energy efficiency of manufacturers will help boost global competitiveness across all sectors of the economy and reduce the impact on the environment.
Details: Chip Yost, (202) 637-3175.

Capitol Hill Event Highlights Importance of Trade to Manufacturing. As part of its Shop Floor Briefing series on Capitol Hill, the NAM hosted an event this week to highlight the importance of international trade to a strong manufacturing sector. Intel Corporation Director of Trade and Competition Policy and NAM International Trade Policy Committee Chair Greg Slater, Space Exploration Technologies Corporation Director of Government Affairs Mathew Dunn and DuPont Director of International Affairs Tiffany Atwell participated in a panel discussion on the policies and legislative priorities that are critical to level the global playing field for manufacturers.
House Democratic Whip Steny Hoyer (D-MD) and Senate Finance Committee Ranking Member Orrin Hatch (R-UT) kicked off the event, and attendees included other NAM member companies and a number of Senate and House staffers.
Manufacturers had the opportunity to showcase the ways in which trade helps them grow exports, create jobs and compete in a challenging global market and emphasize the importance of Trade Promotion Authority (TPA), reauthorization of the Export-Import (Ex-Im) Bank, the Miscellaneous Tariff Bill and other trade legislation.
To read more about manufacturers' trade priorities, click here for an article on TPA in January's Member Focus—the NAM's monthly digital magazine—and here for an interview with Ex-Im Bank Chairman and President Fred Hochberg in May's issue.
We need Washington to take the lead in negotiating market-opening agreements and pursue a robust trade agenda that will grow manufacturing in the United States. Click here to tell Congress to support pro-growth trade policies and here for the NAM's Trade Toolkit.
Details: Linda Dempsey, (202) 637-3144 and Jessica Lemos, (202) 637-3078.
NAM Promotes Strong Intellectual Property Abroad. The NAM is urging the Obama Administration to take tough action to strengthen intellectual property (IP) protection and enforcement abroad. Based on public comments submitted earlier this month, the NAM testified early this week at a hearing for the Office of the U.S. Trade Representative's (USTR) annual Special 301 Report. The report highlights foreign government acts, policies and practices that deny adequate and effective IP rights protections.
The NAM's testimony raised serious concerns about the growing use of IP to give an advantage to local industries at the expense of exporters in the United States, highlighting particular threats in China, India and Russia. It echoed concerns about India's IP regime NAM Vice President of International Economic Affairs Linda Dempsey raised in an op-ed in The Hill newspaper late last week.
The NAM will continue working to ensure a level playing field for manufacturers in overseas markets, including strong protection and enforcement of ideas, brands and inventions.
Details: Chris Moore, (202) 637-3142.

House Passes Bill to Reform Our Nation's Regulatory System. The NAM sent a Key Vote letter this week to the House of Representatives in support of H.R. 2804, the Achieving Less Excess in Regulation and Requiring Transparency (ALERRT) Act. The House passed the measure by a vote of 236–179.
The ALERRT Act contains reforms that would alleviate unnecessary regulatory burdens placed on manufacturers and other businesses by promoting increased public participation in the rulemaking process and would provide transparency as agencies engage in regulation by litigation to establish major federal policy. H.R. 2804 also would strengthen current law by ensuring that agencies appropriately and thoughtfully consider the impact of their rules on small businesses. This is critical because regulatory compliance costs disproportionately impact manufacturers, particularly small firms.
"Dollars spent by manufacturers on compliance with unnecessarily cumbersome or duplicative regulations are dollars not spent on capital investment or new employees," said NAM Senior Vice President of Policy and Government Relations Aric Newhouse. "The ALERRT Act contains needed reforms that increase public participation in the rulemaking process while increasing the requirement that agencies utilize better analysis and input from small businesses."
The NAM will continue to work with policymakers on advancing a manufacturing regulatory agenda that focuses on real priorities and removes unnecessary impediments to growth.
Details: Erik Glavich, (202) 637-3179.
NAM Opposes IRS Encroachment on First Amendment Rights. The NAM pushed back on an IRS proposed rule that would attack political speech guaranteed under the First Amendment. Earlier this week, the NAM sent a Key Vote letter to members of the House of Representatives, urging their support of H.R. 3865, the Stop Targeting of Political Beliefs by the IRS Act, introduced by House Ways and Means Committee Chairman Dave Camp (R-MI). The House passed the measure by a vote of 243–176.
The legislation would halt for one year an effort by the IRS to strip the tax-exempt status under Section 501(c)(4) of organizations that engage in certain political activities, including activities that are not on behalf of or in opposition to a candidate. While the IRS proposed rule as drafted directly applies to 501(c)(4) organizations, it asks for comment on the impact of the rules if applied to 501(c)(6) organizations, such as the NAM, strongly suggesting that the IRS is headed in this direction. The proposal would sweep in a broad array of activities not currently classified as political, including "get out the vote" drives, voter guides and communications with NAM members and the general public on legislative issues if a member of Congress standing for election is named and the communication takes place near the time of a primary or general election.
In comments submitted to the IRS this week, the NAM urged that the proposed changes be rejected, highlighting the many ways in which they would encroach upon First Amendment rights.
"H.R. 3865 offers critical protections of First Amendment freedoms necessary to maintain an active voice for all organizations in policy debates," said NAM Senior Vice President of Policy and Government Relations Aric Newhouse. "Action by the IRS to hinder or intimidate the participation of representative organizations undermines the cornerstone of our freedoms and must be halted."
The NAM will continue to fight against regulatory overreach that burdens manufacturers and violates First Amendment rights.
Details: Linda Kelly, (202) 637-3060 and Erik Glavich, (202) 637-3179.
NAM and NFIB Lead Regulatory Reform Effort. The NAM joined the National Federation of Independent Business (NFIB) and The Hill newspaper this week in hosting an event that highlighted the regulatory burdens placed on manufacturers and businesses in the United States and underscored the need to reform our regulatory system. The event, titled "The State of U.S. Regulation," featured a keynote address by House Majority Whip Kevin McCarthy (R-CA) and remarks by NAM President and CEO Jay Timmons. This marks the beginning of a partnership between the NAM and the NFIB to promote regulatory reforms that will decrease the burden on manufacturers in the United States.
A distinguished panel, moderated by The Hill's Ben Goad, featured former Gov. and Sen. George Allen (R-VA); former Sen. Blanche Lincoln (D-AR); Susan Dudley, director of George Washington University's Regulatory Studies Center; Robert Weissman, president of Public Citizen; and Philip Howard, founder of Common Good and author of The Death of Common Sense. Panelists discussed the need for regulations to ensure health and safety and establish the "rules of the road" and highlighted how the federal government has enacted too many complex and burdensome regulations. They also stressed the need to reexamine existing regulations to support innovation and manufacturers' competitiveness while achieving regulatory objectives.
In his remarks, Timmons stressed the perseverance of manufacturers in the United States that, despite challenges imposed by Washington, are "coming back" by being more productive than ever and continuing to innovate and expand. Timmons shared, "Imagine how much stronger this comeback could be if Washington removed impediments to growth…if manufacturers could focus on making better products and innovating instead of spending hours figuring out which rules they must follow and then how to comply."
Click here for the NAM/NFIB's joint press release on the event and here for an article from The Hill.
Details: Rosario Palmieri, (202) 637-3177.
NAM Brings Manufacturing Voice on Transportation and Infrastructure. NAM Senior Vice President of Policy and Government Relations Aric Newhouse encouraged Congress to face critical infrastructure funding challenges during a February 26 House Transportation and Infrastructure Committee policy roundtable. Newhouse echoed the NAM's ongoing efforts to advocate a fully funded multiyear surface transportation authorization. Investing in our nation's infrastructure needs should be a long-term strategic objective, Newhouse said. Otherwise, we risk falling behind our competitors. NAM Director of Transportation and Infrastructure Policy Robyn Boerstling carried a similar message to the American Association of State Highway and Transportation Officials at a meeting in Washington this week.
The NAM also addressed recent infrastructure announcements from President Obama and House Ways and Means Committee Chairman Dave Camp (R-MI). Manufacturers will study both proposals in the days ahead to ensure that proposed financing mechanisms will not hinder manufacturers' competitiveness. Manufacturers look forward to working with Congress and the Administration to advance bipartisan proposals that recognize a strong and modern infrastructure system is needed to thrive in today's global economy.
Click here to read a recent study by the NAM and Building America's Future on the state of our nation's infrastructure and here for more about manufacturers' infrastructure priorities in Member Focus, the NAM's monthly digital magazine.
Details: Robyn Boerstling, (202) 637-3178.

House Tax Plan Is a Mixed Bag for Manufacturers. House Ways and Means Committee Chairman Dave Camp's (R-MI) long-awaited plan to overhaul the federal tax code, the Tax Reform Act of 2014, released February 26, includes some positive and negative provisions for manufacturers. The revenue-neutral proposal covers both corporate and individual taxpayers. Specific proposals include a top tax rate of 25 percent for corporations and S-corporation manufacturers, a modern, international tax system, a permanent R&D credit, a modified capital cost recovery system and permanent, enhanced Section 179 expensing as well as repeal of the medical device tax. The lower rates would be offset by broadening the income tax base by eliminating a number of provisions in the current code, many of which are important to manufacturers.
In a press statement on Chairman Camp's proposal, NAM Vice President of Tax and Domestic Economic Policy Dorothy Coleman acknowledged that the release of the plan represents a major step toward enacting much-needed comprehensive tax reform and that "manufacturers look forward to working with the committee to ensure the best outcome."
Moving forward, "The NAM will be examining the draft closely, working with our members to ensure that comprehensive tax reform will result in placing manufacturers and the entire U.S. economy on a path to growth, job creation and competitiveness."
Because of the critical importance of tax reform for manufacturers, the NAM is forming a broad ad hoc working group and several subject-matter subgroups to help draft and review comments on Chairman Camp's tax plan.
See news coverage in The Hill and Oil & Gas Journal.
Details: Dorothy Coleman, (202) 637-3077, Carolyn Lee, (202) 637-3079 and Christina Crooks, (202) 637-3076.
Tech Priorities Take Center Stage at the South Carolina Chamber of Commerce. NAM Director of Technology and Domestic Economic Policy Brian Raymond discussed national policies for innovation and emerging technology this week at the South Carolina Chamber of Commerce during its 4th Annual Manufacturers Conference. The conference focused on manufacturing innovation—the Chamber's theme for this year—as well as technology, sustainability, workforce development, environmental regulations and many other topics critical to manufacturers' competitiveness.
Raymond spoke about the NAM's technology policy priorities, including protecting IP, securing information infrastructure, enabling spectrum-dependent facilities and products and fostering innovation and emerging technology. Raymond also touched on abusive patent litigation, data security and privacy and Federal Communications Commission regulations.
During his presentation, Raymond focused on IP theft. According to an NAM member survey, 89 percent of manufacturers consider IP important to the success of their business, and more than 90 percent of respondents are concerned about IP theft. The NAM is leading efforts to reform the patent system, online brand protection and others. Without strong IP protection, the incentives for future innovation will diminish.
Continued innovation in manufacturing depends on national technology policies that drive economic growth, productivity gains and job creation. That's why the NAM created the D.A.T.A. Policy Center, an organization within the NAM geared toward educating policymakers and the public about the clear intersection of technology and manufacturing. Click here to learn more.
Details: Brian Raymond, (202) 637-3072.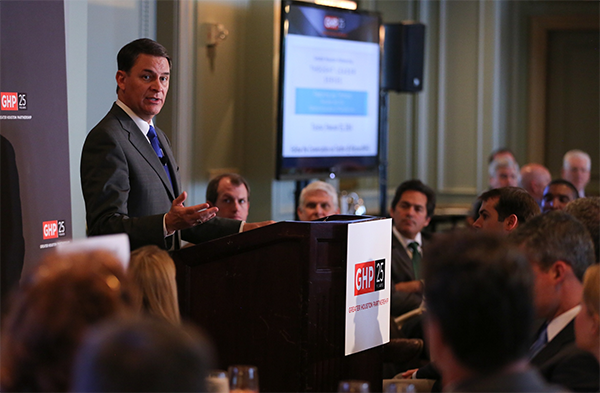 NAM President and CEO Jay Timmons delivered the annual State of Manufacturing address at the Greater Houston Partnership in Houston, Texas, this week, focusing on the unique opportunities and challenges facing the manufacturing economy and the solutions that will bolster manufacturing's strength in the United States and around the world. Timmons made the case for ensuring the continued vitality of manufacturing through a focus on products, people and policy.
Photo by David Bohrer/National Association of Manufacturers

Manufacturing Institute to Help Lead Manufacturing Innovation Center. The Manufacturing Institute is part of the UI LABS team that was awarded $70 million from the U.S. Department of Defense this week to lead the Digital Manufacturing and Design Innovation (DMDI) Institute.
DMDI will be built in Chicago and include universities, community colleges and manufacturers from across the country. The Manufacturing Institute will engage manufacturers as well as community and technical colleges related to the education and workforce development activities of DMDI. The Manufacturing Institute will also identify schools interested in piloting digital manufacturing and design innovation principles in their manufacturing education programs as well as represent the Skills Certification System to support the development of standards and certifications in digital manufacturing.
In addition, EWI, a key partner with The Manufacturing Institute in the development of an American Manufacturing Innovation Network blueprint, will lead the Lightweight and Modern Metals Manufacturing Innovation Institute to be built in Michigan.
For more information on The Manufacturing Institute's work with the manufacturing innovation centers, please click here.
Details: AJ Jorgenson, (202) 637-3115.
Act Now to Help Ensure Ex-Im Bank Reauthorization. The Ex-Im Bank's authorization is set to expire in September, and a lapse in authorization would threaten the competitiveness of manufacturers in the United States. Congress must swiftly pass a reauthorization of the Ex-Im Bank, and members of Congress need to hear your story.
Click here to tell policymakers how the Ex-Im Bank has helped boost exports or support jobs within your company or in your region. These testimonials are invaluable when communicating with lawmakers about how the Ex-Im Bank can help your business.
The Ex-Im Bank is a vital tool to help grow U.S. exports and increase American jobs. As the official export credit agency of the United States, the Ex-Im Bank assists in financing U.S. exports from thousands of American companies and bolsters our global competitiveness. In fact, nearly 90 percent of the Ex-Im Bank's transactions directly support U.S. small business.
Send us your stories today to help educate Congress about the Ex-Im Bank's positive impact on manufacturing competitiveness.
Details: Tiffany Adams, (202) 637-3118.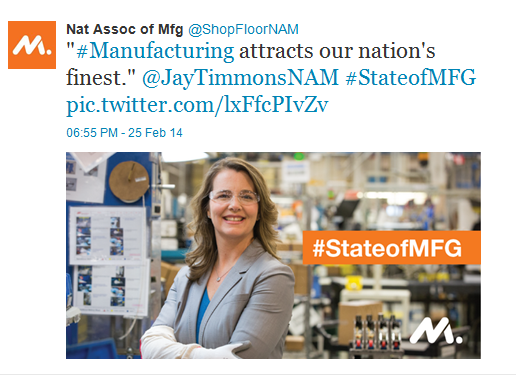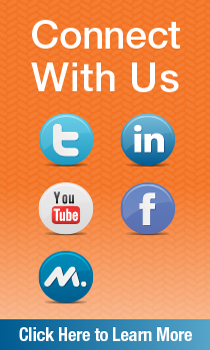 Details: Martha Sprague, (202) 637-3083.
Plan to Attend the 2014 NAM Public Affairs Conference! Register now for the NAM's Public Affairs Conference, March 30–April 1, at the St. Regis Monarch Beach Resort in Dana Point, Calif. This event will provide a unique opportunity for government relations and public affairs professionals to emphasize their priorities on legislative and regulatory issues as well as advocacy strategies. You will hear valuable perspectives from industry leaders and will be encouraged to share your ideas at what will be the ultimate coalition meeting. Click here for additional information and to register.
Details: Candice Daniels Austin, (202) 637-3122.
Mark Your Calendar for the NAM's 2014 Manufacturing Summit. The NAM will host the 2014 Manufacturing Summit in Washington, D.C., June 10–11. Join your fellow manufacturers on Capitol Hill as we continue to promote a pro-manufacturing legislative agenda in the 113th Congress. This is the perfect time to connect with key members of Congress to discuss a host of issues that will affect the business community. Click here to register today!
Details: Candice Daniels Austin, (202) 637-3122.
Senate Hearings: WEDNESDAY: The Armed Services Committee hears from Secretary of Defense Chuck Hagel about the Defense Department's authorization request for 2015. The Small Business Committee votes on the nomination of Maria Contreras-Sweet to serve as administrator of the Small Business Administration. The Budget Committee holds a hearing on the President's 2015 budget request. The Finance Committee also holds a hearing on the President's 2015 budget request. THURSDAY—A Commerce subcommittee examines "Enhancing our Rail Safety: Current Challenges for Passenger and Freight Rail."
House Hearings: MONDAY—An Energy and Commerce subcommittee looks at the Food and Drug Administration's proposed changes to generic drug labeling. TUESDAY—A Science, Space and Technology subcommittee asks "Can Technology Protect Americans from International Cybercriminals?" A Transportation and Infrastructure subcommittee looks at the impact of maritime transportation regulations on safety, security, jobs and the environment. The Judiciary Committee considers alternatives to the Internet sales tax. WEDNESDAY—The Oversight and Government Reform Committee looks at the IRS's targeting of political groups. The Transportation and Infrastructure Committee conducts an "Overview of Public-Private Partnerships for Highway and Transit Projects." The Education and Workforce Committee holds a hearing on the National Labor Relations Board's ambush election rule. The Budget Committee reviews the President's budget proposal.
Economic Reports: Monday's reports include the PMI Manufacturing Index, the ISM Manufacturing index, motor vehicle sales and construction spending. On Wednesday, ADP releases its employment report. Factory orders and productivity and costs data come out Thursday. On Friday, the Labor Department releases its employment report for February; in addition, international trade numbers are slated for a Friday release.
Details: Larry Scholer, (202) 637-3082.
---
Questions or comments?
Contact Senior Director, Executive Communications Laura Brown Narvaiz at lnarvaiz@nam.org.
President and CEO: Jay Timmons
Senior Vice President, Policy and Government Relations: Aric Newhouse
Senior Vice President, Communications: Erin Streeter

Copyright © 2014 National Association of Manufacturers