Ask Our Expert
U.S. manufacturers are the most productive in the world and 50 percent more productive than workers in the next 11 leading manufacturing economies. Manufacturers understand that this productivity comes from a spirit of cooperation and mutual respect between employer and employees.
U.S. employment and labor laws should promote domestic job creation within our global economy. Changes to our current system should come only after careful consideration of the potential impacts on America's economic vitality. Additional rigid work rules and labor costs inhibit job creation and make it impossible for some companies to succeed. This is undesirable under any economic circumstances, but particularly devastating at a time when manufacturers are struggling to emerge from the longest and deepest recession since the 1930s.
The NAM is the leading advocate for labor policies that enable manufacturers to generate jobs and growth. We support education and training programs that promote manufacturing skills and certification. We oppose onerous one-size-fits-all paid leave mandates that curtail innovative leave programs. We advocate a balanced approach to workplace health and safety with a focus on public- private collaboration and compliance assistance. And we support policies that foster equality in the workplace without increasing the threat of burdensome litigation.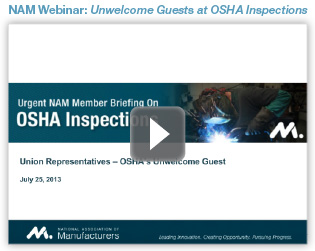 ---