Ask Our Expert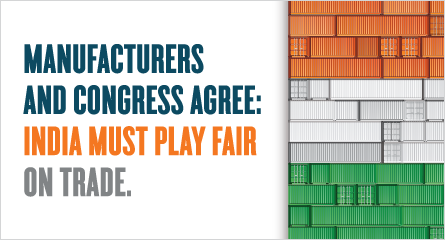 Over the past year, Indian government agencies and courts have engaged in a persistent pattern of discrimination and forced localization designed to benefit India's corporations at the expense of manufacturing jobs in the United States. The Indian government has demanded that much of its market for certain information technology, clean energy, and power equipment be satisfied by domestic-based firms. Administrative and court rulings have repeatedly ignored internationally recognized rights by imposing arbitrary marketing restrictions on medical devices and denying or revoking patents for nearly a dozen lifesaving medications.
The National Association of Manufacturers urges the Obama Administration to raise these concerns at the highest levels of the Indian government and to coordinate closely with the European Union and other like-minded economies. Reversing discrimination and restoring trust would be a win-win, enabling American exporters to further invest in India's future and help India grow its economy and create opportunities for its people.
Click here to see what Washington is saying about India's discriminatory policies. Everyone agrees: There is a big problem.