A Publication of the National Association of Manufacturers

January 7, 2013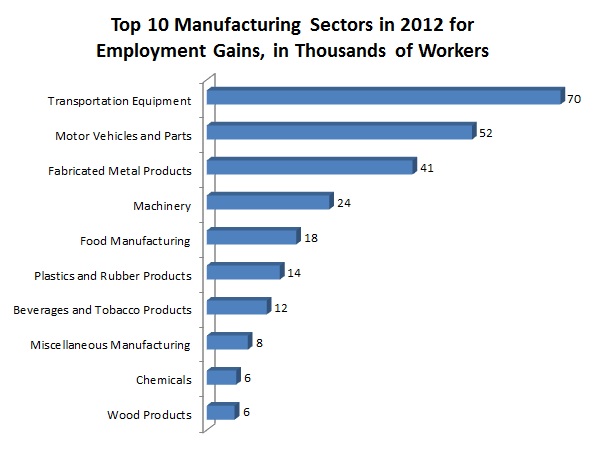 With a last-minute deal to avert the fiscal cliff, manufacturers have fewer uncertainties to worry about at the start of the new year. The threat of an economic downturn appears to have largely dissipated, with modest growth in real GDP of 2 percent or so expected this year. However, while the agreement ensures that tax rates for most individuals will remain the same, marginal tax rates will rise for some manufacturing companies that are organized as pass-through entities.
The agreement delays budget sequestration for two months, but that only extends the uncertainty over how this matter will be resolved. In addition, policymakers did not even begin to address the long-term fiscal challenges that confront us by ensuring meaningful tax and entitlement reforms. However, because of the structure of the agreement, they will have additional opportunities to do so over the next few months when they must address the debt ceiling limit, sequestration and the soon-to-expire continuing resolution that funds the government.
The data released last week tended to reflect an economy that was strengthening, even as it continues to show signs of persistent weaknesses. On the employment front, manufacturers added 25,000 net new workers. This is a healthy figure to end the year on, with 180,000 additional jobs in 2012 and 522,000 since the end of 2009. Still, the pace during the second half of the year was much slower than the first half, and it would be encouraging to see the sector producing outsized output and employment growth again. Sentiment surveys have tended to show some manufacturers pulling back on hiring. This might change if business leaders see an economy on more solid footing.
There are some signs that the U.S. and global economic environments have stabilized. As noted in the Global Manufacturing Economic Outlook released on Friday, January 4, seven of our top 10 markets for manufactured goods are growing - ;an improvement from just three months ago when much of the world outside of North America was experiencing declines. Looking specifically at the U.S. market, the Institute for Supply Management's (ISM) Purchasing Managers' Index (PMI) shifted from contraction to a slight expansion last month, with export orders and hiring helping to lift the measure. While there is still much progress to be made on this front, the positive PMI number is good news. Similarly, the Dallas Federal Reserve Bank reported higher activity levels and increased manufacturing business confidence in its region.
This week, the key highlight will come on Friday with the release of new international trade data for November. The October data reflected reduced exports and imports as a result of slowing global growth. With improvements in some countries, we will see if manufactured goods exports begin to pick up. Other numbers to watch include data on consumer credit, job postings and small business optimism.
Chad Moutray
Chief Economist
National Association of Manufacturers


Last Week's Indicators:
(Summaries Appear Below)

Monday, December 31
Dallas Fed Manufacturing Survey

Tuesday, January 1
NEW YEAR'S DAY HOLIDAY
               
Wednesday, January 2
Construction Spending
ISM Purchasing Managers' Index

Thursday, January 3
ADP Employment Report

Friday, January 4
BLS Employment Situation
Factory Orders


This Week's Indicators:


Monday, January 7
None

Tuesday, January 8
NFIB Small Business Survey
               
Wednesday, January 9
Consumer Credit

Thursday, January 10
Job Openings and Labor Turnover Survey
MAPI Manufacturers Survey
Wholesale Trade

Friday, January 11
International Trade

ADP Employment Report
Automatic Data Processing (ADP) reported that non-farm payrolls rose 215,000 in December, its strongest gain since February. The bulk of these jobs stemmed from the service sector (up 187,000) and construction (up 39,000). The latter was the result of an improving housing market.
In contrast to these more positive numbers, manufacturing continues to struggle. Manufacturers lost 11,000 workers on net in December, or 65,000 over the past six months. (Note that these figures are different than the official government statistics discussed below.) Indeed, there have been notable declines in production and new orders in the second half of last year, with economic uncertainties and slowing global growth forcing many businesses to pull back. Sentiment surveys have indicated some companies are reluctant to hire, although that sentiment might change in the coming months if the economy strengthens.
Medium-sized (50 - 499 employees) and larger (500 or more employees) businesses accounted for the bulk of December's net job increases. In the two size groups, there were 102,000 and 87,000 additional employees on net, respectively. Smaller businesses with fewer than 50 employees contributed 25,000 workers to the total.
Other industries with more workers in December included trade, transportation and utilities (up 53,000), professional and business services (up 37,000) and financial activities (up 14,000).
BLS Employment Situation
According to the Bureau of Labor Statistics (BLS), the manufacturing sector added 25,000 net new workers in December, its strongest monthly gain since March. This stands in contrast to the ADP figures discussed above, which show six straight months of declining manufacturing employment. The official government data reflect a more positive uptick for the sector.
Over the course of 2012, manufacturers hired an additional 180,000 workers on net, or 10 percent of all non-farm payroll jobs created, the majority of which were created in the first half of 2012. This growth was slower than we had hoped to see. The fiscal cliff and other uncertainties weighed heavily on the minds of manufacturers during the second half of the year.
Looking more specifically at December's manufacturing employment numbers, durable and nondurable goods added 11,000 and 14,000 workers, respectively. Most of these gains can be largely attributed to rebuilding after Hurricane Sandy as construction jobs saw an increase of 30,000. The largest gains were in motor vehicles and parts (up 4,800), food manufacturing (up 4,500), chemicals (up 4,300), nonmetallic mineral products (up 3,500), plastics and rubber products (up 2,100)and machinery (up 2,000).
Even with this uptick in December, manufacturing showed several areas of weakness. We saw losses in electrical equipment and appliances (down 2,100), fabricated metal products (down 700), paper and paper products (down 500), apparel (down 400) and furniture and related products (down 400).
Figures for average weekly hours were somewhat mixed. While the average manufacturing employee worked 41.6 hours - unchanged from the previous month - durable goods workers' time on the job edged lower from 41.9 hours on average to 41.8 hours. The average amount of overtime was marginally higher, up from 4.1 hours to 4.2 hours, with an increase in overtime from the nondurable goods sector contributing to the gain.
December's jobs report shows an economy that is growing modestly, but not enough to bring down the unemployment rate in a material way. Unemployment remains elevated at 7.8 percent, with "real" unemployment unchanged this month at 14.4 percent. The good news in this report is the strong gains in manufacturing and construction, as well as several other sectors. However, hiring expectations have tended to lag behind, with many manufacturers pulling back on employment and capital spending plans. We saw this in the past quarter in the run-up to the fiscal cliff.
Construction Spending
The Census Bureau reported that construction spending decreased 0.3 percent in November, its first decline since March. The decrease was largely due to lower activity levels in the nonresidential sector, which decreased 0.7 percent and was negative four of the past six months. With businesses anxious about the fiscal cliff and tighter government budgets dampening public sector spending, nonresidential activity was soft at best for much of the second half of 2012.
This has definitely been true in the manufacturing sector, which had seen its construction spending levels fall 2.0 percent since September. With some of the uncertainties surrounding the fiscal cliff over, these figures should improve in 2013 if sales strengthen and the global economic environment stabilizes. Increased construction spending earlier last year helped to push up year-over-year activity by 5.1 percent.
Looking specifically at November's numbers, the residential sector was a bright spot, with construction spending up 0.4 percent for the month, and private sector housing activity up 19.0 percent since November 2011. On the private sector nonresidential side, construction was down across-the-board, with only transportation and communications activity higher.
Public sector nonresidential spending was more mixed, off 0.5 percent. Sectors with increased public sector activity included commercial; power; sewage and waste disposal; highway and street; and transportation projects. The largest monthly declines were in conservation and development; amusement and recreation; office; water supply; and public safety projects.
Dallas Fed Manufacturing Survey
The Dallas Federal Reserve Bank reported an improvement in manufacturing activity in Texas, with the composite index of general business activity up from -2.8 in November to 6.8 in December. Increased production, shipments and capacity utilization fueled the higher figure. Shipments rose the most, up from 0.9 to 11.3, with more than 29 percent of respondents saying that their shipments were higher for the month.
Even with these gains, however, challenges remain. First, new orders were lower, down from 0.4 to -0.9. This could be attributed to economic uncertainties and lower demand due to the holiday season. Second, manufacturers in the district appear to be pulling back on their hiring plans, with the employment index off from 6.7 to -1.0. However, manufacturers continue to invest for the future, with 23.3 percent saying they were increasing their capital spending.
A number of respondents expect 2013 to be a very good year for their company, or they anticipate the demand for their goods to improve. This cautious optimism can be seen in forward-looking measures. The index for general business activity six months from now rose from -5.3 to 7.9, with the assessment of one's own company outlook showing even greater progress. Various activity measures - from new orders to shipments to employment - all reflect expectations of stronger increases in 2013. On the negative side, manufacturers also anticipate pricing pressures to accelerate.
Factory Orders
The Census Bureau reported that new orders for manufactured goods were essentially unchanged in November. This is only part of the story, however. Durable goods orders rose 0.8 percent, whereas nondurable goods sales were 0.6 percent lower. In fact, new durable goods orders would have been even higher if it were not for steep declines in defense and nondefense aircraft and parts. (This was covered when the durable goods data were originally announced.) Excluding transportation, overall factory orders would have risen 0.2 percent for the month.
While transportation as a whole was lower, motor vehicle and parts orders were up 2.8 percent, building on October's 3.5 percent gain. This is a sign that the sector, which had some weaker months midyear, has started to get its groove back again. Other durable goods sectors that did well in November included machinery (up 3.0 percent), primary metals (up 2.5 percent), fabricated metal products (up 1.9 percent) and electrical equipment and appliances (up 1.6 percent).
ISM Purchasing Managers' Index
The ISM's PMI edged higher, from a contraction of 49.5 in November to a slight expansion of 50.7 in December. While the PMI is above the threshold figure of 50 which signifies net growth, it is also not growing with any gusto. In the buildup to the fiscal cliff negotiations, manufacturers remained quite anxious, dampening production and sales. During the last seven months of 2012, the PMI was below 50 four times, and overall manufacturing activity declined from earlier in the year.
On the positive side, however, manufacturers ended the year with a net expansion. The index for new orders was unchanged at 50.3, growing for the fourth consecutive month (but just slightly). Meanwhile, the pace of production eased somewhat, slowing from 53.7 to 52.6. Export orders, which have been a real challenge for much of the past year, shifted from contraction (47.0) to expansion (51.5). Similarly, hiring also picked up, rising from 48.4 to 52.7.
The sample comments tend to support this mixed view of the economic world, with some signs of increased demand even as manufacturers were uncertain about the future. One respondent said, "We are seeing stabilization of orders and costs, as well as production capacity for the first time in months." Yet, others tended to echo the sentiment of a fabricated metal producer who cautioned that future conditions were "foggy."
Overall, manufacturing sales and production appear to have improved in December, which bodes well for the sector as we start the new year. Some of this is likely due to a pickup in activity after Hurricane Sandy, although increased exports and imports also suggest improvements in the international economic environment.
Yet, the pace of growth is only slightly above neutral, with many business leaders pulling back on activity in December due to uncertainties surrounding the U.S. fiscal situation and slowing orders globally. With the fiscal cliff compromise, some confidence has been restored, but Washington needs to do more.