A Publication of the National Association of Manufacturers

January 14, 2013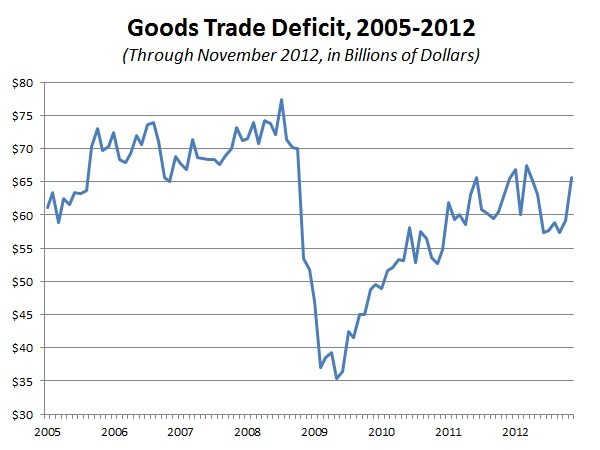 This week, we will receive a number of reports on the health of the manufacturing sector in the United States. The highlight of these will come on Wednesday with the release of industrial production data for December. It is expected to show only modest growth at best, as manufacturers pulled back due to uncertainties related to the fiscal cliff and slowing sales. If the production numbers mirror the Purchasing Managers' Index data for December, they might also show some progress for the month, with some of that related to Hurricane Sandy's aftermath. These trends will likely also show up in regional manufacturing surveys from the New York and Philadelphia Federal Reserve Banks.
All data released last week tended to echo what we have observed for some time. While there have been improvements in some data, businesses and consumers ended 2012 with a high degree of uncertainty. The Manufacturers Alliance for Productivity and Innovation's (MAPI) Manufacturers Survey found that the pace of expansion for the manufacturing community slowed somewhat, particularly with declining export sales. Even with this finding, respondents were cautiously optimistic about 2013. Meanwhile, small business owners remain worried about weaker sales and earnings, with taxes as their top problem—a nod to the fiscal cliff and the fact that they will face higher marginal tax rates.
On the trade front, goods imports rose substantially in November, widening the overall trade deficit. Growth in exports was slower, with numerous headwinds internationally impacting foreign sales. Lower petroleum costs, however, helped to improve November's trade balance. At the same time, November's employment growth was sluggish for the manufacturing sector, with job postings off slightly and hiring levels down. The larger non-farm economy was mostly unchanged in terms of hiring and job openings, even as the United States added a modest amount of workers for the month.
Other data points this week include information on consumer and producer prices, consumer sentiment, housing starts, retail sales and state employment. Market watchers will also closely follow the Federal Reserve's Beige Book due out Wednesday, which summarizes the nation's regional economies. It is likely to continue to show modest economic growth despite softness both globally and in some sectors, including manufacturing.
Chad Moutray
Chief Economist
National Association of Manufacturers
P.S.—We are asking our members to take a moment to complete a short survey on your reactions to the congressional deal that averted the fiscal cliff. This is part of a new series of short polls, which we are dubbing "Manufacturing Quick Takes." Your responses are anonymous, and the results will be posted online and in the new digital edition of our Member Focus publication. To complete the survey, please click here.


Last Week's Indicators:
(Summaries Appear Below)

Monday, January 7
None

Tuesday, January 8
NFIB Small Business Survey
               
Wednesday, January 9
Consumer Credit

Thursday, January 10
Job Openings and Labor Turnover Survey
MAPI Manufacturers Survey

Friday, January 11
International Trade


This Week's Indicators:


Monday, January 14
None

Tuesday, January 15
Empire State Manufacturing Survey
Producer Price Index
Retail Sales
               
Wednesday, January 16
Beige Book
Consumer Price Index
Industrial Production
NAHB Housing Market Index

Thursday, January 17
Housing Starts and Permits
Philadelphia Fed Manufacturing Survey

Friday, January 18
Regional and State Employment
University of Michigan Consumer Sentiment

Consumer Credit
The Federal Reserve Board reported that U.S. consumer credit rose 7 percent at the annual rate in November, its fourth consecutive monthly expansion. Total debt outstanding increased from $2.7524 trillion in October to $2.7685 trillion in November.
More non-revolving loans primarily drove November's growth, as they were up 10.1 percent. This category of loans, which includes auto and student loans, has grown 8.5 percent over the course of the past year. Growth in student lending, which the federal government administers, has been tremendous, but there has also been a significant increase in motor vehicle loans, particularly as the sector has continued to recover.
Meanwhile, the value of revolving loans, which include credit cards and other credit lines, was up 1.1 percent. This represents an easing from October's 4.9 percent growth. Overall, revolving loans have been more volatile in 2012, with Americans not growing their credit card purchases significantly over last year. In fact, revolving consumer credit has risen just $6.9 billion year-to-date, or an increase of just 0.8 percent.
International Trade
The Bureau of Economic Analysis and the Census Bureau reported that the U.S. trade deficit widened from $42.1 billion in October to $48.7 billion in November. This was the second consecutive month to see a widening, and it was the largest deficit since April. While both exports and imports were higher in November, the increase in goods imports mainly drove the larger deficit. Goods imports rose from $186.8 billion to $195.0 billion, or an increase of 4.4 percent. Meanwhile, goods exports were up just 1.3 percent from $127.7 billion to $129.3 billion.
With lower petroleum per barrel costs, non-petroleum factors primarily drove the widening trade deficit. In fact, the petroleum trade balance narrowed from $24.6 billion to $23.5 billion on less oil imports. On the other hand, the non-petroleum goods trade balance widened from $33.8 billion to $41.5 billion, its highest level ever.
Looking specifically at goods exports, they were mostly higher, albeit with slow growth (especially relative to imports). These included non-automotive capital goods (up $937 million), automotive vehicles and parts (up $743 million), industrial supplies and materials (up $577 million) and consumer goods (up $65 million). The one major sector with declining exports in the month was foods, feeds and beverages (down $355 million).
These numbers were more than outweighed, however, by the increases in good imports in the following sectors: consumer goods (up $4.6 billion), automotive vehicles and parts (up $1.5 billion), industrial supplies and materials (up $1.3 billion), foods, feeds and beverages (up $555 million) and non-automotive capital goods (up $408 million).
Reflecting this slower growth for international sales, manufactured goods exports dropped from $85.9 billion to $83.5 billion, using non-seasonally adjusted data. Despite this drop, year-to-date exports for manufactured goods were up 5.2 percent in 2012 relative to the level seen during the same time period in 2011. This suggests that U.S. businesses continue to find opportunities overseas, even as the pace of growth has slowed with numerous headwinds in international economies.
Job Openings and Labor Turnover Survey
The Bureau of Labor Statistics reported that manufacturing job postings edged lower in November, down from 281,000 in October to 276,000 in November. The good news is that the number of openings in the sector retained most of the rebound from October after weaknesses in August and September. Job postings among manufacturers remained at 2.3 percent of the size of the total workforce in the sector. In essence, job openings growth was flat, even as it was down by 5,000.
The other big story with the Job Openings and Labor Turnover Survey (JOLTS) data as it pertains to manufacturing is the continued sluggishness for hiring. Net hiring for manufacturers turned negative again, erasing October's gains. There were 231,000 manufacturing hires in November, down from 242,000 in October. At the same time, separations in the sector—which include layoffs, quits and retirements - rose from 228,000 to 232,000, with net hiring of -1,000 in November.
The data correspond to other indicators in November, which found manufacturers skittish toward employment growth. In the post-election environment, business leaders became more anxious about slowing sales and the prospects of going over the fiscal cliff. The most recent NAM/IndustryWeek Survey of Manufacturers - released in early December - found that net hiring plans were negative for the next 12 months. It is still too early to know if that dynamic has changed since then in light of the fiscal cliff deal, but manufacturers remain cautious by and large even today.
In the larger economy, not much changed in November's data than from the month before. Overall job postings were only marginally higher, up from 3,665,000 to 3,676,000, or 2.7 percent of the non-farm workforce for both. The number of hires rose from 4,316,000 to 4,319,000, with net hiring of 181,000. Sectors with increased hiring in November included construction; professional and business services; and state and local governments.
MAPI Manufacturers Survey
MAPI reported that its composite index of manufacturing activity fell slightly from 56 in the third quarter of 2012 to 55 in the fourth quarter. As I have noted before, this index has declined every quarter since the second quarter of 2010, when it stood at just above 80. Overall, manufacturers continue to grow modestly - even with the lower figure - as the index remains above the threshold of 50, which signifies expansion for the sector.
The data show that sales within the manufacturing sector have been challenged, especially for international trade. The index for current new orders was unchanged at 57 between the third and fourth quarters, but this remains well below the 70 observed in the second quarter. On the trade front, new export orders declined somewhat, down from 53 (slight expansion) to 49 (slight contraction). With slowing economies around the world, this figure is consistent with other reports of headwinds pertaining to growing exports.
Capacity utilization rates rose from 28.8 percent to 31.5 percent, suggesting some improvement, even as these rates remain subpar. Other pieces of good news surround the forward-looking indices, with manufacturers cautiously optimistic about this year. Some growth is anticipated for shipments, orders and investments. The pace of non-U.S. investment expectations pulled back one notch from 60 to 59, once again echoing some of the headwinds experienced offshore (but still representing increased investment overall).
In a series of special questions, respondents were asked about reshoring. Seventeen percent of companies reported that they had brought some production back to existing facilities from elsewhere, with a few more intending to do so this year. The primary reasons for doing so were labor and transportation costs, as well as a re-evaluation of their supply chain. The top reasons cited for not reshoring include cheaper costs elsewhere, the U.S. tax code and the desire to produce closer to foreign customers.
NFIB Small Business Survey
The National Federation of Independent Business (NFIB) reported that its Small Business Optimism Index edged slightly higher from 87.5 in November to 88.0 in December. This more or less solidifies the sharp drop in November, which fell from 93.1 in October, and it reflects the degree to which small business owners remain pessimistic. Historically, index values greater than 100 signify a growing sector, and the current levels indicate a significant degree of weakness and anxiety. The post-election political environment and the debate over the fiscal cliff more than likely influenced these lower sentiment values.
Small businesses are likely to bear the brunt of the higher marginal tax rates that were part of the fiscal cliff deal. It should be no surprise that taxes were listed as the top problem, cited by 23 percent of respondents. Other challenges were government regulations (21 percent) and poor sales (19 percent). The net percentage of small business owners with a positive outlook six months from now remained unchanged at -35, with economic uncertainties and political frustrations listed as the primary reasons.
Beyond these concerns, entrepreneurs are worried about weaker sales and earnings. While the overall numbers showed some improvements, it is hard to put a positive spin on the sales and earnings numbers, with business owners anticipating reduced levels for both over the coming months. As a result, hiring and capital spending plans remain soft.
Overall, these numbers suggest continued weaknesses in the small business sector over the next few months. While the fiscal cliff deal did avert the worst-case scenario for the economy, it also raised marginal tax rates for many small firms and failed to address our long-term fiscal challenges. Smaller firms have tended to express more frustrations with the political process than others, and the NFIB Optimism Index showed its second-lowest reading in the past three years. Until business owners express more confidence, I would expect them to continue to be reluctant about increasing their employment and investment spending.
---
Questions or comments? Please contact Chad Moutray at cmoutray@nam.org

Copyright © 2013 National Association of Manufacturers