A Publication of the National Association of Manufacturers

January 22, 2013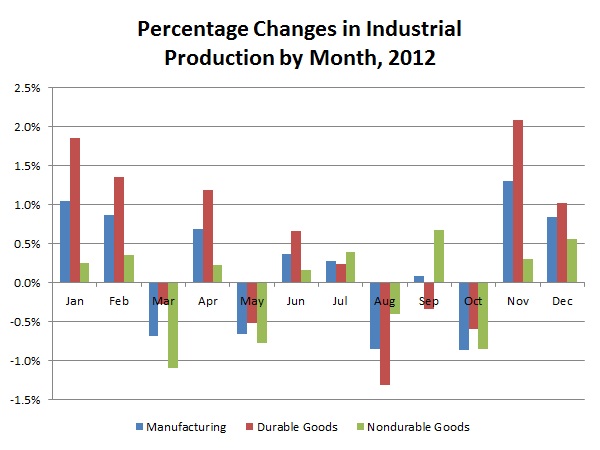 The Federal Reserve Board's Beige Book, released last week, noted some improvements in the economy since last month. The United States is growing modestly, and inflation appears to be in-check, at least for now. This latter point was also confirmed in the most recent price data from the Bureau of Labor Statistics. Yet, the Beige Book also cited weaknesses in the manufacturing sector in many of its districts, with activity mixed and firms hesitant to hire. In fact, the labor market description showed the softer manufacturing market:
The Boston, Richmond, Atlanta, Chicago, Kansas City and San Francisco Districts all reported delayed hiring, often in defense manufacturing, due to fiscal cliff uncertainties. Companies in the Chicago District with trade or investment exposures to Europe reduced their hiring plans as well. Chicago reported that manufacturers are choosing to cut hours instead of reducing headcount in expectation of production rebounds in 2013. Atlanta and Kansas City cited health-care policy changes and costs as another cause for minimal hiring. On the other hand, the New York, Atlanta, Minneapolis and Dallas Districts saw the labor market firming modestly. Finally, contacts in several districts reported difficulties finding qualified workers in some specialized fields, such as skilled manufacturing, energy and IT.
Many other data points out last week tended to echo these weaknesses. Both the New York and Philadelphia Federal Reserve Banks found contracting sales, inventories and employment levels in their respective districts. The Philly survey cited slower sales growth, the desire to keep costs low and uncertainties related to health care and the U.S. fiscal situation as the top reasons why manufacturers were holding back on hiring. Despite this, manufacturing production increased 0.8 percent in December, building on November's 0.6 percent gain. Hurricane Sandy might explain part of this increase, but modest consumer spending growth was probably also a factor. Retail sales rose 0.5 percent for the month and 4.7 percent for the year. Still, even with these gains, manufacturing production was much slower in the second half of the year compared to the first half.
The residential construction sector continues to be a bright spot, with housing starts soaring to 954,000 at the annual rate in December. This represents a 36.9 percent increase year-over-year and is a clear indication that housing is recovering. Freddie Mac reported that the average 30-year mortgage rate fell to 3.38 percent - a major contributor to the recent progress in the residential market - and home builder confidence continued to grow throughout the year. I expect for housing starts to exceed 1 million units by year's end - a major accomplishment, even as it remains well below the 2.1 million homes built in 2005 and 2006. Despite this upward movement, challenges remain, especially regarding tougher lending standards and persistent financial challenges for would-be buyers.
This week, we will learn more about the domestic and global manufacturing situation. Surveys from the Kansas City and Richmond Federal Reserve Banks will build on their mixed findings in December. Last month, the Kansas City District had declining activity for the third straight month, whereas the Richmond area noted positive growth, albeit at a slower pace. Hopefully, both districts report stronger production and sales levels to begin the new year. Meanwhile, Markit will report its "flash" Purchasing Managers' Index (PMI) for the United States, China and Europe. The most recent PMI data continue to show signs of weakness in the Eurozone, with even Germany experiencing declines. This contrasts with the United States and China, which have shown some signs of progress, despite growing only modestly at best. I would expect those same trends to continue.
Chad Moutray
Chief Economist
National Association of Manufacturers


Last Week's Indicators:
(Summaries Appear Below)

Monday, January 14
None

Tuesday, January 15
Empire State Manufacturing Survey
Producer Price Index
Retail Sales
               
Wednesday, January 16
Beige Book
Consumer Price Index
Industrial Production
NAHB Housing Market Index

Thursday, January 17
Housing Starts and Permits
Philadelphia Fed Manufacturing Survey

Friday, January 18
University of Michigan Consumer Sentiment


This Week's Indicators:


Monday, January 21
MARTIN LUTHER KING, JR. HOLIDAY

Tuesday, January 22
Chicago Fed National Activity Index
Existing Home Sales
Richmond Fed Manufacturing Survey
               
Wednesday, January 23
None

Thursday, January 24
Conference Board Leading Indicators
Kansas City Fed Manufacturing Survey
Markit Flash PMIs for the United States, China
    and Eurozone

Friday, January 25
New Home Sales

Consumer Price Index
The Consumer Price Index was unchanged in December, according to the Bureau of Labor Statistics. This was in-line with consensus estimates and an increase from November's -0.3 percent decline. The primary drag on prices was lower energy costs. Gasoline prices were off 2.3 percent, building on the previous month's 7.4 percent decline.
Overall energy costs were down 1.2 percent for the month. Meanwhile, food prices have risen 0.2 percent for each of the past three months (October to December). In December, fruits and vegetables saw the largest increase for food items (up 0.6 percent).
Core inflation - which excludes food and energy costs - rose just 0.1 percent in December, the same as November. Inflation is running at a 1.9 percent rate on a year-over-year basis. As we saw with producer prices, the annual inflation rate has eased throughout the year, largely on lower energy costs. Inflation was 2.3 percent in January 2012. For the most part, pricing pressures remain under control, at least for now, up modestly and within the range set by the Federal Reserve Board.
Empire State Manufacturing Survey
The New York Federal Reserve Bank's Empire State Manufacturing Survey reported that manufacturing activity continued to contract in its district for the sixth straight month. The composite index of general business conditions was -7.8 in January, slightly lower than December's -7.3 reading. All of the historical data were revised with new seasonal adjustments, as is customary to start a new year. This suggests that economic activity remains soft, with most of the key indicators contracting.
Shipments improved in November and December, but they started January with a decline. The index for shipments dropped from 11.9 in December to -3.1 in January, with more than 29 percent of respondents saying that they had fewer shipments this month than last and almost 45 percent reporting no change. Measures for new orders, hiring and the average workweek were also all negative. The vast majority of firms in the district appear to be in a wait-and-hold pattern on employment, with 72 percent saying that the number of employees was the same.
Fewer firms plan to hire, but that figure is at least positive. Roughly 23 percent of manufacturing firms in the New York region intend to have more employees six months from now, with 62 percent expected to not hire. Overall, manufacturers continue to be cautiously optimistic about the first half of 2013. The pace of expected employment and capital spending growth has eased from the month before, but there were improvements in anticipated sales and shipments.
The Empire State survey data are troubling in that they reflect a manufacturing community in the New York region that remains somewhat pessimistic. New orders were only positive once in the past seven months, probably due to Hurricane Sandy. It is more difficult for these firms to start hiring and investing again when they see their sales challenged. Despite hope for improvements down the line, manufacturers are more skittish on hiring and capital spending plans. This might change if there is a turnaround in sales, but until then, I would expect continued weakness. Uncertainties about the U.S. fiscal situation—even with the recent fiscal cliff deal—also tend to hamper activity.
Housing Starts and Permits
The Census Bureau and the U.S. Department of Housing and Urban Development reported that new residential construction soared from 851,000 units in November to 954,000 in December. This represents a monthly gain of 12.1 percent, which is the fastest rate since June 2008. Housing continues to be one of the strongest components in the U.S. economy right now, with housing starts increasing 36.9 percent between December 2011 and December 2012. That is phenomenal growth, even as the sector remains well below its peak from a few years ago. Every region saw gains, but they were particularly strong in the Northeast, Midwest and West.
While both single-family and multifamily housing starts were higher in December, multifamily units saw the largest increase, up from 281,000 to 338,000. To illustrate the significance of the increase in this segment over the course of the past year, multifamily housing starts were just 177,000 in December 2011. The demand for new apartments and condos remains strong.
New single-family residential starts rose from 570,000 to 616,000—the highest pace since July 2008. On a year-over-year basis, single-family construction is up 18.5 percent.
Meanwhile, housing permits were largely unchanged, up slightly from 900,000 to 903,000 for the month. In December, single-family permitting increased 1.8 percent, whereas multi-unit permits were down 2.1 percent. The good news is that the 900,000-unit threshold appears to be holding, and the long-term trend has been extremely positive. Permits are up 28.8 percent year-over-year, with a 27.3 percent increase for single-family units and a 35.0 percent increase for multifamily structures with five or more units.
This bodes well for future construction, and I would anticipate that housing starts would approach and perhaps exceed 1 million by the end of 2013. Very low interest rates are helping to boost these figures, with the average 30-year mortgage falling to 3.38 percent, according to Freddie Mac.
Industrial Production
The Federal Reserve Board reported that industrial production rose 0.3 percent in December, somewhat slower than the 1.0 percent gain in November. Increased production after a slowdown from Hurricane Sandy could explain much of November's growth.
December's growth illustrates that the economy is beginning to recover from its midyear doldrums. This was especially true in the manufacturing and mining sectors, which were up 0.8 percent and 0.6 percent in December, respectively. Utility production was down 4.8 percent for the month.
The good news for manufacturers was that December's gains were fairly broad-based, with 15 of the 19 major sectors experiencing growth. Both durable and nondurable goods sectors were higher, up 1.0 percent and 0.6 percent, respectively. There were strong increases in the primary metals (up 2.9 percent), motor vehicles (up 2.6 percent), apparel and leather (up 1.9 percent), computers and electronics (up 1.5 percent), chemicals (up 1.4 percent) and printing and support (up 1.3 percent) sectors.
The following sectors all saw declines: electrical equipment and appliances (down 1.7 percent), textile and product mills (down 1.6 percent), nonmetallic mineral products (down 1.2 percent) and paper (down 0.4 percent).
Given that this was the last data point for 2012, it is also instructive to look at which sectors had the fastest production gains for the year as a whole. The motor vehicle sector grew the most, experiencing a 17.2 percent production increase in 2012. To show just how much this sector has recovered since the recession, production has increased 54.6 percent over the past three years. Other notable sectors for the year include the following:
Miscellaneous manufacturing (up 11.6 percent)
Electrical equipment and appliances (up 5.5 percent)
Wood products (up 5.5 percent)
Aerospace and other miscellaneous transportation (up 4.8 percent)
Fabricated metal products (up 4.5 percent)
Plastics and rubber products (up 4.3 percent)
Despite many headwinds in the global and domestic economic environment, the data illustrate some progress in manufacturing during the last two months of the year. However, industrial production rose a scant 2.2 percent across 2012, and it was up just 0.8 percent during the second half of the year. Marketplace uncertainties took a toll on production throughout the year, especially in the later months.
NAHB Housing Market Index
The National Association of Home Builders (NAHB) and Wells Fargo found that their Housing Market Index (HMI) was unchanged in January at 47. This figure is very close to the threshold of 50 whereby more builders would be positive than negative in their assessment of the current economic environment. The HMI has grown tremendously over the past year or so, up from 13 in June 2011 and 25 in January 2012.
In December, the South and West saw the strongest gains. Both regions had indices above 50 for the first time in several years. The Northeast and Midwest saw weaknesses. NAHB Chairman Barry Rutenberg blamed political headwinds for some of the current weaknesses. He said, "... uncertainties stemming from last month's fiscal cliff negotiations contributed to the pause in builder confidence, and continuing discussions among policymakers related to spending cuts and the future of the mortgage interest deduction could put a damper on housing demand in the coming months."
Philadelphia Fed Manufacturing Survey
The Federal Reserve Bank of Philadelphia's Business Outlook Survey found that manufacturing activity in its district weakened in January. The composite index of general conditions declined from 4.6 in December to -5.8 in January. This reflects seasonal adjustment revisions in the historical data series - something that is commonly performed at the beginning of the year.
Illustrating the slower growth and challenges faced in the manufacturing sector over the past year, the index contracted in six of the past 12 months. The recovery from Hurricane Sandy could explain part of December's increase.
Many subcomponents also contracted, including new orders, inventories, prices received, employment and the average workweek. For instance, almost one-third of respondents reported that their sales levels had decreased in the past month, with another 42 percent indicating no change. The index for shipments went from seeing decent growth (14.7) to being essentially flat (0.4).
For employment, the survey asked what was holding back respondents' hiring plans. The most prevalent responses (cited by more than 40 percent) were (1) the desire to keep operating costs low and (2) decreased expectations for sales growth. Other top factors restraining hiring were uncertainties related to health insurance costs, policy or regulatory uncertainties and the inability to find qualified applicants. In terms of the impact of the nation's fiscal (and political) challenges, 37 percent said that these factors had caused them to reduce hiring, with another 49 percent indicating no impact.
Despite these challenges and the more downbeat assessment of the current outlook, manufacturers were more positive about the next six months. More than 45 percent anticipate higher sales, and the forward-looking composite index rose from 23.7 to 29.2. Most of the indicators reflected a more optimistic view for this year despite many economic headwinds.
There is still a degree of cautiousness out there. Employment growth is expected to be up just modestly, with its index edging slightly lower from 11.2 to 10.7. In addition, capital spending plans also eased from 10.4 to 6.0.
Producer Price Index
Lower food and energy costs helped to push producer prices down for the third consecutive month, according to the Bureau of Labor Statistics. The price of finished consumer foods dropped 0.9 percent in December, largely on reduced prices for beef, vegetables and cheeses. At the same time, energy costs fell for each of the past three months and were down 0.3 percent in December.
Core prices - which exclude food and energy costs - rose 0.1 percent in December, the same rate as seen in November. The year-over-year core inflation rate was 2 percent, which is the target set by the Federal Reserve Board. The year-over-year percentage change in producer prices fell throughout 2012, beginning the year at 3.1 percent. This has helped to reduce pricing pressures for manufacturers and other businesses.
The cost of raw materials in the manufacturing sector dropped 0.4 percent in November, reducing year-over-year growth to 1.2 percent. The largest monthly declines in costs were in the petroleum and coal products (down 2.3 percent), textile products (down 0.6 percent), food manufacturing (down 0.4 percent) and chemical (down 0.3 percent) sectors. The steepest increases were in wood products (up 1.0 percent), primary metals (up 0.7 percent) and apparel (up 0.7 percent) manufacturers.
There is some potential for higher producer prices in the months ahead. Higher energy costs at the intermediate and crude levels pushed up overall producer costs at these levels by 0.3 percent and 2.5 percent, respectively. For instance, crude petroleum costs rose 9.4 percent for the month—a reflection of increased per barrel rates.
Retail Sales
The Census Bureau announced that retail sales rose 0.5 percent in December, its fifth expansion in the past six months. Across 2012, retails sales increased 4.7 percent, with some of its fastest growth stemming from the motor vehicle sector (up 1.6 percent for the month and 7.6 percent year-over-year). Other businesses with strong annual gains were non-store retailers (up 12.6 percent), miscellaneous store retailers (up 9.9 percent), sporting goods and hobbies (up 9.1 percent), furniture and home furnishings (up 6.1 percent) and clothing and accessories (up 5.1 percent).
December saw decent gains in retail sales, and growth in holiday spending was up modestly. This contrasts with reports elsewhere that said holiday sales were weak, particularly at some stores. The 4.7 percent year-over-year growth rate in retail sales was lower in 2012 than in either 2010 or 2011 (7.0 and 6.6 percent, respectively).
University of Michigan Consumer Sentiment
The University of Michigan and Thomson Reuters report that consumer confidence dropped from 72.9 in December to 71.3 in January. This follows December's steep fall - after the election and leading up to the tense fiscal cliff negotiations - from 82.7 in November.
Sentiment about both the current and future economy dipped, with the largest decline related to the present environment. The index for present conditions dropped from 87.0 to 84.8, whereas the forward-looking measure fell from 63.8 to 62.7.
In addition to frustrations related to the political process, consumer reactions to the expiration of the payroll tax could partially explain this decrease. Lower consumer sentiment could lead to reduced spending, and to the extent that this is related to less disposable income, that might be expected. So far, we have not seen these declines.
Inflationary expectations in the University of Michigan survey remain modest but did pick up slightly in December. Consumers expected prices to rise 3.4 percent over the next 12 months, up from 3.3 percent from December and 3.1 percent in November.
---
Questions or comments? Please contact Chad Moutray at cmoutray@nam.org

Copyright © 2013 National Association of Manufacturers