A Publication of the National Association of Manufacturers

February 11, 2013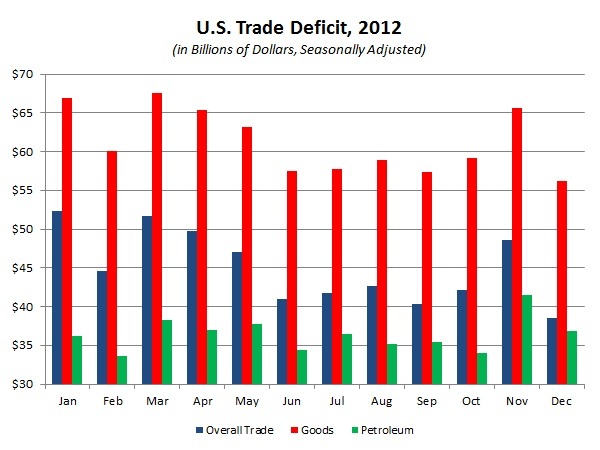 It goes without saying that there were multiple headwinds at the end of 2012, including challenging economic environments globally and frustrations with the U.S. fiscal environment. We noted in previous reports that these uncertainties caused many businesses to pull back on hiring and investment, and the first estimate for real GDP indicated a decline in output of 0.1 percent. Yet, even with this backdrop, some manufacturers saw improvements in activity in December, a trend that appeared to continue into January. This is not a universal phenomenon, but it is one that came through in a few key data points released last week.
The U.S. trade deficit plummeted from $48.6 billion in November to $38.5 billion in December - the smallest deficit in three years. A better trade balance in petroleum helps to explain part of this gain, but in general, it is due to a significant increase in goods exports corresponding with a decrease in goods imports. For the year, manufactured goods exports rose 4.9 percent using data that were not seasonally adjusted. This indicates that firms increased sales overseas last year, which is quite an accomplishment given the slower growth experienced in many of our major trading partners. At the same time, the pace of export sales growth is below what would be required for the United States to double exports by 2015. Recent improvements in many of these markets will hopefully provide increased opportunities for exports in 2013. (For more on this, see the latest Global Manufacturing Economic Update, which was released on Friday, February 8.)
Outside of the trade numbers, the other mostly positive news came in the form of higher manufacturing labor productivity and a decent increase in factory orders. On the productivity front, manufacturing output per hour rose 0.5 percent during the fourth quarter of 2012. These gains came from increased output in the durable goods sectors, with productivity and output among nondurables declining. As a whole, labor productivity for manufacturers rose 2.0 percent last year, building on the gains of the previous two years. Meanwhile, new orders for manufactured goods jumped 1.8 percent in December. This was a strong gain, although it was mainly attributable to higher sales of aircraft and ships. Excluding transportation sales, new orders would have risen just 0.2 percent.
It is also hard to separate out recent economic progress with the larger long-term concerns about the nation's fiscal position. Many manufacturers are concerned about the across-the-board federal budget cuts ("sequestration") slated for Friday, March 1, and the political debates about the budget continue to provide marketplace uncertainties. For its part, the Congressional Budget Office (CBO) last week released its outlook for the next 10 years. Because of "fiscal tightening" and other concerns, the CBO expects the U.S. economy to grow just 1.4 percent in 2013, and continued significant downside risks could further cloud that rather dismal forecast. More importantly, it predicts that deficits will fall to $430 billion by fiscal year (FY) 2015 before rising again to nearly $1 trillion by FY 2023 on higher entitlement spending. This finding begs for a long-term solution - something that the manufacturing community widely seeks.
This week, we will begin to see manufacturing data for January, gauging whether some of the trends in December have continued into this year. On Friday, the Federal Reserve Board will release industrial production figures, which are expected to reflect a slight gain. The New York Fed will unveil the first manufacturing sentiment survey for February. The Empire State survey has shown a contraction for six straight months, and we will see if businesses in the district continue to experience reduced sales and output. Other indicators released this week include the latest data on consumer confidence, job openings, retail sales and small business optimism.
Chad Moutray
Chief Economist
National Association of Manufacturers


Last Week's Indicators:
(Summaries Appear Below)

Monday, February 4
Factory Orders

Tuesday, February 5
CBO Annual Budget and Economic Outlook

Wednesday, February 6
None

Thursday, February 7
Consumer Credit
Productivity and Costs

Friday, February 8
International Trade





This Week's Indicators:

Monday, February 11
None

Tuesday, February 12
NFIB Small Business Survey
Job Openings and Labor Turnover Survey

Wednesday, February 13
Business Inventories
Retail Sales

Thursday, February 14
None

Friday, February 15
Empire State Manufacturing Survey
Industrial Production
University of Michigan Consumer Sentiment




CBO Annual Budget and Economic Outlook
The CBO released its annual Budget and Economic Outlook for FYs 2013 - 2023. Its baseline budget for FY 2013 is for a deficit of $845 billion. This would be lower than the $1.1 trillion deficit experienced in FY 2012 and would be the first sub-$1 trillion deficit since FY 2008. Despite this progress, debt projections for the next 10 years are not encouraging, with the budget never balancing and debt held by the public at historically high levels.
The deficit is estimated to fall to $430 billion by FY 2015 before rising again over the course of the rest of the decade, peaking at almost $1 trillion again by FY 2023. The latter rise is due to the increasing cost of mandatory outlays, which are expected to grow from $2.0 trillion in FY 2012 to $3.7 trillion in FY 2023.
Regarding economic growth, the CBO estimates that real GDP will increase just 1.4 percent in 2013, down from the estimated 1.9 percent. The reason for the lower growth this year is this:
That slow growth reflects a combination of ongoing improvement in underlying economic factors and fiscal tightening that has already begun or is scheduled to occur - including the expiration of a 2 percentage-point cut in the Social Security payroll tax, an increase in tax rates on income above certain thresholds and scheduled automatic reductions in federal spending. That subdued economic growth will limit businesses' need to hire additional workers, thereby causing the unemployment rate to stay near 8 percent this year, the CBO projects. The inflation rate and interest rates are projected to remain low.
The CBO is more optimistic about growth in the 2014 - 2018 time frame, with 3.4 percent growth in real GDP expected next year and an average of 3.6 percent growth across the four years beyond that. However, the unemployment rate is expected to improve very slowly. The current forecast is for the unemployment rate to fall to 7.6 percent by the end of 2014 and 5.5 percent by 2018.
There are some unknowns that could impact this outlook. The CBO notes the three upcoming "cliffs" that could impact the budgetary situation, as well as economic growth. These budgetary deadlines include the across-the-board federal budget cuts slated for Friday, March 1; the expiration of the continuing resolution on Wednesday, March 27; and the statutory debt ceiling limit in mid-May. Manufacturers are closely watching these deadlines as well, with each potential "cliff" adding a degree of marketplace uncertainty at the start of the year.
Consumer Credit
The Federal Reserve Board reported that U.S. consumer credit rose 6.3 percent at the annual rate in December, up for the fifth month in a row. Total debt outstanding increased from $2.7636 trillion in November to $2.7782 trillion in December. For the year as a whole, consumer credit increased 5.8 percent in 2012, up from 3.4 percent in 2011.
The increase was almost entirely attributable to a sharp rise in nonrevolving loans, which grew by 11.4 percent in December and 8.4 percent for the year. Nonrevolving loans include auto and student loans, both of which have seen tremendous gains in the past few years.
Revolving loans, which include credit cards and other credit lines, have been less robust. In December, revolving credit declined 5.1 percent, as consumers pulled back on their borrowing. Uncertainty due to the fiscal cliff could explain part of the decline. Looking at the year in total, revolving loans edged only marginally higher, up 0.3 percent in 2012. This was only slightly higher than the 0.1 percent increase in 2011, suggesting that Americans have become more conscious of their use of credit cards than in the past.
Factory Orders
The Census Bureau reported that new orders for manufactured goods were up 1.8 percent in December. Higher sales of aircraft and ships primarily drove the increase, similar to what we saw from recent advanced data on durable goods sales. In fact, excluding transportation equipment from the analysis, new orders would have risen just 0.2 percent, essentially offsetting the 0.2 percent loss for non-transportation orders from the month before.
Durable goods orders (including transportation) were up 4.3 percent, whereas nondurable goods sales were off 0.3 percent. Core capital goods orders (e.g., nondefense capital goods excluding aircraft) were down 0.3 percent as well, reflecting significant weaknesses at year's end in the manufacturing marketplace.
Other durable goods sectors with higher sales in December included computers and electronic products (up 4.1 percent), primary metals (up 3.2 percent), fabricated metal products (up 1.3 percent) and furniture and related products (up 0.8 percent). There were decreased levels of new orders in electrical equipment and appliances (down 3.1 percent) and machinery (down 1.1 percent), among others.
Meanwhile, shipments of manufactured goods rose 0.4 percent, the fourth consecutive month of higher levels and its highest level since July 2008. Durable and nondurable goods shipments were up 1.1 percent and down 0.3 percent, respectively. For durables, the stronger industries matched the ones discussed above for new orders, with transportation shipments more muted (up 1.4 percent). For nondurables, sectors with gains included leather and allied products (up 2.9 percent), food products (up 0.5 percent) and textile mills (up 0.5 percent).
International Trade
The Bureau of Economic Analysis and the Census Bureau reported that the U.S. trade deficit fell from $48.6 billion in November to $38.5 billion in December. This was the lowest deficit since January 2010 due to an uptick in goods exports and corresponding decrease in goods imports. Goods exports rose from $129.3 billion in November to $132.6 billion to December, while goods imports dropped from $194.9 billion to $188.8 billion. Meanwhile, the surplus in trade services increased by $669 million to $17.7 billion for the month.
The petroleum trade balance declined from $23.4 billion to $18.7 billion. Petroleum exports were up by $926 million to $11.6 billion, and imports declined by $3.7 billion to $30.3 billion. Illustrating just how much this figure has changed, the petroleum trade balance was $29.9 billion in January 2012, suggesting a drop of more than $11 billion throughout the year. The price of West Texas intermediate crude also dropped during that time frame from $100.24 per barrel in January 2012 to $88.25 a barrel in December 2012. (It has since risen, averaging $94.69 in January 2013.)
Outside of oil, however, there were also some positives in the goods markets. Most notably, the largest change occurred within industrial supplies and materials, with exports up $3.8 billion and imports down $4.2 billion. Outside of industrial supplies, the largest net winner was foods, feeds and beverages (up $96 million). There were fewer net exports, however, among non-automotive capital goods (down $431 million), automotive vehicles and parts (down $292 million) and consumer goods (down $240 million).
Goods imports saw declines across-the-board in all major categories except consumer goods, which eked out a gain of $43 million. Sectors with reduced imports - beyond industrial supplies - included automotive vehicles and parts (down $944 million), non-automotive capital goods (down $264 million) and foods, feeds and beverages (down $75 million).
Overall, manufacturers sold $1.02 trillion in goods in 2012, at the non-seasonally adjusted rate. This was an increase of 4.9 percent from the $971.7 billion sold in 2011. This suggests that U.S. businesses continue to find opportunities overseas, even as the pace of growth has slowed with numerous international economic headwinds.
It would take a 15 percent growth rate annually in manufactured goods exports for the United States to reach its goal of doubling exports by 2015. While we were on pace for that in 2011, a number of global headwinds - including a recession in Europe and slowdowns elsewhere - significantly eased the growth of new export sales in 2012. We have seen some progress lately in a number of regions around the world, with the notable exception of Europe. This should bode well for better export figures in 2013.
Productivity and Costs
The Bureau of Labor Statistics reported that manufacturing productivity rose 0.5 percent in the fourth quarter. For the year, labor productivity for the sector was up 2.0 percent. This was below the 6.4 percent and 2.5 percent productivity growth rates experienced in 2011 and 2012, respectively. Higher output (up 0.7 percent) mainly fueled the fourth-quarter increase. However, increased compensation costs (up 1.0 percent) pushed up unit labor costs by 0.4 percent. Unit labor costs were 0.4 percent higher for 2012.
Durable goods manufacturers fared better during the fourth quarter than their nondurable goods counterparts. Labor productivity increased 1.6 percent for the quarter on higher output growth of 1.8 percent. In contrast, productivity and output for nondurables declined 0.5 percent and 0.6 percent, respectively. The net result was lower unit labor costs in the durable goods sectors (down 0.7 percent), which help these manufacturers stay competitive globally. Unit labor costs for nondurable goods industries rose 1.7 percent.
Durable goods firms also fared better than those in the larger non-farm business economy. Labor productivity for non-farm firms fell 2.0 percent during the fourth quarter, rising 1.0 percent year-over-year. The 2012 labor productivity figure slightly improved from the 0.7 percent output per hour growth rate experienced in 2011. The fourth-quarter decline in productivity stemmed from relatively flat growth in output, up just 0.1 percent, while compensation rose 2.4 percent. The net result was higher unit labor costs, up 4.5 percent. For the year, output declined by 1.5 percent, and unit labor costs fell by 2.3 percent.
Overall, the fourth-quarter productivity numbers reflect reduced economic output. Businesses saw weaker sales growth, and many were worried about the impact of the fiscal cliff. Two weeks ago, we learned that real GDP shrunk by 0.1 percent in the fourth quarter, largely on these concerns. These figures also show that durable goods industries saw some improvements in output during the fourth quarter, which helped push total manufacturing labor productivity up 0.5 percent. Other data tend to show this as well, with some manufacturers benefitting from the Hurricane Sandy cleanup. We also saw stronger new orders in some sectors, especially among motor vehicles.
---
Questions or comments? Please contact Chad Moutray at cmoutray@nam.org

Copyright © 2013 National Association of Manufacturers