A Publication of the National Association of Manufacturers

March 18, 2013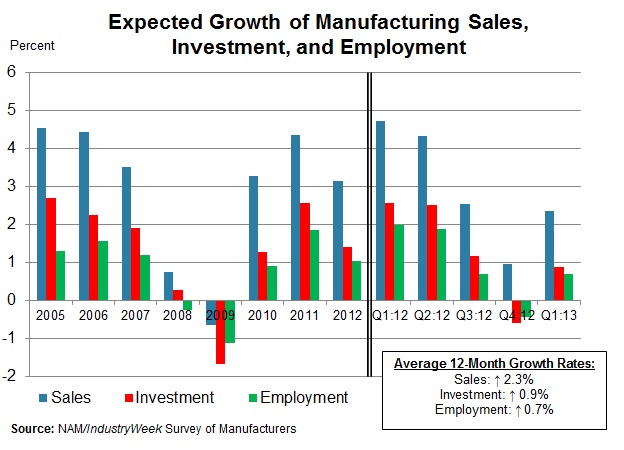 Some of the indicators released last week helped confirm the belief that the U.S. economy has started 2013 on a stronger-than-expected note. First, industrial production rose 0.8 percent in February, led by strong demand for automobiles and other goods. This was a decent turnaround from much weaker numbers in January, with all but three major manufacturing sectors experiencing higher production. Second, retail sales rose a surprisingly healthy 1.1 percent in February. While much of that growth stemmed from higher gasoline prices and higher motor vehicle sales, the data suggested modest growth overall, with Americans continuing to make modest gains in purchases despite headwinds from higher taxes and fiscal uncertainties.

At the same time, those headwinds appear to be having some negative impacts. Industrial production was increasing at a 5.1 percent year-over-year pace at this point last year; today, that rate is 2 percent. That example can be replicated in so many of the recent indicators. For instance, the NAM/IndustryWeek Survey of Manufacturers reported an uptick in optimism in the latest survey, with sales expected to grow 2.3 percent over the next year. That represents an improvement from three months ago (when the rate was 1.0 percent), and the percentage of respondents who were positive about their own company's outlook rose from about 52 percent in December to roughly 70 percent today. But this is a come-down from the stronger pace of nearly 5 percent growth in annual sales expected in March of last year (when approximately 89 percent were positive in their outlook). Clearly, more work still needs to be done to get the economy moving.

The New York Federal Reserve Board's Empire State Manufacturing Survey found that conditions in its district had stabilized somewhat, with its composite index of activity showing expansion for two straight months (after six months of contraction).  There was some easing, though, in the pace of new orders and shipments, and employment growth remains sluggish. Still, there is cautious optimism for the months ahead. Similarly, the National Federation of Independent Business' Small Business Optimism Index edged slightly higher in February, even as sales and earnings remain subpar and smaller firms continue to worry about the economy and overall political environment.

The other big trend observed in last week's reports was the pickup in prices, mainly due to higher energy costs. Both the consumer and producer price indices experienced solid increases in February. One has to wonder if these higher costs might have contributed to the decline in consumer sentiment, as noted in the preliminary data from the University of Michigan and Thomson Reuters. Nonetheless, overall core inflation – which excludes food and energy prices – continues to be in the Federal Reserve Board's acceptable range, with prices rising at or less than 2 percent on an annual basis.

With pricing pressures in check, at least for now, the Federal Open Market Committee is expected to keep its current expansionary monetary policies in place at this week's meeting. Improvements in the U.S. economy should provide some fodder to the debate, but with persistent challenges and growth still below its potential, we should not expect any changes in Fed policy. One area that has benefited from the Federal Reserve's policy of low interest rates has been the residential sector. We should expect more positive news on the front with the latest housing starts figures, which will be released tomorrow. Other items to watch this week include the latest state employment data and the most recent manufacturing survey from the Philadelphia Federal Reserve Bank.   

Chad Moutray
Chief Economist
National Association of Manufacturers

 


Last Week's Indicators:
(Summaries Appear Below)

Monday, March 11
NAM/IndustryWeek Survey of Manufacturers

Tuesday, March 12
Job Openings and Labor Turnover Survey
NFIB Small Business Survey

Wednesday, March 13
Retail Sales

Thursday, March 14
Producer Price Index

Friday, March 15
Consumer Price Index
Empire State Manufacturing Survey
Industrial Production
University of Michigan Consumer Sentiment


This Week's Indicators:


Monday, March 18
NAHB Housing Market Index
Regional and State Employment

Tuesday, March 19
Housing Starts and Permits

Wednesday, March 20
FOMC Monetary Policy Statement

Thursday, March 21
Conference Board Leading Indicators
Philadelphia Fed Manufacturing Survey

Friday, March 22
None

Consumer Price Index
Consumer prices rose sharply in February, up 0.7 percent, according to the Bureau of Labor Statistics. This is the fastest pace of monthly growth in prices since June 2009, following unchanged levels of consumer prices in both December and January. With that said, the Consumer Price Index (CPI) reflects relatively modest inflation, up 2.0 percent between February 2012 and February 2013.
Higher energy costs were largely to blame for last month's jump in the CPI, with gasoline prices up 8.6 percent. Overall, the cost of all forms of energy rose 5.4 percent. Note that these price increases follow several months of declines. On a year-over-year basis, for instance, gasoline prices are up just 3.3 percent, which is less dramatic.
Food prices were up a very modest 0.1 percent, both for items purchased at grocery stores and at restaurants. Higher prices for fruits, vegetables, and some meat items were offset by lower costs for cereal and dairy products. Over the course of the past year, food prices have risen 1.6 percent, a deceleration from the beginning of last year. In February 2012, for example, the year-over-year rate was 3.9 percent, with consumers citing higher food costs in many sentiment surveys.
Core inflation – with excludes food and energy costs – appears to be in check, at least for now. The annual pace is 2.0 percent, which is in line with the stated goal of the Federal Reserve Board. That has allowed the Federal Open Market Committee, which meets again this week, to pursue expansionary policies to try to stimulate economic growth. Right now at least, the Fed appears to be more worried about elevated unemployment and slowing economic activity than it is about inflationary pressures. That could change, but not in the foreseeable future.
Empire State Manufacturing Survey
The New York Federal Reserve Bank observed little change in March from the progress reported in February. The Empire State Manufacturing Survey's composite index of general business activity declined slightly from 10.0 to 9.2, but the larger story is that the gains made last month appear to have held up. After contracting for six straight months, the composite index has been positive for two, suggesting modest growth overall and a good sign that the economic environment has stabilized.
With that said, the pace of growth for orders and many other key components eased somewhat this month. The new orders index dropped from 13.3 to 8.2, with just over 47 percent suggesting that sales levels were unchanged from the month before. Similar findings were noted for shipments.
Employment growth remains sluggish, with the index decreasing from 8.1 to 3.2. Just 16.1 percent of respondents said that they had hired new workers in March, with 71 percent indicating no changes. The average employee workweek was unchanged on net.
Looking ahead six months, manufacturers in the New York Fed District remain more upbeat, with a slight pickup in optimism. The forward-looking composite index rose from 33.0 to 36.4, with higher measures for sales, shipments, employment, and capital investment rose. Inventories are anticipated to decline; whereas pricing pressures are predicted to accelerate. Over half of those surveyed expect for raw material costs to rise in the months ahead.
Industrial Production
The Federal Reserve Board said that industrial production rose 0.7 percent in February, recovering from much weaker January data. The overall January production figure was revised to be unchanged. For manufacturers, production increased by 0.8 percent, an improvement from the decline of 0.3 percent the month before. On a year-over-year basis, manufacturing production has risen 2.0 percent, a slight pickup from the 1.7 percent pace observed in January. Manufacturing capacity also increased, rising from 77.8 percent to 78.3 percent.
Durable goods activity grew stronger than that of its nondurable goods sector counterparts, up 1.2 percent and 0.3 percent, respectively. The largest gainer was the motor vehicle sector, with a gain of 3.6 percent. The auto industry has seen its production rise 9.3 percent over the course of the past year, continuing its strong recovery and helping to boost the overall manufacturing and macroeconomic picture.
Other sectors with stronger growth in March included fabricated metal products (up 20 percent), furniture and related products (up 1.8 percent), machinery (up 1.7 percent), wood products (up 1.6 percent), nonmetallic mineral products (up 1.6 percent), and petroleum and coal products (up 1.4 percent). Reflecting the broad base of increases only three sectors experienced declines in production in February. These were primary metals (down 2.6 percent), printing and support (down 0.9 percent), and textile and product mills (down 0.4 percent).
Despite the good news of increased manufacturing activity, it is hard not to feel a bit underwhelmed by it all. Two percent growth in industrial production is certainly better than the alternative, but manufacturers really need to see much stronger growth in production in order for hiring and confidence to pick up and for the sector to once again produce outsized impacts on the macroeconomy. Note that this time last year, manufacturing production was growing at the 5.1 percent year-over-year pace.
Indeed, this was the thrust of much of NAM Chairman and CEO Jay Timmons' keynote speech in Detroit last month. In it, he challenged policymakers to adopt pro-growth economic measures such that industrial production grew at an annual average of 4.5 percent or more, manufacturers added 20,000 net new workers each month on average, and real GDP rose at least by 3.5 percent annually. We can imagine the possibilities for manufacturers if this were to happen, with the sector adding about one million new workers in the next four years.
I say this not to pooh-pooh these decent industrial production numbers, which were positive and reflect a nice pickup in activity in February. But it is important to remind ourselves that there is still much more work to be done for the economy to grow even stronger.
Job Openings and Labor Turnover Survey
The Bureau of Labor Statistics said that manufacturing job openings edged slightly higher, up from 242,000 in December to 245,000 in January. However, this remains below the 271,000 level observed in November and the 255,000 pace seen in January 2012. It is clear that there was a deceleration in job postings in the second half of 2012, which has continued moving into the new year.
Meanwhile, net hiring is also a persistent challenge. Manufacturers hired an additional 212,000 workers in January, down from 236,000 in December. This is the slowest pace since June 2009, representing significant skittishness on the part of manufacturers to bring on new workers to begin 2013. At the same time, manufacturing separations decreased from 231,000 to 217,000 for the month. Net hiring, therefore, shifted from a gain of 5,000 new workers in December to a net separation of 5,000 in January. This is the first decrease in net hiring since September.
Looking at the larger economy, net hiring increased from 133,000 to 145,000 between December and January. Job postings and hiring rose, albeit modestly. The rate of hiring as a percentage of the labor market was unchanged at 3.1 percent.
Note that the Job Openings and Labor Turnover Survey (JOLTS) data provide additional information beyond what we already knew about the labor market from the monthly jobs numbers, with a one-month time lag. Earlier, we learned that manufacturers hired an additional 14,000 net new workers in February, suggesting that the next JOLTS report might be more positive.
NAM/IndustryWeek Survey of Manufacturers
The latest NAM/IndustryWeek Survey of Manufacturers reflects an uptick in optimism in the first quarter of 2013. The percentage of those manufacturers who were positive declined significantly throughout the course of last year, falling from almost 89 percent in March to roughly 52 percent by December. That last survey was taken after the presidential election but before the fiscal cliff deal, and the top concern – cited by 84.2 percent of respondents – was the uncertainty related to the fiscal cliff and political climate. In this most recent survey, we were looking to see if leaders in the manufacturing industry were more positive than they were at the end of 2012.
Responding to questions about their company's outlook in late February, the percentage of manufacturers who were either somewhat or very positive rose to 70.1 percent. That essentially brings the level of optimism back to where it was six months ago in the September survey. As such, it also remains well below the 88.7 percent sentiment levels seen one year ago. Clearly, there remain some persistent concerns in the marketplace that have dampened enthusiasm, even as there was some progress in outlook in the past three months.
Nonetheless, the increase in optimism translated into improved forecasts for sales, employment, and investment. In the last survey, manufacturers had pulled back on hiring and capital spending on worries about the fiscal cliff and the economy. This has reversed itself in the first quarter 2013 survey, with the average manufacturer beginning to make modest increases in both. Manufacturers on average predict sales growth of 2.3 percent this year, with capital spending and employment growth rates of 0.9 percent and 0.7 percent, respectively. While none of these figures suggests rapid growth in activity, each of them indicates a faster pace than was predicted in December.
Two labor issues rose to the forefront on this survey. First, the top challenge listed by manufacturers was the rising costs of health care, cited by 74 percent of respondents. This issue has risen up the rankings in the past year, particularly with double-digit increases in premiums this year and more firms beginning to contemplate how the Patient Protection and Affordable Care Act will impact their businesses.
Second, we asked manufacturers a few special questions about immigration reform, an issue that have become more pressing post-election. Over two-thirds of those responding to some special questions on the topic said that they supported comprehensive immigration reform. Manufacturers utilize foreign-born workers in a number of ways, ranging from leadership roles to research and development (R&D) to production workers to clerical staff. In fact, three-fourths described immigrants as "integral to the production process."
One other point of note was that larger manufacturers (e.g., those with 500 or more employees) were more positive than their small (those with less than 50 employees) or medium-sized (50 to 499 employees) counterparts. Three-quarters of large businesses were positive in their outlook, versus 70 percent for medium-sized and 65.6 percent for smaller manufacturers. The largest factor explaining this difference was sales, with large manufacturers forecasting sales growth of 3.5 percent on average over the next year. That drops to 2.3 percent for medium-sized and 1.2 percent for small manufacturers.
Larger firms were also more likely to boost capital spending, with smaller and medium-sized manufacturers making more minimal increases. Hiring growth appears to be one area where size does not matter, with sluggish employment growth of between 0.6 percent to 0.8 percent growth for all size classes.
NFIB Small Business Survey
The National Federation of Independent Business (NFIB) reported that its Small Business Optimism Index edged slightly higher from 88.9 in February to 90.8 in February. This was the fourth consecutive monthly gain, having fallen from 93.1 in October to 87.5 in November. Even with this modest progress, the index remains at sub-par levels, with index values over 100 historically signifying an expanding sector. Small business leaders remain anxious about the economy, even as there were some signs of improvement.
The net percentage of those saying that the next three months are a "good time to expand" has fallen from 7 percent in October to 6 percent in January to 5 percent in February. This indicates that there continues to be some skittishness in the small business community about the future. Of those saying that the next three months were not a good time to expand, their top reason was the economy, cited by 40 percent of respondents. This was followed by concern about the political climate, mentioned by 15 percent.
Looking at the items were ranked as the "single most important problem," there was a tie between taxes and government regulations, with each garnering 21 percent. This is identical to the readings last month, with small businesses bearing the brunt of higher taxes in the fiscal cliff deal and smaller firms continuing to worry about the overall regulatory burden of new federal rules. Poor sales – a proxy for economic conditions – were the next highest problem, cited by 18 percent of those taking the survey.
Beyond these questions, many of the key indicators of company performance were not much different than last month. Sales expectations for the next three months improved from a net -1 percent to a net +1 percent for the month, but actual numbers of sales and earnings were unchanged. The data on employment was mixed. The net percentage of firms hiring dipping from 2 percent to -2 percent, but at the same time, the net percentage of those planning to hire in the next three months moving slightly higher from 3 percent to 4 percent. In all of these cases, it is clear that these levels are below where they should be.
One area that definitely improved was capital investment. The net percentage of firms planning to make a capital expenditure in the next three to six months rose from 21 percent to 25 percent. It had been as low as 19 percent in November and has risen each month since. Meanwhile, the pace of inventory shrinkage has slowed in February.
Producer Price Index
The Bureau of Labor Statistics reported that producer prices for finished goods rose 0.7 percent in February, its fastest pace since September. The main driver of the higher number was increased energy prices, which were up by 3.0 percent for the month. This corresponds to a rise in average petroleum prices from $88.25 per barrel in December to $95.32 in February.  Intermediate and crude energy costs were also higher, suggesting that these costs will continue to flow through the process to finished goods in coming months.
Lower food costs at the finished goods level helped to ease the pain of increased energy prices. The prices of finished food products fell 0.5 percent in February, largely on lower costs for vegetables, eggs, and some meats.
Overall core inflation – which excludes food and energy costs – rose 0.2 percent in February, the same pace as the month before. Core inflation is currently operating at a 1.7 percent annual pace, down from 1.8 percent in January. This continues to keep pricing pressures below the Federal Reserve's stated target of maintaining core inflation at 2.0 percent or less. As such, inflationary pressures remain in-check, at least for now.
With that said, producer prices for manufacturers have accelerated in the past month. Raw material costs for the sector increased 1.5 percent, and the year-over-year rate was 1.4 percent. The annual pace has picked up in February, as it had been 0.3 percent in January. The manufacturing industries with the greatest price increases were wood products (up 8.8 percent), leather and allied products (up 4.2 percent), food manufacturers (up 2.9 percent), and beverages and tobacco (up 2.7 percent). Decreases in input prices, though, were seen in the primary metal (down 5.9 percent), textile mills (down 0.6 percent), and computer and electronic products (down 0.3 percent) manufacturing sectors.
Retail Sales
The Census Bureau said that retail sales rose a surprisingly strong 1.1 percent in February. This was the fourth consecutive monthly increase and builds on a much smaller 0.2 percent gain in January. That month's weaker increase was largely attributed to higher taxes. Still, retail sales have risen a decent 7.8 percent between February 2012 and February 2013.
One of the larger increases in the past two months has been sales from gasoline stations. These have risen 3.6 percent and 5.0 percent, respectively, in January and February. This was due to higher petroleum prices, with the price per barrel of West Texas Intermediate crude oil rising from $88.25 on average in December to $94.69 in January to $95.32 in February. Excluding gasoline stations, retail sales would have risen by 0.6 percent.
February's number was also boosted by strong auto sales, which rose 1.1 percent for the month. Motor vehicle and parts sales have improved over the past few months, especially since October. Year-over-year gains have been up 7.8 percent. If you exclude gasoline and autos from the analysis, retail sales increased 0.4 percent. This indicates a more modest gain than the headline figure.
Other retailers with higher monthly sales included miscellaneous store retailers (up 1.8 percent), non-store retailers (up 1.6 percent), building materials and garden supply stores (up 1.1 percent), and food and beverage stores (up 0.8 percent). Weaknesses were seen among furniture and home furnishings stores (down 1.6 percent), department stores (down 1.0 percent), sporting goods and hobby stores (down 0.9 percent), and restaurants and bars (down 0.7 percent).
University of Michigan Consumer Sentiment
Consumer confidence dropped in March, according to the Thomson Reuters/University of Michigan Surveys of Consumers. The Consumer Sentiment Survey's overall index fell from 77.6 in February to 71.8 in March, essentially erasing the gains seen in the previous two months. Perceptions about the current and future economic environment were both lower.
It is hard to say why confidence fell unexpectedly this month. The consensus had been for it to rise. These types of sentiment surveys tend to react to pocketbook issues, so it is likely due from the impact of higher gasoline prices or the increased payroll tax. In addition, it could also be the continuing fiscal discussions and frustrations with the political process. Across-the-board federal budget cuts are a prominent discussion in the media, for instance. At the same time, the University of Michigan survey has often reacted favorably to higher stock values, which should have had a positive impact on these numbers.
With that said, increased energy costs have not had a material impact on inflationary expectations. Consumers expect prices to rise 3.3 percent over the next year, unchanged from the past two months and only slightly higher than the 3.1 percent rate of November. Note that consumer prices are actually rising at the 2.0 percent rate, as discussed above, but the expectation is that this figure could rise.
---
Questions or comments? Please contact Chad Moutray at cmoutray@nam.org

Copyright © 2013 National Association of Manufacturers