A Publication of the National Association of Manufacturers

May 20, 2013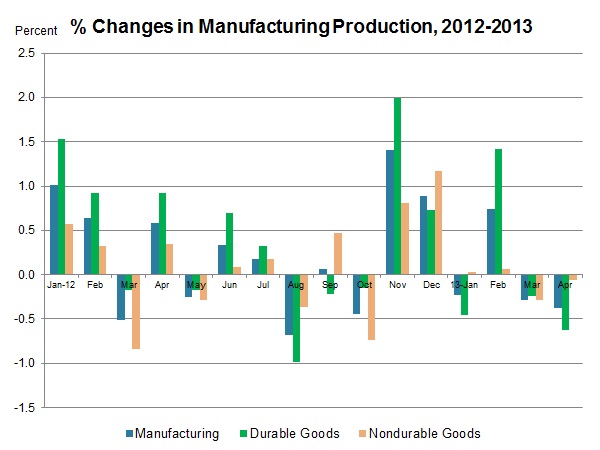 The manufacturing economy has hit some speed bumps, according to recent data. Industrial production declined 0.5 percent in April - more than expected - with capacity utilization levels back to where we were at the beginning of the year. The slower pace of domestic and global sales has negatively impacted activity, with production down mostly across-the-board. Only four of the 19 major manufacturing sectors experienced an increase in output for the month. Moreover, annual growth in manufacturing production of just 1.3 percent is insufficient, and such low rates of industrial growth are not enough to help boost hiring and output. Ideally, we would like to see annual output growth of 4.5 percent or greater, as outlined in the NAM's "20/20 Vision" earlier this year.

The national pullback in manufacturing activity extends to two of the regional manufacturing surveys released last week. Sentiment surveys from the New York and Philadelphia Federal Reserve Banks found contracting levels of new orders, shipments and the average workweek. In addition, manufacturers were more negative in their overall views of the current business environment. However, employment was mixed between the two reports, with a pickup in hiring reported in the Empire State survey, and manufacturers in both Fed districts were cautiously optimistic about future growth. As a result, capital investments are expected to increase in the coming months.

The Conference Board's Leading Economic Index - a forward-looking measure of the U.S. economy - rose a healthy 0.6 percent in April, with strong growth in housing permits. New residential permits exceeded the 1 million mark for the first time since June 2008, even as housing starts fell for the month. The long-term trend for the housing market remains positive, with permits data highlighting growth in future activity. Other good news can be seen in the latest University of Michigan consumer sentiment survey, with Americans reporting optimism levels not seen since mid-2007. Retail sales were also higher, even with declines in gasoline station spending due to lower petroleum costs.

Businesses and consumers continue to benefit from lower energy costs, according to the most recent inflation numbers. Core inflation - which excludes food and energy prices - is rising at less than 2 percent for consumers and producers, suggesting that pricing pressures have eased significantly over the past year. The 2 percent threshold is important, as that is the Federal Reserve Board's stated target for price increases. With inflation under control, at least for now, the Federal Open Market Committee feels free to pursue accommodative policies.

This week is a somewhat slower one on the economic front, with only a handful of key indicators being released. From the manufacturing perspective, we will be closely watching the Kansas City Federal Reserve Bank survey and the preliminary figures on durable goods orders, both of which will come out toward the end of the week. In addition, the Markit Flash purchasing managers' indices for the United States, Eurozone and China should provide some clues as to whether some of April's weaknesses have continued into May. Certainly, the European situation is not expected to improve (as we saw in last week's lower Eurozone GDP figure), but there should be modest growth in the U.S. and Chinese manufacturing activity reports.  

Chad Moutray
Chief Economist
National Association of Manufacturers P.S.—If you have not already done so, please take a moment to complete the latest NAM/IndustryWeek Survey of Manufacturers. This 18-question survey is an important gauge to see how manufacturing sentiment might have changed since the last survey released in March. It also includes special questions on health care and the Affordable Care Act. To complete the survey, click here. Responses are due by Friday, May 31. As always, all responses are anonymous.

 



Last Week's Indicators:
(Summaries Appear Below)

Monday, May 13
Retail Sales

Tuesday, May 14
NFIB Small Business Survey

Wednesday, May 15
Industrial Production
NAHB Housing Market Index
New York Fed Manufacturing Survey
Producer Price Index

Thursday, May 16
Consumer Price Index
Housing Starts and Permits
Philadelphia Fed Manufacturing Survey

Friday, May 17
Conference Board Leading Indicators
University of Michigan Consumer Sentiment





This Week's Indicators:


Monday, May 20
Chicago Fed National Activity Index

Tuesday, May 21
None

Wednesday, May 22
Existing Home Sales

Thursday, May 23
Kansas City Fed Manufacturing Survey
Markit Flash PMIs for the United States,
     Eurozone and China
New Home Sales

Friday, May 24
Durable Goods Orders

Conference Board Leading Indicators
The Conference Board reported that its Leading Economic Index rose 0.6 percent in April. The largest component of the increase stemmed from the jump in housing permits for the month, which exceeded the 1 million mark for the first time since June 2008. This factor alone added 0.4 percentage points to the Leading Economic Index. Credit measures, including the interest rate spread and the Conference Board's index of credit conditions, also helped to push the forward-looking measure higher.
At the same time, the Leading Economic Index also highlighted some of the current weaknesses in the economy, particularly for manufacturers. New orders and the average workweek of production workers were net drags on the index. Manufacturing employment has been quite sluggish of late, with hiring unchanged in April. In addition, while consumer confidence did improve in April, it remains subpar, pulling the index lower.  
Meanwhile, the Coincident Economic Index - which measures the current climate - increased 0.1 percent in April. The higher figure resulted from stronger growth in nonfarm payrolls and personal income, with modest growth in new manufacturing sales. However, the 0.5 percent decline in industrial production in the month mitigated these increases. As such, softness in the manufacturing sector has dampened the U.S. economy, something we continue to see in a number of economic indicators.
Consumer Price Index
Consumer prices declined for the second straight month, according to the Bureau of Labor Statistics. The Consumer Price Index was down 0.4 percent in April, building on March's 0.2 percent decrease. These declines have helped to decelerate the year-over-year pace in inflation, falling from 2.0 percent in February to 1.5 percent in March to 1.1 percent in April. This suggests that Americans have generally benefited from mild inflationary pressures, with lower energy costs helping to provide a buffer for other increases.
Gasoline prices fell 4.4 percent and 8.1 percent in March and April, respectively. On a year-over-year basis, gasoline costs were off 8.3 percent. These declines more than offset increases in electricity and natural gas.
Food prices were up a modest 0.2 percent, with the largest increases in cereals and baking products (up 0.6 percent) and meats, poultry, fish and eggs (up 0.4 percent). The cost of fruits and vegetables declined 1.4 percent, offsetting some past increases. Overall food costs continue to experience moderate gains, up 1.5 percent on an annual basis. This represents a slight pullback from December's 1.8 percent pace.
Core inflation, which excludes food and energy costs, remains in the acceptable range. The year-over-year pace is currently 1.7 percent, down from 1.9 percent in March and 2.0 percent in February. This is below the Federal Reserve Board's stated goal of 2.0 percent, enabling the Federal Open Market Committee to continue to pursue expansionary policies.
Housing Starts and Permits
The Census Bureau and the U.S. Department of Housing and Urban Development reported that new residential construction declined significantly. New housing starts were down from an annualized 1,036,000 units in March to 853,000 units in April. These numbers illustrate the choppiness of the housing market from month to month that occurs even with seasonally adjusted data. While the longer-term trend line remains positive (up 13.1 percent year-over-year), the new residential construction figures were disappointing.
The largest factor behind the decline in housing starts was the plummeting of multifamily housing starts, down from 398,000 in March to 243,000 in April. These declines appear to have taken place in all regions of the country except the Midwest. Multifamily starts nationally are now slightly lower than 12 months ago, reversing the healthy gains seen in recent months. Meanwhile, new single-family construction starts decreased less dramatically, down from 623,000 to 610,000. These losses were primarily in the South. The year-over-year pace for single-family starts is still quite impressive, up 20.8 percent.
At the same time, housing permits soared to 1,017,000 annualized units in April from 890,000 in March. The permits data are important because they serve as a proxy for future construction activity. The good news is that this is the first time housing permits have been above 1 million since June 2008 (when they were headed lower). The year-over-year growth in housing permits between April 2012 and April 2013 was a very healthy 35.8 percent.
The largest gainer for housing permits was the increase in multifamily unit activity, up from 291,000 to 400,000, its fastest pace since (not coincidently) June 2008. Single-family permitting rose from 599,000 to 617,000.
Overall, the data continue to show an upward trend in housing, even as the latest new starts data are discouraging. The fact that housing permits grew so strongly indicate that April's housing starts levels should be a temporary pullback, with slow but steady growth in the sector progressing forward. Housing starts should return to being more than 1 million units in the coming months, and this time, they will stay there.
Industrial Production
The Federal Reserve Board reported that industrial production declined 0.5 percent in April, more than double the consensus expectation of 0.2 percent. For manufacturers, production activity fell 0.4 percent in April, after March's 0.3 decrease. This was the third time this year that manufacturing production contracted, decelerating the year-over-year pace from 2.4 percent growth in December to 1.3 percent in April.
Manufacturing capacity also fell, down from 78.3 percent in March to 77.8 percent in April. This brings the utilization rate back to where it was at year's end, erasing the capacity gains seen in the first four months of 2013.
Durable goods production fell 0.4 percent, whereas production in the nondurable goods industries fell 0.1 percent. Declining manufacturing activity levels were mostly across-the-board, with only four of the 19 major sectors experiencing a gain for the month. The four sectors with higher production in the month were plastics and rubber products (up 0.4 percent), chemicals (up 0.2 percent), computer and electronic products (up 0.2 percent) and food and beverages (up 0.2 percent).
The sectors with the largest declines were nonmetallic mineral products (down 1.7 percent), apparel and leather (down 1.6 percent), petroleum and coal products (down 1.5 percent), motor vehicle and parts (down 1.3 percent) and miscellaneous durable goods (down 1.1 percent).
This is yet another indication of how sluggish the manufacturing sector is right now. With exports barely growing and higher payroll taxes softening domestic sales, the manufacturing sector has still not emerged from the decline in activity that we began to see in the second half of last year. Uncertainties about the economy and the federal budget cuts continue to prevent manufacturers from making large gains to output and employment.
NAHB Housing Market Index
The Housing Market Index (HMI) from the National Association of Home Builders (NAHB) rebounded somewhat in the latest data. After peaking at 47 in December and January, the index has been in a lull the past few months, falling to 42 in April. In the May survey, the HMI rose to 44, a sign that home builder confidence rose slightly for the month. Even with the recent easing, builder sentiment has risen steadily over the past few years, with the HMI measuring 16 in May 2011 and 28 in May 2012.
Optimism increased in each region of the country except for the West, and the indices for current and future potential sales of single-family homes rose. In fact, the index of expected single-family home sales in the next six months increased from 52 to 53, and it has been above 50 in eight of the past nine months. Values greater than 50 indicate that more respondents are positive than negative in their views.
NAHB Chief Economist David Crowe added, "While industry supply chains will take time to re-establish themselves following recession-related cutbacks, builders' views of current sales conditions have improved, and expectations for the future remain quite strong as consumers head back to the market in force."
New York Fed Manufacturing Survey
The New York Federal Reserve Bank found that manufacturing new orders and business conditions were lower in May. The Empire State Manufacturing Survey's composite index of general business activity declined from 3.1 in April to -1.4 in May. This is the first contraction for the index's main measure since January, ending three months of growth. Still, this statistic mostly showed how manufacturing activity has stagnated during the past month or so. Indeed, 48.5 percent of survey respondents said that conditions had not changed, with those saying that they were better or worse nearly offsetting one another at 25.0 percent and 26.5 percent, respectively.
The index subcomponents tend to back this view up. New orders declined modestly on net, with its index down from 2.2 to -1.2. Other contracting figures included shipments (-0.02), unfilled orders (-6.8), delivery times (-3.4), inventories (-8.0) and the average workweek (-1.1). Pricing pressures eased somewhat for the month (down from 28.4 to 20.5), but still suggest decent growth. Nearly two-thirds of survey respondents, however, suggest that raw material prices had not changed during the past month.
Even as the average workweek was lower, manufacturers continue to hire, with its index down just modestly from 6.8 to 5.7. While 71.6 percent of respondents said that their employment levels had not changed in the past month, 17.1 percent noted increases, and 11.4 percent reported declines. Still, the net growth in hiring is somewhat surprising given the sluggishness of employment growth nationally and other weaknesses in the Empire State survey.
Cautious optimism in the forward-looking measures could explain continued hiring. Those manufacturers in the New York Fed's survey remain positive - albeit less so than last month - about increases in new orders, shipments, employment and capital spending plans. One-quarter of respondents plan to hire more workers, more than one-third expect to increase their capital investments, and nearly 40 percent anticipate higher sales.
NFIB Small Business Survey
The National Federation of Independent Business (NFIB) reported that small business owner sentiment moved higher last month. The Small Business Optimism Index rose from 89.5 in March to 92.1 in April, its highest level in six months. An improved sales outlook helped to lift these figures, with the net percentage of respondents expecting higher sales increasing from -4 percent to +4 percent. In addition, small businesses appear to be more willing to increase hiring, with the net percentage planning to hire in the next three months rising from zero in March to 6 percent in April.
This does not mean, however, that small businesses have moved beyond their challenges. Small businesses are growing strongly when the index exceeds 100, so we are still quite a way from that. The net percentage of business owners saying that the next three months were a good time to expand was unchanged at 4 percent. As with past reports, the top reasons cited for it not being a good time to expand were economic uncertainties and the political climate.
Small business capital spending plans were marginally lower, from 25 percent to 23 percent of respondents intending to make an expenditure in the next three to six months. While lower, the average for the first four months of 2013 (23.5 percent) is higher than the average for 2012 (22.2 percent), indicating a slight pickup in investment activity in 2013. Similarly, loan availability appears to show gradual improvements from last year and the years following the financial crisis.
Taxes were the most important problem, mentioned by 23 percent of those completing the survey (the same percentage as last month). This is almost certainly a reference to the higher marginal tax rates this year due to the fiscal cliff deal. Other top concerns were government regulations (21 percent) and poor sales (16 percent).
Philadelphia Fed Manufacturing Survey
The Federal Reserve Bank of Philadelphia's Business Outlook Survey contracted again in May, declining for the first time since February. The composite index of general business conditions declined from 1.3 in April to -5.2 in May. Reductions in new orders, shipments and employment pulled the index lower. Specifically, the new orders index dropped from -1.0 to -7.9, with more than one-third of respondents saying that their sales had declined in the past month.
The indices looking at current activity declined, indicating some sluggishness this month. The shipments index shifted from modest growth in April (9.1) to a modest contraction in May (-8.5). The percentage of respondents saying their shipments declined from the previous month increased from 18.8 percent in April to 32.4 percent in May. The average workweek, unfilled orders and delivery times were all negative, as well.
Manufacturers in the Philly region hired fewer workers in May. The employment index declined from -6.8 to -8.7. However, the index of expected employment six months from now rose from 8.2 to 10.0, suggesting that manufacturers plan to increase their hiring in the coming months.
Manufacturers in the Philly Fed region remain cautiously optimistic about the future. The general business activity measure for six months from now rose from 19.5 to 32.3. Almost 45 percent of respondents anticipate better economic conditions in the coming months, with 36.3 expecting them to be the same. Manufacturers are also planning for increased sales, shipments and capital spending in the second half of 2013.
Regarding inventories, 58.1 said that their stockpiles were about right for current economic conditions. Just more than one-quarter of them expect to decrease their inventories in the second quarter, with the forward-looking index for inventories contracting slightly.
Producer Price Index
The Bureau of Labor Statistics reported that producer prices for finished goods were down 0.7 percent in April, extending the 0.6 percent decline in March. Lower energy prices have helped to reduce pricing pressures over much of the past year, with producer prices up just 0.6 percent from a year ago. This year-over-year rate is down from 1.4 percent in January and 2.3 percent as recently as October. To further illustrate how inflationary pressures have eased, the year-over-year rate was 4.2 percent in January 2012, with a recent peak of 7.3 percent in July 2011.
Behind these figures, food and energy costs for the month were lower. Energy costs were down 2.5 percent in April, building on March's 3.4 percent decrease. The average price of West Texas Intermediate crude oil was $92.02 per barrel in April, down from $95.31 in February and $92.94 in March. This helped to reduce energy costs at both the finished and intermediate goods levels. Meanwhile, food prices were off 0.8 percent, offsetting the increase of the same amount the month before. Reduced meat and vegetable prices were largely responsible for this decrease.
Core producer prices, which exclude food and energy costs, at the finished goods level rose a modest 0.1 percent for April and were up 1.7 percent year-over-year. This number indicates that inflationary pressures remain below the Federal Reserve Board's stated target of 2 percent or less. This allows the Federal Open Market Committee to pursue highly accommodative policies to attempt to stimulate economic growth, such as it reiterated at its last meeting.
Raw material costs for the sector fell 0.2 percent in April, and producer prices were down 0.3 percent year-over-year. The petroleum and coal products sector saw the largest decline, down 1.7 percent for the month and 9.3 percent on an annual basis.
This is not to suggest that rising costs are not still an issue, as they are for some segments of the industry. On a year-over-year basis, the following sectors have grown the fastest: wood products (up 10.6 percent), nonmetallic mineral products (up 3.2 percent), food (up 2.5 percent) and beverages and tobacco (up 2.4 percent). At the opposite end of the spectrum, primary metals manufacturers have seen their input costs fall 6.0 percent over the past 12 months.
Retail Sales
The Census Bureau reported that retail sales rose 0.1 percent in April. The consensus estimate had been for a decline of 0.3 percent. However, more spending on autos could explain much of the increase, with motor vehicle and parts purchases up 1.0 percent. This continues strong growth in the auto sector, with retail sales up 8.8 percent year-over-year.
Outside of autos, retail sales dropped 0.1 percent. The largest drag on purchasing growth stemmed from gasoline station sales, which dropped 4.7 percent in April. This extends March's 3.2 percent loss, and year-over-year spending was down 4.6 percent. Lower gasoline prices largely contributed in reducing the amount.
When you exclude auto and gasoline station sales, retail purchases rose 0.6 percent. Businesses with increased sales in April included building materials (up 1.5 percent), nonstore retailers (up 1.4 percent), clothing and accessories (up 1.2 percent) and general merchandise stores (up 1.0 percent). At the same time, there were declines among food and beverage (down 0.8 percent) and health and personal care (down 0.1 percent) stores.
University of Michigan Consumer Sentiment
Consumer confidence rebounded in May, according to the University of Michigan and Thomson Reuters. The Consumer Sentiment Survey's overall index rose from 76.4 in April to 83.7 in May, its highest level since July 2007. This is a sign that the lull that we have seen in consumer confidence since November has dissipated, at least in this preliminary figure. (A revised number, with more complete information, will be released on May 31.)
The gain in confidence was more than expected, with a consensus estimate of 78.0. Perceptions about the current and future economic environment improved, with the largest gains regarding present conditions. The index for the current situation increased from 89.9 to 97.5, whereas the forward-looking component moved from 67.8 to 74.8.
Surveys such as this one often rise and fall on pocketbook issues, and manufacturers tend to focus in particular on confidence indices to see if they might impact consumer behavior. The recent declines were in large part due to fiscal uncertainties, higher payroll taxes and persistent economic worries. These issues have not necessarily gone away, but Americans are more than likely reacting to lower energy costs, decent nonfarm payroll gains and modest growth in the U.S. economy. Earlier in the week, we did learn that retail sales - particularly when you exclude gasoline station spending - rose, a sign that consumers have picked up their purchases of late.
---
Questions or comments? Please contact Chad Moutray at cmoutray@nam.org

Copyright © 2013 National Association of Manufacturers