A Publication of the National Association of Manufacturers

November 5, 2012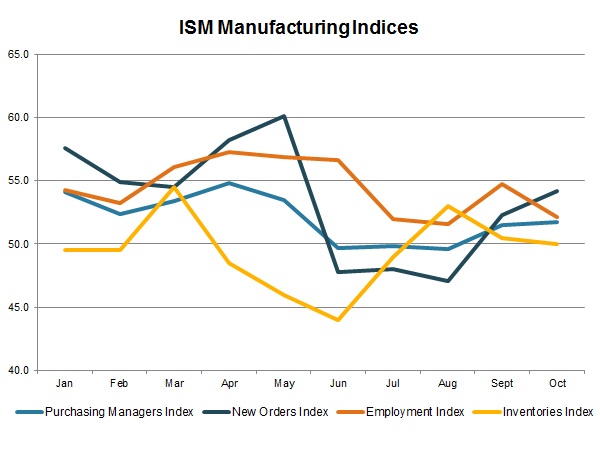 Manufacturers continue to experience significant headwinds in the U.S. and global economy. Global sales continue to struggle, and manufacturers are increasingly worried about the uncertain political and business environment. However, last week's indicators provided a more positive view of recent improvements in the economic landscape, both here and abroad. (For more on the international perspective, see the most recent Global Manufacturing Economic Update, which was released on Friday, November 2.)
There were 13,000 net new workers hired in the manufacturing sector in October, helping to reverse the downwardly-revised 27,000 jobs lost in August and September, and overall non-farm payrolls rose higher than expected, up 171,000. Combined with revisions in the prior two month's data, the last jobs report before the election provided some possibly encouraging signs. Yet, it also reflected an unemployment rate that continues to be highly elevated, at 7.9 percent, and total job growth that is well below its potential. Nonetheless, perceived improvements on the jobs front have led to higher consumer confidence, with the Conference Board's measure up from 61.3 in August to 72.2 in October. Americans have also increased their overall spending, despite dipping into their savings to do so. The savings rate fell to 3.3 percent, its lowest level since November 2011.
Manufacturing activity was more mixed depending on the source. Factory orders rebounded in September after an extremely disappointing August. In addition, the Institute for Supply Management's (ISM) Purchasing Managers' Index (PMI) edged slightly higher from 51.5 in September to 51.7 in October, confirming that the sector continues to grow modestly, with new orders picking up. However, hiring continues to be weak, and export sales remain negative. The Markit U.S. Manufacturing PMI showed a similar finding, but with orders easing. Beyond these national surveys, the Chicago and Dallas regions showed signs of weakness. Slowing auto sales have been the culprit in the Midwest, while respondents to the Texas survey were worried about the current political and economic environment. Despite manufacturers' uncertainty, there is cautious optimism about future orders and production.
This week, all eyes will be on tomorrow's election, particularly with so many manufacturers concerned about its potential impact. The most recent NAM/IndustryWeek Survey of Manufacturers shows that nearly 79 percent of respondents cited political uncertainties as their top challenge. Beyond the election, the main economic indicator will come on Thursday with the release of new trade numbers. There has been some progress on the economic front in many countries outside of Europe, but persistent weaknesses remain. That should dampen export growth, as we have seen in recent months. Other highlights include the latest on consumer credit, job openings and wholesale trade.
Chad Moutray
Chief Economist
National Association of Manufacturers


Last Week's Indicators:
(Summaries Appear Below)

Monday, October 29
Chicago Fed Midwest Manufacturing Index
Personal Income and Spending
Texas Fed Manufacturing Survey

Tuesday, October 30
None, due to Hurricane Sandy

Wednesday, October 31
ISM-Chicago

Thursday, November 1
ADP Employment Report
Conference Board Consumer Confidence
Construction Spending
ISM Manufacturing Index
Productivity and Costs

Friday, November 2
BLS Employment Report
Factory Orders


This Week's Indicators:


Monday, November 5
None

Tuesday, November 6
Job Openings and Labor Turnover Survey

Wednesday, November 7
Consumer Credit

Thursday, November 8
International Trade

Friday, November 9
Import and Export Prices
University of Michigan Consumer Sentiment Survey
Wholesale Trade

ADP Employment Report
Automatic Data Processing (ADP) reported that total non-farm payrolls rose 158,000 in October, higher than the 114,000 workers added in September. This month's report marks the beginning of a new partnership with Moody's Analytics and a new methodology. (Using the old methodology and partner, ADP estimated September's net hiring to be 162,000.) The October increase stemmed mostly from additional service sector workers, which increased by a net 144,000.
Goods-producing sectors added just 14,000 workers, mostly from construction which was up 23,000. The manufacturing sector continues to be weak, shedding 8,000 workers. Slowing global sales and the uncertain political and economic environment have taken a toll. These ADP numbers suggest a loss of 42,000 workers during the past four months.
Another facet of the new methodology is that it breaks down the net job gains by greater firm-size classifications. The largest increases were among firms with more than 1,000 employees, as they added 69,000 net new workers. Firms with 500–999 employees contributed another 12,000, bringing the total employment increase for large businesses to 81,000 for the month. Still, small and medium-sized businesses with fewer than 500 employees added 77,000 net new workers, with 50,000 of those stemming from businesses with fewer than 50 employees.
BLS Employment Report
Non-farm payroll gains were larger than expected in October, according to the Bureau of Labor Statistics. They were up by 171,000 workers instead of the 125,000 increase anticipated by most economists. It was also an improvement from the 148,000 non-farm payrolls employees added in September, which was revised from its earlier 114,000 estimate.
At the same time, the unemployment rate rose from 7.8 percent to 7.9 percent. The higher figure—despite improvements in non-farm payroll numbers—stems from a slight uptick in the participation rate from 63.6 to 63.8. Also, as noted in last month's release, a large increase in part-time employment was a major factor in the unemployment rate declining from 8.1 percent in August to 7.8 percent in September. This appears to have lessened somewhat, with part-time workers who are unemployed for economic reasons down from 8.6 million to 8.3 million.
Manufacturing employment also improved, with 13,000 net new workers in October, helping to offset the 13,000 and 14,000 employees lost in August and September, respectively. Note that the past two month's data have been revised, as the previous estimates showed 38,000 workers lost in the manufacturing sector. Manufacturers have added 158,000 workers year-to-date or exactly 500,000 since the end of 2009.
Looking at specific sectors, nondurable goods industries fared better than durables, up 8,000 versus 5,000 workers added during the month. Sectors with the strongest gains included food manufacturing (up 2,700), chemicals (up 1,600), computer and electronic products (up 1,600), plastics and rubber products (up 1,600), beverages and tobacco products (up 1,500), nonmetallic mineral products (up 1,400) and transportation equipment (up 1,400).
The transportation sector's gains stemmed mostly from aerospace, as motor vehicle employment lost 2,100 workers during the month. Other declines included fabricated metal products (down 1,200), machinery (down 1,100) and miscellaneous manufacturing (down 1,000).
Despite the higher employment numbers, the average hours in the workweek edged slightly lower in the manufacturing sector, down from 40.6 to 40.5. The average amount of overtime was the same at 3.2 hours. Likewise, manufacturers' average weekly earnings declined from $976.43 to $970.79.
Chicago Fed Midwest Manufacturing Index
The Chicago Fed's Midwest Manufacturing Index (MMI) decreased from 95.5 in July to 93.8 in August to 93.4 in September. The auto sector led this decline, with production down 5.3 percent and 2.2 percent, respectively, across the past two months. Still, even with the current slowdown, year-over-year motor vehicle output has risen more than 16 percent.
The Midwest has been one of the stronger regions in the country for manufacturing activity, with the MMI up 8.5 percent since September 2011. Strength in the auto, steel and machinery sectors has been the primary reason. In September, however, steel and machinery production activity were off 0.1 percent and 0.3 percent, respectively. The resource sectors (e.g., food, wood, paper, chemical and nonmetallic mineral) showed positive gains for the month, up 0.9 percent.
Conference Board Consumer Confidence
The Conference Board reported that its Consumer Confidence Index rose from 68.8 in September to 72.2 in October. There are two subcomponents to this index—one measuring present conditions and the other assessing future expectations. Both edged higher, but the index of present conditions increased more, up from 48.7 to 56.2.
Consumer sentiment surveys, in general, are more sensitive to pocketbook issues, and respondents tended to be slightly more upbeat about employment and income. Buying plans were mixed, with expected demand for autos up but buying intentions for homes and appliances slightly lower.
Construction Spending
The Census Bureau reported that construction spending increased 0.6 percent in September after falling 0.1 percent in August. The gain came mostly from the residential sector, with strong housing construction numbers helping to boost the overall figure. Private, residential construction rose 2.8 percent for the month and was up 20.9 percent year-over-year. Private, nonresidential construction was off 0.1 percent, and public construction spending fell 0.8 percent, suggesting that outside of housing, the overall construction market remains soft.
For manufacturers, construction spending recovered from August's decline. The sector spent $47.1 billion in September, up from $45.4 billion in August—an increase of 3.8 percent for the month. Still, overall activity has fallen in recent months, despite September's gain. For instance, construction spending was $49.4 billion as recently as June. Manufacturing construction spending is up 1.3 percent since September 2011, well below the 8.8 percent growth year-over-year for the private, nonresidential sector as a whole.
Outside of manufacturing, the strongest monthly private, nonresidential construction spending gains were in the communications (up 7.0 percent), transportation (up 5.7 percent) and power (up 1.1 percent) industries. The largest declines were in the following sectors: healthcare (down 6.3 percent), religious (down 5.3 percent), commercial (down 3.8 percent), amusement and recreation (down 3.2 percent) and lodging (down 2.2 percent).
Public construction spending was mostly lower, with the biggest monthly decline in commercial projects (down 14.4 percent). There were gains in public spending for amusement and recreation (up 7.5 percent), power (up 3.6 percent) and conservation and development (up 3.6 percent) sectors. Overall, public construction is down 4.2 percent over the course of the past year, with the steepest declines in office, commercial and water supply spending.
Factory Orders
Orders for manufactured goods rebounded in September, rising 4.8 percent after falling 5.1 percent in August, according to the Census Bureau. As noted in the previously released report on durable goods orders, the bulk of this increase stemmed from gains in the transportation sector, up 31.3 percent in September. Nondefense aircraft and parts orders rose from virtually zero in August to $14.7 million. Excluding transportation, new orders for manufactured goods were up 1.4 percent.
Outside of transportation, new orders were mixed. Nondurable goods orders increased 1.0 percent, its third consecutive monthly gain. Meanwhile, durable goods sectors with rising sales included computers (up 12.9 percent), machinery (up 9.2 percent) and primary metals (up 3.9 percent). Keep in mind that many of these large increases followed sizable decreases in August, somewhat mitigating the net gain. Industries with fewer new orders in September included electrical equipment and appliances (down 3.6 percent), motor vehicles (down 1.6 percent) and fabricated metal products (down 0.7 percent).
Shipments data were also higher, up 0.9 percent in September. Durable and nondurable goods shipments increased 0.8 percent and 1.0 percent, respectively. Of the major sectors, the largest gains were in petroleum and coal products (up 3.7 percent), computers and electronic products (up 2.2 percent) and transportation (up 1.0 percent, with strong gains in autos and nondefense aircraft).
ISM-Chicago
The Chicago Business Barometer from ISM-Chicago and Deutsche Börse reported that manufacturing activity in the region remained stalled in October. The composite index of business activity edged slightly higher from 49.7 in September to 49.9 in October. This is near the threshold of 50, which would indicate growth, but it's still in contraction territory.
Employment and production activity slowed in October, with production still growing modestly but with employment levels remaining almost unchanged. Capital equipment purchases fell to a two-year low. On a positive note, the pace of new orders shifted from contraction in September (47.4) to a slight expansion in October (50.6). Pricing pressures for raw materials stabilized somewhat from the month before.
ISM Manufacturing Index
The ISM's PMI edged slightly higher, up from 51.5 in September to 51.7 in October. This follows three consecutive months of contracting activity (June to August), with new sales activity pulling production and employment lower. The past two months reversed that trend, with the pace of new orders picking up. The index for new orders rose from 52.3 to 54.2. These are mostly domestic orders, with international sales continuing to be weak. The export index dropped from 48.5 to 48.0.
With improvements in sales, manufacturing activity increased in October. The production index shifted from contraction last month (49.5) to modest gains this month (52.4). However, this has not yet translated into more hiring. Employment gains eased for the month, down from 54.7 to 52.1. Inventory levels were unchanged on net, and pricing pressures have stabilized—at least for now.
Personal Income and Spending
The Bureau of Economic Analysis reported that personal spending rose 0.8 percent in September. This builds on the 0.4 percent and 0.5 percent gains observed in July and August, respectively. As reported last week, Americans have again started to increase their purchases, with consumption accounting for roughly half of the growth in real GDP in the third quarter (July to September).
This was good news for manufacturers, with these spending increases resulting in 6.3 percent more purchases of goods during the third quarter. In September alone, individuals consumed 1.1 percent more durable goods and 1.7 percent more nondurables.
Personal income also increased in September, up 0.4 percent. However, when adjusted for inflation, disposable income was flat. The main driver of September's higher prices was increased energy costs (up 4.8 percent). Nonetheless, manufacturing wages and salaries edged slightly higher, up from $725.7 billion to $726.2 billion. Despite the monthly increase, this is below the $732.0 billion number seen in July, which reflects recent weaknesses in the U.S. and global economy.
With spending outstripping personal income growth, the savings rate fell from 3.7 percent to 3.3 percent. This is the third month in a row that the savings rate fell, as it stood at 4.4 percent in June. This lines up perfectly with the increase in spending noted in the third quarter, suggesting that Americans have supplemented their higher incomes by dipping into savings.
Productivity and Costs
The Bureau of Labor Statistics reported that manufacturing productivity fell 0.4 percent during the third quarter. It had been weaker in the second quarter, up just 0.2 percent, mainly from slower output growth. This trend continued into the third quarter, with output shrinking 0.6 percent after growing 1.5 percent during the second quarter and 10.2 percent during the first quarter. The number of hours worked in the third quarter also declined, off 0.2 percent. As a result, unit labor costs for manufacturers rose 1.5 percent.
Breaking these figures down by sector shows that output fell by 1.0 percent for durable goods industries, and it was flat for nondurables. The output per hour for all persons (e.g., labor productivity) declined for both, down 0.7 percent and 0.1 percent, respectively. The number of hours worked by durable goods workers declined by 0.4 percent, with nondurable goods employees adding 0.1 percent hours of work during the quarter. Unit labor costs were higher for nondurable goods manufacturers (up 3.0 percent), with durable goods businesses seeing unit labor costs increase 0.9 percent.
For the larger economy, the news was more positive. Non-farm business labor productivity increased 1.9 percent during the third quarter, the same as the second quarter. Output grew 3.2 percent, an increase from the 2.1 percent growth seen during the second quarter. More importantly, unit labor costs fell 0.1 percent, helping to keep non-farm businesses more competitive on the labor front.
Overall, the productivity figures highlight what we are seeing in other economic indicators. The non-farm data show modest growth in output hours worked. This is a positive for the economy as a whole, but it contrasts with weaknesses in the manufacturing sector. Manufacturers continue to cite poor sales—particularly on international orders—and uncertainties regarding the fiscal abyss as major challenges. Additionally, production and hiring activity has mostly stalled.
Texas Fed Manufacturing Survey
The Texas Manufacturing Outlook Survey provided mixed reviews with its latest results. The Dallas Federal Reserve Bank reports that its index of general business conditions improved from -0.9 in September to 1.8 in October, suggesting a slight expansion on net. Indices for production, capacity utilization, shipments, employment and capital expenditures all indicate modest growth for the month (even as some of them eased somewhat).
More worrisome potentially, the growth rate for new orders fell from 5.3 to -4.5. Nearly 27 percent of respondents reported declines in sales, with another 56.5 percent indicating no change. Along those lines, hours worked also declined.
Despite slowing new orders, manufacturers in the Texas region were more positive about the next six months. Almost one-third expect their company's outlook to improve, with the forward-looking index up from 9.2 to 20.9. Measures of activity were higher across-the-board, with business leaders anticipating stronger increases. Pricing pressures also remain elevated.
---
Questions or comments? Please contact Chad Moutray at cmoutray@nam.org

Copyright © 2012 National Association of Manufacturers