A Publication of the National Association of Manufacturers

November 26, 2012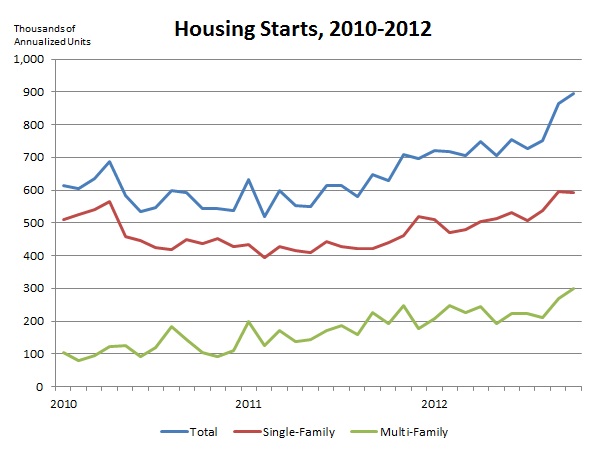 Due to the Thanksgiving holiday, only a few economic indicators were released last week, much of them dealing with the housing sector. New residential construction continued to jump higher, up from 863,000 in September to 894,000 in October. Housing starts have risen a whopping 41.9 percent during the past year, reflecting strong market growth. While housing permits edged lower in October, the longer-term trend mirrors that of new starts. Homebuilder confidence and existing home sales have also risen substantially in recent months, with housing at levels not seen in four years. This trend should continue, despite tougher lending standards and other financial barriers threatening potential growth.
The Markit Flash Purchasing Managers' Index (PMI) for the United States reflects improvements in manufacturing activity in November. Higher sales and output helped to lift the index higher, with export sales even showing growth. Markit also announced that the Chinese manufacturing sector was growing for the first time in 13 months. Europe continues to contract, according to the Markit Flash PMI for the Eurozone, but there was improvement there as well (up from 45.4 in October to 46.2 in November).
Even with some economic indicators strengthening, headwinds in the marketplace persist. Both the Conference Board's Leading and Coincident Economic Indices rose in October, with manufacturing variables contributing little if anything. Industrial production was down significantly, and new orders and production levels were essentially flat. Slowing export growth and the fiscal abyss are fueling business leaders' uncertainties. However, they are also concerns for individuals. Increased emphasis on the fiscal abyss in the media has helped to depress consumers' expectations of the future, according to revised November data from the University of Michigan's Surveys of Consumers.
This week, we will receive more data on current U.S. manufacturing conditions—in particular, we will learn whether there are improvements (as Markit data show) or persistent weaknesses. This week's reports include the latest regional surveys from the Dallas, Kansas City and Richmond Federal Reserve Banks and advanced durable goods orders. On Thursday, the Bureau of Economic Analysis will release revised third quarter real GDP, originally estimated to be 1.7 percent. Other highlights include the Federal Reserve's Beige Book, data on personal spending and the Conference Board's consumer confidence figures.
Chad Moutray
Chief Economist
National Association of Manufacturers
P.S.: It is time for the latest NAM/IndustryWeek Survey of Manufacturers. Please take a moment to fill out this brief 16-question survey. It is important for us to get a sense of how NAM members gauge the current business climate. This survey includes some special post-election questions. The results will be posted online in December and will appear in an upcoming issue of IndustryWeek. The deadline for submitting responses is Friday, November 30. Thank you in advance!


Last Week's Indicators:
(Summaries Appear Below)

Monday, November 19
Existing Home Sales
NAHB Housing Market Index

Tuesday, November 20
Housing Starts and Permits
Regional and State Employment
               
Wednesday, November 21
Markit Flash U.S. Manufacturing PMI
Conference Board Leading Economic Indicators

Thursday, November 22
THANKSGIVING HOLIDAY





This Week's Indicators:


Monday, November 26
Chicago Fed National Activity Index
Texas Manufacturing Outlook Survey

Tuesday, November 27
Conference Board Consumer Confidence
Durable Goods
Richmond Fed Manufacturing Survey
               
Wednesday, November 28
Beige Book
New Home Sales

Thursday, November 29
Gross Domestic Product (Revision)
Kansas City Fed Manufacturing Survey

Friday, November 30
ISM-Chicago
Personal Income and Spending





Conference Board Leading Economic Indicators
The Conference Board reported that its Leading Economic Index rose 0.2 percent in October, building on the 0.5 percent gain in September. However, credit and interest rates primarily fueled the increase, along with improvements in initial weekly unemployment claims. Manufacturing provided an essentially neutral contribution, with stalled production, new orders and employment yielding a cumulative contribution of -0.01. Other negative contributors to the index included reduced building permits, lessened consumer confidence and a slightly lower stock market.
Meanwhile, the Coincident Economic Index - which measures the current climate - increased 0.1 percent. The largest driver of the higher figure was strengthened manufacturing and trade sales, with higher non-farm payrolls and personal income also contributing positively. Industrial production, which declined 1.4 percent in October, was the lone negative contributor to the Coincident Index. 
Overall, these numbers reflect a modestly growing economy, albeit with persistent weaknesses. Manufacturing activity, in particular, remains soft, with slowing global sales and the looming fiscal abyss fueling anxieties.
Existing Home Sales
The National Association of Realtors® (NAR) reported that existing home sales rose 2.1 percent in October, somewhat offsetting the 2.9 percent decline in September. There were 4.79 million units sold in October at the annual rate - a figure that might have been higher if not for Hurricane Sandy, which dampened sales somewhat in the Northeast. Other regions had slight sales increases, with the largest gains in the West.
Overall, existing home sales have risen 10.9 percent since October 2011, continuing an upward trend in the market observed elsewhere. There are 5.4 months of supply on the market, down from 5.6 in September and 6.5 in April. The median existing home price in October was $178,600, reflecting a year-over-year increase of 11.1 percent.
NAR Chief Economist Lawrence Yun noted the impact that the improved housing market has had on household wealth. "Rising home prices have already resulted in a $760 billion growth in home equity during the past year," Yun said. "Given that each percentage point of price appreciation translates into an additional $190 billion in home equity, we could see close to a $1 trillion gain next year." Therefore, it is not surprising that consumers (and builders, as noted above) are more confident of late given these gains.
Housing Starts and Permits
The Census Bureau and the U.S. Department of Housing and Urban Development reported that new residential construction rose from 863,000 in September to 894,000 in October. To put the current figure in perspective, it represents a 22.8 percent increase in housing starts during the past three months. October's reading exceeded expectations, which were for starts around 840,000. The longer-term growth trend continues to move upward with year-over-year gains of 41.9 percent.
October's improvement stemmed entirely from increased multi-family residential construction, up from 268,000 to 300,000 for the month. This is the highest start rate for multi-family units since July 2008, continuing its slow-but-steady increase, up from 177,000 in December 2011. Meanwhile, single-family construction remained essentially flat, down from 595,000 to 594,000. Despite being unchanged for the month, single-family starts are up 35.3 percent year-over-year and remain at levels not seen since mid-2008. 
At the same time, housing permits pulled back a little from the prior month's significant gains, down from 890,000 in September to 866,000 in October. Still, this is higher than the 801,000 observed in August, or the 723,000 seen in April. The trend in housing permits remains a positive one. Year-over-year growth in permits is 29.8 percent.
October's decline stemmed from fewer multi-family permits (down from 340,000 to 304,000), whereas single-family unit permitting rose for the month (up from 550,000 to 562,000). The single-family permitting level is the highest point since July 2008.
Overall, these numbers suggest that the housing market continues to recover, with starts quickly approaching 900,000, well below the residential construction levels seen during the housing bubble years when starts hovered around 2.1 million units. However, it is a long way from the 500,000 - 600,000 unit range that the sector stayed in for nearly three years starting in 2009. (As recently as August 2011, housing starts were 581,000.)
Markit Flash U.S. Manufacturing PMI
Markit reports an uptick in activity, with its Flash U.S. Manufacturing PMI increasing from 51.0 in October to 52.4 in November. The data show the sector improved during the past month across-the-board. For instance, the index for new orders rose from 51.1 to 52.8. More importantly, new export orders - which have contracted for several months - also increased, up from 47.2 to 49.9. This suggests some stability in international sales, with November's reading near neutral (e.g., a near equal number of respondents reported that export sales were increasing as decreasing).
Output, employment and raw material inventories also improved. The employment index strengthened from 51.8 to 52.6, its highest point since July. Given recent reluctance to hire, this is certainly good news. However, input prices increased and remained highly elevated, with the index growing from 57.1 to 63.6. This indicates increased pricing pressures for many manufacturers.
Chris Williamson, Markit's chief economist, said, "This is an encouraging sign that the slowdown in the goods-producing sector may have bottomed out. Manufacturing, therefore, looks likely to make a positive contribution to economic growth in the fourth quarter after acting as a slight drag in the third quarter. The survey is consistent with manufacturing output growing at an annualized rate of just over 1.0 percent in November."
NAHB Housing Market Index
The National Association of Home Builders (NAHB) and Wells Fargo reported that the Housing Market Index (HMI) rose from 41 in October to 46 in November. This is the seventh consecutive monthly increase in the HMI, having risen from 24 in April. One year ago, the index stood at 19. As such, there has been a tremendous increase in confidence in 2012, with higher sales and starts helping to propel economic growth in the sector. Builder confidence increased in November in each region of the country, with the Midwest and South seeing the largest gains.
The index for current sales of single-family homes was one of the primary drivers of November's HMI increase, up from 41 to 49. This brings the HMI closer to the threshold of 50, which marks the neutral point in the index where homebuilders are either positive or negative about sales conditions. Looking forward six months, single-family sales should continue to grow modestly, with that index up from 51 to 53.
NAHB Chief Economist David Crowe noted the substantial progress made in the housing market over the past year, but the sector continues to experience headwinds. He said, "At this point, difficult appraisals and tight lending conditions for builders and buyers remain limiting factors for the burgeoning housing recovery, along with shortages of buildable lots that have begun popping up in certain markets."
Regional and State Employment
The Bureau of Labor Statistics reported little change in state unemployment rates between September and October. This data conform with a national change in the unemployment rate from 7.8 percent to 7.9 percent. The highest unemployment rate continues to be in Nevada (down from 11.8 percent to 11.5 percent), with the lowest in North Dakota (up from 3.0 percent to 3.1 percent). Meanwhile, 171,000 non-farm payroll workers were added in October, helping to boost employment in 35 states and the District of Columbia.
Looking specifically at manufacturing employment, the sector added 13,000 net new workers in October. The largest monthly gains were in Georgia (up 4,500), Indiana (up 3,100), North Carolina (up 2,600), Mississippi (up 1,800) and Colorado (up 1,800). The greatest year-to-date growth has been in Illinois (up 20,000), Indiana (up 16,100), Michigan (up 12,700), Washington (up 12,400), Ohio (up 9,800) and Texas (up 9,200). Stronger demand for durable goods account for much of the gains in 2012 so far, particularly in the machinery, autos, metals and aerospace sectors.
---
Questions or comments? Please contact Chad Moutray at cmoutray@nam.org

Copyright © 2012 National Association of Manufacturers