A Publication of the National Association of Manufacturers

December 3, 2012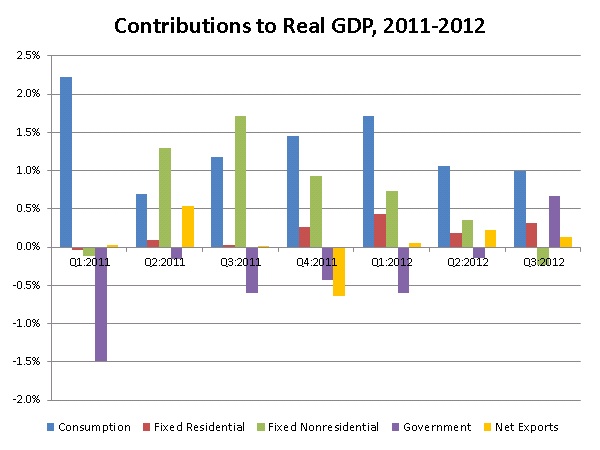 The U.S. economy grew 2.7 percent during the third quarter, faster than originally thought. This news was mixed for manufacturers. On the one hand, consumer spending, improvements in residential construction and net exports boosted overall growth. In addition, end-of-fiscal-year government spending (particularly from defense) contributed roughly one-quarter of the increase in real GDP for the quarter - something unlikely to be repeated anytime soon. With lower discretionary spending and the possibility of budget sequestration, the government will be a drag on growth. Fixed investment fell, with slowing sales and uncertainties about the looming fiscal cliff weighing heavily on business leaders' minds. This should indicate real GDP growth closer to 2 percent in the fourth quarter.
The other economic highlights from last week supported this contrasted assessment, with increased consumer confidence and holiday spending somewhat offset by manufacturing weaknesses. The Beige Book reported that the economy was growing at a moderate pace while also citing softness among many manufacturers. The Chicago, Dallas and Kansas City Federal Reserve Banks reported declines in manufacturing activity, with the latest Institute for Supply Management (ISM)-Chicago survey showing contracting new orders. The Richmond Fed bucked this trend with improving sales, production and shipments and a more positive outlook. Yet, hiring expectations remain sluggish.
Advanced durable goods orders were unchanged in October; however, aircraft and auto sales declined. Outside of transportation, new orders would have risen 1.5 percent, indicating sales figures that were positive than at first glance. Consumer spending fell in October, but there are signs of progress since then. According to the National Retail Federation, the first reports of holiday spending have had modest growth over last year. The Conference Board reported that consumer confidence rose to its highest point since early 2008.
Today, the ISM will release Purchasing Managers' Index data for the U.S. manufacturing sector. It is expected to show a slight uptick in activity, continuing the slow growth that we have seen in the past two surveys. The big news, however, will come on Friday with the announcement of November's employment numbers. The consensus estimate is for roughly 100,000 net new non-farm payroll jobs, with weak growth in manufacturing employment.  Other data highlights for the week include updates on consumer credit, construction spending, labor productivity and vehicle sales.
Chad Moutray
Chief Economist
National Association of Manufacturers


Last Week's Indicators:
(Summaries Appear Below)

Monday, November 26
Chicago Fed National Activity Index
Texas Manufacturing Outlook Survey

Tuesday, November 27
Chicago Fed Midwest Manufacturing Index
Conference Board Consumer Confidence
Durable Goods
Richmond Fed Manufacturing Survey
               
Wednesday, November 28
Beige Book

Thursday, November 29
Gross Domestic Product (Revision)
Kansas City Fed Manufacturing Survey

Friday, November 30
ISM-Chicago
Personal Income and Spending


This Week's Indicators:


Monday, December 3
Construction Spending
ISM Purchasing Managers' Index

Tuesday, December 4
Vehicle Sales
               
Wednesday, December 5
ADP National Employment Report
Factory Orders
Productivity and Costs (Revision)

Thursday, December 6
None

Friday, December 7
BLS Employment Situation
Consumer Credit
University of Michigan Consumer Sentiment Survey

Beige Book
The latest Federal Reserve Board Beige Book reported that the economy "expanded at a measured pace in recent weeks." However, Hurricane Sandy disrupted activity in the Mid-Atlantic region, and many respondents throughout the country were very concerned about the looming fiscal cliff and how it will impact business next year and beyond.
The manufacturing sector continues to be soft. This should be no surprise to those who follow the regional manufacturing surveys from the Federal Reserve Banks, many of which continue to experience weak or falling new orders and production. In addition to concerns about the fiscal cliff, many manufacturers have also seen their sales - particularly exports - decline. Employment, which has seen some modest growth overall, remains more sluggish for manufacturers. Still, some sectors showed improvement, namely in the heavy equipment and aerospace industries.
Consumer sales and the housing sector also improved. Consumer spending has increased at a moderate pace, and retailers are mostly upbeat for the holiday season. In addition, residential construction improved in many regions, along with commercial real estate.
Chicago Fed Midwest Manufacturing Index
The Chicago Federal Reserve Bank's Midwest Manufacturing Index (MMI) declined 1.2 percent in October. The MMI fell from 93.2 in September to 92.1 in October. The MMI peaked at 95.5 in July, suggesting that manufacturing activity has fallen 3.6 percent since then. In October, the largest decline in production occurred in the machinery sector, down 2.5 percent. Steel and resource sector activity decreased 0.5 percent and 1.9 percent, respectively, for the month. Auto production, which declined in prior months, was unchanged in October.
In general, the Midwest has been one of the stronger regions in the country for manufacturing production, boosted by strong demand for durable goods (namely, in the auto, steel and machinery sectors). However, recent declines have slowed this pace. Despite this easing, the MMI has increased 5.9 percent year-over-year, with auto production up 13.5 percent.
Chicago Fed National Activity Index
The Chicago Federal Reserve Bank reported that the U.S. economy weakened significantly in October. The National Activity Index (NAI) declined from 0.00 in September to -0.56 in October. The three-month moving average, which has now been negative for eight consecutive months, fell from 0.36 to -0.56. Negative values suggest that the U.S. economy is growing below its historical average, and when the three-month moving average falls below -0.70, the risk of a recession is increased. The lower index values suggest an economy that is moving in the wrong direction, but not quite in recession territory yet.
Industrial production, which fell 0.4 percent in October, fueled the decline. Hurricane Sandy was a major reason for this decrease, with manufacturing production off 1.7 percent since July. Soft sales and uncertainties related to the U.S. fiscal situation continue to negatively impact the economy. Reduced housing permits also lowered the NAI.
One of the larger positive contributions came from higher non-farm payrolls. There were 171,000 additional workers hired in October, with 13,000 new manufacturing employees.
Overall, the Chicago Fed's NAI suggests that the U.S. economy continues to struggle, growing below its historical trend. The three-month moving average has moved progressively lower since February (when it stood at 0.45). This is definitely a trend that needs to be reversed.
Conference Board Consumer Confidence
The Conference Board reported that its Consumer Confidence Index rose from 73.1 in October to 73.7 in November. This is the third consecutive monthly gain in consumer optimism, building up from August's 61.3 reading. Its current value is the highest since February 2008. An improved perception about future expectations drove November's increase, up from 84.0 to 85.1. The assessment of the current economic environment remained essentially unchanged.
Pocketbook issues often drive consumer surveys, and in this case, the principal driver of higher confidence was the labor market. The share of respondents who felt that jobs were plentiful rose from 10.4 percent to 11.2 percent (it had been just 7.2 percent in August). Still, the public recognizes that the unemployment rate remains too high. The percentage who said that jobs were hard to get was unchanged at 38.8 percent. In addition, those anticipating higher incomes declined from 16.7 percent to 15.9 percent. This suggests room for improvement, with the overall index continuing to be subpar even with recent gains.
However, this survey shows buying intentions were mixed. There was a slight increase in the percentage of respondents planning to purchase a home or appliances, but auto spending plans declined, as well as inflation expectations.
Durable Goods
The Census Bureau reported that durable goods orders were unchanged in October. This figure has been highly volatile during the past few months, with no new orders for aircraft and parts in August and only a partial recovery in September. Durable goods orders remain 5.1 percent lower in October ($216.9 billion) than July's level ($228.6 billion).
Reduced transportation sales (down 3.1 percent) dragged down total durable goods orders to virtually no growth. New orders for nondefense and defense aircraft and parts were down 5.8 percent and 4.3 percent, respectively. Both were up significantly in September, with end-of-fiscal-year spending fueling September's increase in defense aircraft spending. Motor vehicle sales were also down 1.6 percent. 
Excluding the transportation sector, new orders would have risen 1.5 percent. This puts a more positive spin on the overall numbers, and most major sectors outside of transportation experienced improvements in sales. October's largest gains in new orders were in electrical equipment and appliances (up 4.1 percent), machinery (up 2.9 percent), primary metals (up 1.7 percent) and fabricated metal products (up 1.1 percent). Sharply lower sales were reported for computers and related products (down 9.3 percent).
Meanwhile, shipments of durable goods declined 0.6 percent in October, reversing September's 0.5 percent increase. Shipments remain 3.0 percent lower in October ($222.2 billion) than in July ($229.0 billion), reflecting recent weaknesses. Shipments were soft across-the-board, with capital goods down 0.7 percent.
Gross Domestic Product (Revision)
The Bureau of Economic Analysis announced that real GDP for the third quarter was revised from its earlier estimate of 2 percent to 2.7 percent. This is an improvement from the second quarter's 1.3 percent growth, suggesting that the U.S. economy is growing modestly. The revisions were mainly tied to higher inventories and export levels than earlier announced. These changes were larger than the downward revisions to consumer spending and fixed investment.
As I noted when the first estimate was released, business capital spending slowed considerably between the second and third quarters. Nonresidential fixed investment subtracted 0.23 percentage points from GDP, with reduced spending on structures, equipment and software. This is consistent with sentiment surveys showing rising anxieties about U.S. fiscal policies and slower sales (mainly abroad). Residential construction continues to be a bright spot.
Consumers spent more during the third quarter, but not as much as previously estimated. Spending on durable and nondurable goods added 0.64 percent and 0.18 percent to real GDP, respectively, with the downward revision mainly to nondurables. Overall consumer spending, including services, contributed 0.99 percent of the 2.7 percent growth in real output, or roughly 37 percent (it was half in the previous estimate).
Net exports increased for the third straight quarter, although they also reflect a deceleration in sales for goods overseas. Given the global economic challenges, reduced international orders should be expected.
The federal government added 0.71 percentage points to GDP, largely the result of end-of-fiscal-year defense spending. The government had been a drag on GDP - both from the federal and state and local levels - for eight consecutive quarters prior to the third quarter. Given that we are now in a new fiscal year and lower federal spending is the mantra, we are unlikely to see the government adding to GDP anytime soon.
I would anticipate real GDP growth around 2 percent or slightly higher going forward. Business investment should continue to be weak, but this might be offset by improvements in consumer spending and housing. The most obvious element that could push this estimate lower is the fiscal cliff, as well as the possibility of an economic downturn and higher taxes.
ISM-Chicago
The ISM-Chicago and Deutsche Börse reported that its Chicago Business Barometer edged higher from 49.9 in October to 50.4 in November. While this suggests a minor expansion in manufacturing activity in the region, the overall findings provide mixed comfort.
Production rose from 51.8 to 54.7, and employment increased from 50.3 to 55.2. Modest growth in output and hiring lifted the sector from the near-stalled levels from the month before. Much of the increase stemmed from progress in the auto industry. At the same time, the pace of new orders contracted from 50.6 to 45.3. Sales are a proxy for future activity, and this could mean that November's gains might be temporary.
While some manufacturers in the Midwest have anxieties about slower sales and the fiscal cliff, others were more cautiously optimistic about output next year, with at least one respondent experiencing strong demand right now.
Kansas City Fed Manufacturing Survey
The Kansas City Federal Reserve Bank reported that manufacturing activity contracted for the second month in a row. The composite index fell from -4 in October to -6 in November.
The weaker data stem from sharp reductions in sales, which have fallen for six of the past eight months. The new orders index declined from -11 to -14 for the month, with exports shrinking for six consecutive months on slower global growth. With reduced sales, production slowed, and employment was unchanged.
With this softness, manufacturers in the Kansas City region have become less optimistic about the next six months. The forward-looking composite index has declined from 16 in September to 3 in both October and November. This suggests modest growth, but the pace is much slower than earlier forecasts. New orders, production, shipments and capital spending should also experience moderate growth. Hiring is not expected to change, and export sales are not anticipated to improve.
Personal Income and Spending
Americans spent less in October for the first time since May. Personal spending declined 0.2 percent in October, down from September's 0.8 percent growth in purchases. The Bureau of Economic Analysis attributes some of the decline to Hurricane Sandy. Even with personal spending declining, the year-over-year change in personal consumption was 3.1 percent, easing from the 3.5 percent pace the month before.
The decrease in spending was larger for durable goods, down 1.9 percent. Nondurable goods purchases fell 0.2 percent, and individuals spent 0.1 percent more on services.
Personal income was unchanged. Manufacturing wages and salaries declined from $748.6 billion to $746.5 billion, erasing September's gains. Overall, personal income has risen 3.1 percent over the past 12 months, matching the growth in spending.
With personal spending falling and income growth flat, the savings rate rose from 3.3 percent to 3.4 percent. However, the savings rate still shows a downward trend (it was 4.1 percent in June).
More recent data suggest that retail spending has picked up since then, with decent holiday spending growth as reported by the National Retail Federation. Consumers do not appear to be worried about the fiscal cliff, with consumer confidence rising. That could change, however, with increased media coverage of the fiscal cliff and with individuals contemplating the possible impact of higher taxes and reduced economic output.
Richmond Fed Manufacturing Survey
The Richmond Federal Reserve Bank noted improvements in manufacturing sentiment in November. Its composite index of general business conditions rose from -7 in October to 9 in November. This measure has been highly volatile, with negative (or contracting) values in four of the past six months. Its lowest point was in July, when the composite index was -17.3. This suggests significant progress since then.
The index of new orders rose from -6 in October to 11 in November, indicating a turnaround in sales for the month. Shipments and employment had similar reversals. Yet, capacity utilization continues to shrink, with an index in October of -3, demonstrating room for improvement in the coming months. The employment index, while now positive, also implies that net hiring remains sluggish.
Manufacturers in the Richmond region have also become more cautiously optimistic about future activity. Forward-looking measures improved for the next six months for shipments, new orders and capital spending. Similar to the current readings, however, employment growth is expected to be skittish and not expected to change. Additionally, the pace of capacity utilization growth is anticipated to slow.
Pricing pressures reflect falling energy and other raw material costs. Input prices increased 1.99 percent at the annual rate in November, down from 3.21 percent in October. Growth in future costs is also expected to slow.
Texas Manufacturing Outlook Survey
The Federal Reserve Bank of Dallas reported that manufacturing activity stalled in November. The composite index of general business activity declined from 1.8 in October to -2.8 in November. This figure has been negative six of the past eight months. Companies' outlook also darkened, with that index down from 2.4 to -4.8.
Respondents to the survey were less than optimistic. For instance, a paper manufacturer noted, "November was expected to have more sales, but sales remained the same. We are still holding out for sales growth in first quarter 2013" Another individual added, "Demand for our product has really flattened out in the last half of this year" Uncertainty about the fiscal cliff, health care costs and taxes were mentioned by a few people. At the same time, one manufacturer in the woods product sector said, "Even in normal economic times, November and December are challenging months"
Despite the more pessimistic outlook, some subcomponents improved despite remaining weak. For example, the index for new orders rose from -4.5 to 0.4. Employment also picked up marginally, increasing from 5.2 to 6.7. Nonetheless, several key variables suggested slowing activity levels, with decreases in production, capacity utilization, shipments, finished goods inventories, hours worked and capital expenditures.
The expected general business conditions index for six months from now turned negative, down from 16.8 to -5.3. The forward-looking company outlook also weakened. However, manufacturers remain cautiously optimistic about the future when you look at various sub-indicators. The pace of new orders, shipments and production is anticipated to slow, but with a sizable net percentage expecting positive growth. The pace of hiring, on the other hand, appears to have taken a hit in November, with employment gains slowing considerably in Texas.
---
Questions or comments? Please contact Chad Moutray at cmoutray@nam.org

Copyright © 2012 National Association of Manufacturers