A Publication of the National Association of Manufacturers

December 10, 2012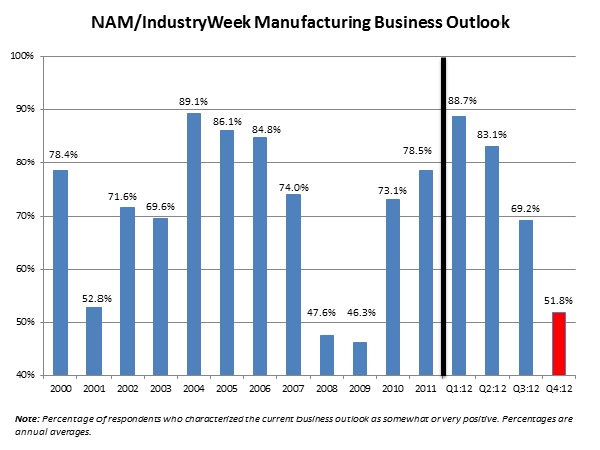 Economic indicators released last week show that manufacturers are increasingly nervous. The latest NAM/IndustryWeek Survey of Manufacturers found that the percentage of respondents reporting their company's outlook was positive has dropped from almost 89 percent in March to roughly 52 percent today. Business leaders are frustrated with the political process, and more than 84 percent cited the prospects of the fiscal cliff as their top concern. These worries are fueling manufacturers' uncertainties, with about 42 percent saying that they have reduced or slowed down capital spending and 36 percent noting reduced or no hiring. In fact, the expected hiring and investment rates for the next 12 months have turned negative for the first time since 2009.
Nonresidential fixed business investment was a drag on growth in the recent revision to real GDP for the third quarter - a trend that is not likely to change in the fourth quarter. Moreover, the Institute for Supply Management's (ISM) Purchasing Managers' Index (PMI) reflected a contraction in November for the fourth time in the past six months. To be fair, Hurricane Sandy played an important role in reducing activity for the month, but it was not the only factor producing weakness. We have seen a more sluggish manufacturing sector since the summer, with slowing global sales and economic uncertainty weighing heavily on everyone's minds. Similarly, employment growth has also been weak over this time frame, with manufacturers shedding 26,000 workers since July, according to the Bureau of Labor Statistics (BLS).
Up until now, these impacts have mostly been seen at the business level. While manufacturing optimism has diminished, consumer confidence rose throughout the fall months, which helped push up spending. Consumers accounted for 37 percent of the real GDP growth in the third quarter, and recent holiday sales figures have reflected decent growth. November's vehicle sales numbers also showed strong gains (although they were boosted by auto replacements stemming from Hurricane Sandy). However, the University of Michigan's Consumer Sentiment Survey showed a large decline in confidence, with its index down from 82.7 in November to 74.5 in December. It appears that consumers are finally starting to ponder the prospects of the fiscal cliff and its implications for the larger economy. As the media has increased its coverage of the fiscal cliff over the past month, the drop should not be surprising.
This week, we will get more clues about the current state of the manufacturing sector and the larger economy. The Federal Open Market Committee will likely stick with its current stimulative monetary policies at its December meeting. On the data front, the Fed will release industrial production numbers on Friday, which are expected to show modest growth at best, especially given current weaknesses. Tomorrow, the Commerce Department will announce export figures, and we will see if recent improvements overseas have yielded gains in worldwide sales. (For more on international trends, see the latest Global Manufacturing Economic Update.) Other highlights for the week include indicators on consumer and producer prices, job openings, retail sales and small business sentiment.
Chad Moutray
Chief Economist
National Association of Manufacturers


Last Week's Indicators:
(Summaries Appear Below)

Monday, December 3
Construction Spending
ISM Purchasing Managers' Index

Tuesday, December 4
Vehicle Sales
               
Wednesday, December 5
ADP National Employment Report
Factory Orders
Productivity and Costs (Revision)

Thursday, December 6
NAM/IndustryWeek Survey of Manufacturers

Friday, December 7
BLS Employment Situation
University of Michigan Consumer Sentiment Survey


This Week's Indicators:


Monday, December 10
None

Tuesday, December 11
International Trade
Job Openings and Labor Turnover
NFIB Small Business Survey
Wholesale Trade
               
Wednesday, December 12
Federal Reserve Monetary Policy Statement

Thursday, December 13
Business Inventories
Producer Price Index
Retail Sales

Friday, December 14
Consumer Price Index
Industrial Production

ADP National Employment Report
Automated Data Processing (ADP) reported that non-farm payrolls rose 118,000 in November, lower than the 157,000 observed in October. The majority of this growth stemmed from additional service sector workers, which increased by a net 114,000. Goods-producing firms hired just 4,000 net new employees in the month.
In the manufacturing sector, employment dropped by 16,000 workers. This was the fifth straight month of losses, totaling 60,000. This figure is larger than the official statistics from the BLS, which has reported declines of 26,000 workers since July.
ADP reported that the losses in the manufacturing workforce offset a healthy 23,000-worker increase in construction employment. The trade, transportation and utilities (up 22,000), professional business services (up 16,000) and financial activities (up 13,000) sectors also saw more hires during the month.
Breaking out the analysis by company size, larger businesses - ;particularly those with more than 1,000 employees - added the most net new jobs, hiring an additional 62,000 workers. Small and medium-sized businesses hired 19,000 and 33,000 net new workers, respectively, in the month. This is a bit of a turnaround from prior months, when medium-sized manufacturers (e.g., those with between 50 and 499 workers) led the net job gains.
BLS Employment Situation
Non-farm payroll gains were slightly higher than anticipated in November, according to the BLS. The consensus estimate had been for roughly 100,000 or so non-farm payroll workers added in the month, and the BLS reported that there were 146,000 additional workers added in November.
Part of the higher figure stems from the fact that Hurricane Sandy had less of an impact than some economists expected. The other surprising element was the reduction in the unemployment rate from 7.9 percent to 7.7 percent. However, a reduced participation rate contributed to the drop, from 63.8 percent to 63.6 percent.
Although the unemployment rate dropped, manufacturers shed 7,000 workers in November, building on the weak economic environment that we have seen since July. The industry has lost 26,000 workers on net during the past four months. Prior to that point, the manufacturing sector had added 172,000 employees in the months of January through July, or 16.3 percent of all non-farm payroll jobs created during the first seven months of the year. This outsized role in net job creation has come to a standstill since the summer.
Looking more specifically at November's manufacturing employment numbers, durable goods performed better than nondurables. Durable goods firms added 11,000 workers on net, and nondurable goods companies lost 18,000 employees. The strongest growth came from the motor vehicles and parts (up 9,700), fabricated metal products (up 4,500) and wood products (up 3,300) sectors. At the same time, losses in the chemical (down 9,100), computer and electronic products (down 3,700), paper and paper products (down 1,400) and miscellaneous (down 1,300) manufacturers offset these gains.
Despite the downtick in overall manufacturing employment, the average number of hours in the workweek edged slightly higher, up from 40.5 to 40.6. This increase was consistent for both durable and nondurable goods industries. The average amount of overtime was the same at 3.2 hours. The average weekly earnings for manufacturing workers rose from $971.60 to $976.02.
Construction Spending
The Census Bureau reported that construction spending rose 1.4 percent in October, the seventh consecutive month of gains. The main driver of this activity has been housing. Private, residential construction increased 3.0 percent in October, up 20.8 percent year-over-year. Meanwhile, private, nonresidential construction was up 0.3 percent, and public construction rose 0.8 percent. This suggests that outside of residential projects, overall construction is growing more modestly of late.
The latter comment is particularly true for manufacturing, with construction spending down 2.5 percent in October. The sector spent $47.0 billion in October, down from $48.3 billion in September. Year-over-year growth in manufacturing construction was 3.6 percent, well below the 10.7 percent experienced by the private, nonresidential sector as a whole.
Outside of manufacturing, the strongest monthly private, nonresidential construction spending gains were in the transportation (up 3.9 percent), lodging (up 3.5 percent), educational (up 3.2 percent), religious (up 2.5 percent) and power (up 1.6 percent) sectors. The communications industry saw the largest decline (down 6.5 percent).
Factory Orders
The Census Bureau reported that new factory orders rose 0.8 percent in October. Both durable and nondurable goods sales were higher, up 0.5 percent and 1.1 percent, respectively. The transportation sector struggled, with new orders off 2.3 percent largely from the aerospace industry. Motor vehicle sales were up 3.0 percent.
Excluding the transportation sector, total new orders increased 1.3 percent, suggesting a more broad-based improvement in the data than the top-line figure suggests. In fact, major sectors with increases in October included electrical equipment and appliances (up 4.8 percent), machinery (up 4.6 percent), primary metals (up 1.6 percent) and fabricated metal products (up 0.8 percent).
October shipments rose 0.4 percent, easing slightly from September's 0.7 percent growth. Durable goods shipments fell 0.4 percent, with nondurable goods increasing 1.1 percent. Major nondurable goods sectors fared better than their durable goods peers. The fastest nondurable goods shipments growth occurred in the leather and allied products (up 4.8 percent), apparel (up 3.7 percent), beverage and tobacco (up 2.8 percent), petroleum and coal (up 1.9 percent) and printing (up 1.5 percent).
ISM Purchasing Managers' Index
The ISM's PMI moved lower in November, falling once again into contraction territory. The PMI fell from 51.7 in October to 49.5 in November. Slowing sales and the fiscal cliff are fueling uncertainty. Additionally, Hurricane Sandy likely affected the Mid-Atlantic region.
Many subcomponents of this measure reflected a worsening of conditions during the past month. For instance, the index for new orders declined from modest growth (54.2) to essentially neutral (50.3). Reduced export sales fell from 48.0 to 47.0, but easing domestic sales were probably also to blame. Surprisingly, the pace of production edged slightly higher in November, up from 52.4 to 53.7. However, this could be short-lived given the slowing of new sales.
Employment growth has been weak. The employment index dropped from 52.1 to 48.4, suggesting that more manufacturers are reducing their staffs than hiring during the month. This is the first time the index has contracted in more than three years. To demonstrate the extent to which net hiring has diminished, the employment index stood at 56.9 back in May.
The sample comments in this month's report help frame the increased uncertainty. Concerns range from worries about the global environment to the U.S. fiscal situation. As one fabricated metal products company wrote, "The fiscal cliff is the big worry right now. We will not look toward any type of expansion until this is addressed." Regarding international sales, a chemical manufacturer added, "Global economic uncertainty still seems to be sticking around, which is not necessarily making things worse, but it is also not making things better from a demand standpoint."
NAM/IndustryWeek Survey of Manufacturers
The latest NAM/IndustryWeek Survey of Manufacturers shows just how dramatically business leaders have downgraded their economic views over the course of this year. In March, almost 89 percent of manufacturers said that they were either somewhat or very positive about their own company's outlook; that has fallen each quarter this year, and it is now just 51.8 percent. Moreover, the percentage of manufacturers saying that they were "somewhat negative" has more than tripled during the past six months, from 15.8 percent in June's survey to 38.9 percent during the fourth quarter.
There are a number of factors behind these numbers. No one should discount the effect of slowing global sales, or more recently, the reductions in activity caused by Hurricane Sandy. However, it is clear that manufacturers in this survey are responding to post-election concerns and worries about the fiscal cliff. In fact, 84.2 percent of respondents said that uncertainties related to the political climate and the fiscal cliff were their top challenge. They were also highly skeptical that Washington will be able to address the nation's long-term fiscal challenges, with only 7.5 percent of manufacturers anticipating a "grand bargain" during the "lame-duck" session of Congress. Forty-eight percent feel that Congress will avert the fiscal cliff by delaying the tax increases and spending cuts by a few months or a year, with roughly 28 percent feeling that we will go over the cliff.
This has negatively impacted how manufacturing leaders perceive economic growth and their company's sales and activity next year. Almost 63 percent of them admit to reducing their business outlook for 2013. More worrisome, 42.6 percent say that they have reduced or slowed down business investment, and 36.2 percent have either reduced their employment or stopped hiring. These impacts were even larger for smaller firms with fewer than 50 employees. Given this, it should be no surprise that manufacturers have lowered their estimates for sales, investment and employment for the next 12 months, with capital spending plans and hiring turning negative on average for the first time since the fourth quarter of 2009.
When asked about the most pressing priorities for the second Obama term and the 113th Congress, 88.7 percent of respondents cited that the top priority should be a long-term deal that tackles the deficit and debt. Slowing the growth of entitlements (82.1 percent) and averting the fiscal cliff (75.5 percent) were also high on the list, as were a number of ways to make businesses more competitive globally. The latter items include reducing the overall regulatory burden (76.4 percent), passing comprehensive tax reform (68.7 percent) and controlling rising health care costs (67.6 percent).
Productivity and Costs (Revision)
The BLS reported that non-farm productivity was up 2.9 percent in the third quarter. This is up sharply from the 1.9 percent estimate originally provided and was largely a factor of higher output than originally stated. Real GDP was also revised higher last week and is now estimated to have gone up by 2.7 percent. The larger labor productivity numbers helped to push unit labor costs for the non-farm sector down 1.9 percent in the third quarter for the second quarter in a row, improving businesses' costs and competitiveness.
For manufacturers, the opposite is true. The previous estimate showed that manufacturing labor productivity fell by 0.4 percent during the third quarter; this revision reduces productivity to 0.7 percent. Output also dropped 0.7 percent, and the number of hours was unchanged. The net result was that unit labor costs for the sector declined by 3.2 percent. Therefore, manufacturers have seen substantial unit labor cost increases across 2012, reversing the trend in 2010 and 2011 when productivity was making the sector more competitive globally. Decelerating, or more recently falling, output explained much of this shift.
During the third quarter, nondurables fared better than durables. Output for nondurables rose 0.7 percent, which contrasts with a 1.9 percent drop for durables. This largely accounts for the difference in labor productivity between the two, with durable goods output per hour for all persons down 1.6 percent and nondurable productivity up 0.7 percent. However, unit labor costs for each were both higher, up 3.7 percent and 3.0 percent, respectively.
University of Michigan Consumer Sentiment Survey
The University of Michigan and Thomson Reuters reported that consumer confidence fell from 82.7 in November to 74.5 in December. After rising from July (72.3) through November, December's reading marks a reversal on higher sentiment. The fiscal cliff drove down consumer confidence, as consumers are more worried as we get closer to the end of the year.
While Americans' perceptions about the current and future economic environment fell, the expectations component declined more. The forward-looking sub-index plunged from 77.6 to 64.6, its lowest level since December 2011. The measure of current conditions decreased more moderately, from 90.7 to 89.9.
This shift in sentiment is important, as consumer spending has been one of the main drivers of the economy this year. In fact, consumer spending added about 1 percentage point to the real GDP growth rate of 2.7 percent during the third quarter, with the bulk of that (0.82 percentage points) from the purchase of durable and nondurable goods. Anxious consumers might pull back their spending, with major implications for the larger macroeconomy. We have already seen businesses decrease their investments and slow hiring, as noted in the NAM/IndustryWeek survey and elsewhere. In fact, capital spending lowered GDP in the third quarter - a trend that should continue.
Inflationary expectations in the University of Michigan survey remain modest, but did pick up slightly in December. Consumers expected prices to rise 3.3 percent over the next 12 months, up from 3.1 percent from November.
Vehicle Sales
Autodata reported sharply stronger motor vehicle sales in November, with replacements due to Hurricane Sandy playing an important role. On a seasonally adjusted annualized basis, total vehicle sales rose from 14.3 million in October (well below September's 14.9 million figure) to 15.5 million in November. The increase included both automobiles (up from 7.4 million to 8.0 million) and light trucks (up from 6.9 million to 7.5 million).
The higher sales numbers came from both domestic and imported autos. Domestic sales rose from 11.2 million to 12.0 million, with 5.6 million in cars and 6.5 million in trucks. Imports totaled 3.5 million, with 2.5 million in cars and 1.0 million in trucks.
The industry has grown 14.7 percent year-over-year. In November 2011, there were 13.6 million light vehicles sold, with 10.3 million produced domestically and 3.3 million imported.
---
Questions or comments? Please contact Chad Moutray at cmoutray@nam.org

Copyright © 2012 National Association of Manufacturers