A Publication of the National Association of Manufacturers

December 26, 2012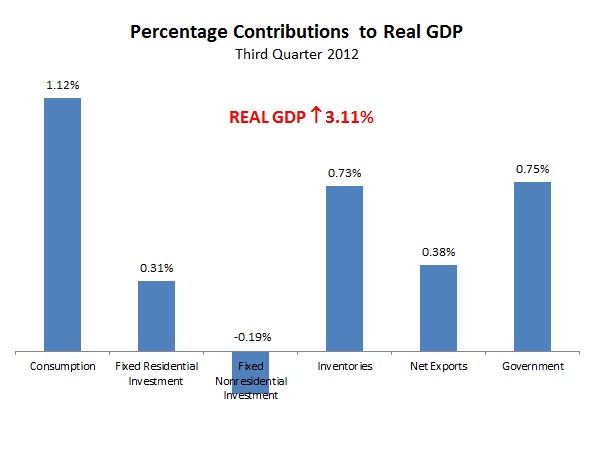 We end the year with mixed news on the economy and ever-present uncertainty about the U.S. fiscal situation. The Bureau of Economic Analysis upwardly revised its figure for third-quarter real GDP to 3.1 percent - a healthy increase from its original estimate of 2 percent. However, slowing global sales and anxieties about the fiscal cliff have caused consumers and businesses to pull back. Both the Manufacturing Alliance for Productivity and Innovation (MAPI) and the National Association for Business Economics (NABE) suggest that industrial production will grow more slowly in 2013. Overall employment is also not anticipated to change much from this year.
Several other data points suggest continued sluggishness, even as some point to modest improvements during the past month. The Conference Board's Leading Economic Index declined in November and has been flat over the course of the past six months. The Chicago Federal Reserve Bank's National Activity Index finds that the U.S. economy continues to operate below its historical average. Meanwhile, manufacturing surveys from the Kansas City and New York Federal Reserve Banks observe contracting activity levels, with uncertainties about the fiscal cliff negatively impacting hiring and sales. However, the Philadelphia Fed Manufacturing Survey noted improvements among manufacturers in its region, with the recovery from Hurricane Sandy explaining part of the progress.  
The latest personal income and spending numbers also show the bounce back from the storm. Both had fallen in October but recovered somewhat in November. New durable goods orders also improved, with healthy gains across-the-board except for the aerospace sector. To be fair, durable goods activity remains below its peak in July, but the recent data are still a sign of progress. The key will be whether this can be sustained given the uncertainties noted elsewhere. Manufacturers appear to be cautiously optimistic about future activity despite their concerns about the fiscal cliff.
Housing continues to be a bright spot in the economy, much as it has throughout 2012. Permits rose to 899,000 in November, the fastest pace in more than four years. This is an important proxy of future residential construction. Overall housing starts remain on a slow-but-steady upward trajectory, even as they dipped slightly in November to 861,000. The sector is experiencing greater confidence, and while hurdles still hold back even stronger growth, the prospects are for housing starts to grow to at least 950,000 by the end of 2013.
This will be a shortened week due to Christmas, but there are some key economic indicators that will be released. Regional manufacturing activity in Chicago and Richmond is expected to show continued weaknesses. The other highlight will be the latest consumer confidence figures from the Conference Board. We will see if consumer sentiment declines in the Conference Board's index, much as it did in the University of Michigan's survey.
Chad Moutray
Chief Economist
National Association of Manufacturers
Note: Due to the holidays, there will be no report issued during the week of December 31. The schedule will resume on Monday, January 7.


Last Week's Indicators:
(Summaries Appear Below)

Monday, December 17
Empire State Manufacturing Survey
MAPI Industrial Outlook
NABE Outlook Survey

Tuesday, December 18
NAHB Housing Market Index
               
Wednesday, December 19
Housing Starts and Permits

Thursday, December 20
Conference Board Leading Indicators
Gross Domestic Product (Second Revision)
Philadelphia Fed Manufacturing Survey

Friday, December 21
Chicago Fed National Activity Index
Durable Goods
Kansas City Fed Manufacturing Survey
Personal Income and Spending


This Week's Indicators:


Monday, December 24
CHRISTMAS EVE

Tuesday, December 25
CHRISTMAS HOLIDAY
               
Wednesday, December 26
Richmond Fed Manufacturing Survey

Thursday, December 27
Conference Board Consumer Confidence
New Home Sales

Friday, December 28
ISM-Chicago
Pending Home Sales

Chicago Fed National Activity Index
The Chicago Federal Reserve's National Activity Index improved from -0.64 in October to +0.10 in November. Hurricane Sandy and a slowdown in economic activity negatively impacted October's low figure. The rebound was a positive sign, but the three-month moving average of the index remains in negative territory at -0.20 and has been negative since March. This indicates that the U.S. economy continues to operate below its historical trend.
Increased manufacturing activity after Hurricane Sandy positively impacted November's data, with higher industrial production and capacity utilization. Housing permits were also a bright spot, even as the still-depressed housing sector is a drag on the index. Employment and sales provided negative contributions.
Conference Board Leading Indicators
The Conference Board reported that its Leading Economic Index declined 0.2 percent in November. The Conference Board said that the six-month growth rate in the index was zero due to the choppiness in the economy over the course of the second half of 2012. Ken Goldstein, an economist with the Board, noted, "The indicators reflect an economy that remains weak in the face of strong domestic and international headwinds, as it faces a looming fiscal cliff. Growth will likely be slow through the early months of 2013."
Positive contributions to the index stemmed from increased building permits, improved credit conditions and a longer average workweek for production workers. However, these were outweighed by weaker data on employment claims, manufacturing new orders, stock values and consumer confidence. Slowing sales and the fiscal cliff continued to fuel uncertainty heading into next year, resulting in an increase in sluggishness among a number of economic variables.
At the same time, the Coincident Economic Index—which measures the current business climate - increased 0.2 percent in November. Improvements in the manufacturing sector helped to lift this index, with higher industrial production and manufacturing and trade sales accounting for the bulk of the increase. Higher non-farm payrolls and personal income also provided positive contributions.
Durable Goods
The Census Bureau reported that durable goods orders were up 0.7 percent in November, edging slightly higher for the third straight month. Even with these increases, however, the pace of new orders remains below its peak in July, when durable goods sales were $228.6 billion. In November, this level was $220.9 billion, representing a 3.3 percent decline. This puts a slightly different spin on the otherwise positive news, as it shows how activity has been more sluggish in the second half of 2012 for durable goods industries than earlier in the year.
Regarding November's figures, improvements were fairly broad-based outside of the transportation sector. New orders in transportation were down 1.1 percent, with steep declines in aerospace sales (defense down 12.3 percent and nondefense down 13.9 percent). Motor vehicle orders were up 3.5 percent.
Excluding transportation, new durable goods orders would have risen 1.6 percent. Behind these gains were higher new orders in the following sectors: machinery (up 3.3 percent), computers (up 3.1 percent), primary metals (up 2.4 percent), fabricated metal products (up 1.9 percent), electrical equipment and appliances (up 1.8 percent) and communications equipment (up 0.9 percent).
Meanwhile, shipments of durable goods rose 1.5 percent, building on much smaller gains from the two previous months. Even with these gains, shipments remain 0.9 percent below July's figures, mirroring the peak seen in new orders described above. Shipments were up across-the-board, with the only weaknesses found in the communications equipment sector.
Empire State Manufacturing Survey
The New York Federal Reserve Bank's Empire State Manufacturing Survey reported contracting activity levels for five straight months. The composite index declined from -5.2 in November to -8.1 in December. Almost 62 percent of respondents said that conditions in December were unchanged from the prior month, with 23.2 percent suggesting that it was worse.
Hurricane Sandy played a large factor in November's weak economic data, but the manufacturing sector has had a rough second half of 2012 due to uncertainties related to the fiscal cliff and slowing sales.
New orders declined in December, down from 3.1 to -3.7. The percentage of manufacturers reporting higher sales for the month fell from 29.1 percent to 19.1 percent, dropping the index into contraction territory. Shipment levels remain positive, but at a slower growth rate (down from 14.6 to 8.8). With reduced sentiment and weaker orders and shipments data, businesses have pulled back on hiring. The index for employment was -9.7, with the average employee workweek at -10.8.
Despite these findings, manufacturers in the New York district were more upbeat about the next six months. The forward-looking General Business Conditions Index rose from 12.9 to 18.7. Nearly 52 percent of firms anticipate increased sales in the coming months, with just 19.4 percent expecting reduced orders. This outlook suggests higher levels of shipments, hiring and capital spending, with each up modestly.
In a series of special questions, respondents were asked about their forecasts for prices and costs in 2013. In terms of employee compensation, they expect wages to grow 3.1 percent next year, with benefits - namely health insurance costs—up 7.2 percent. This will build on the reported 2.7 percent and 6.4 percent on average increases observed in 2012, respectively. Overall, manufacturers anticipate their costs to rise 4.0 percent next year. In terms of selling prices, the average price increase was 1.0 percent, down from the 1.8 percent gain expected in a similar question posed last year.
Gross Domestic Product (Second Revision)
The Bureau of Economic Analysis revised its figure for third-quarter real GDP to 3.1 percent, up from last month's estimate of 2.7 percent and the original estimate of 2.0 percent. This reflects higher consumer spending on services, increased net exports and a now-positive contribution from state and local spending.
Overall, the consumer, housing, end-of-fiscal-year federal government spending, inventory replenishment and net exports were the main contributors to the faster pace of growth during the third quarter. The primary drag was nonresidential fixed investment, with manufacturers and other businesses anxious about slowing sales and the fiscal cliff. This uncertainty led to business investment subtracting 0.23 percentage points from real GDP, with reduced spending on equipment and software the primary factor.
This sluggishness has continued during the fourth quarter, with growth expected to slow to around 2 percent or less.
Housing Starts and Permits
The Census Bureau and the U.S. Department of Housing and Urban Development reported that new residential construction dropped from an annualized 888,000 units in October to 861,000 in November. This essentially puts it back to September's level, with 863,000 starts that month. Despite the 3 percent decline in November, the longer-term trend remains a positive one, with the pace of activity in September, October and November well above what was seen in the preceding months. To keep it in perspective, housing starts were 706,000 as recently as May.
Fewer single-family housing starts were behind November's lower reading. New single-family residential construction declined from 589,000 to 565,000 for the month, a 4.1 percent decrease. This slower pace was mostly seen in the Midwest and West, with increased starts in the Northeast and South. As with the larger trend, however, single-family starts continue to show growth when you look at the year as a whole. (Its low point of the year was in February, with 470,000 starts.)
New multifamily residential construction edged only marginally lower, down from 299,000 to 296,000. Multifamily starts were weaker in the Northeast and West for the month, but stronger in the Midwest and South. Illustrating the increased pace in this figure overall, multifamily housing starts were 193,000 back in May.
New residential permits increased from 868,000 in October to 899,000 in November. This is the fastest pace since August 2008, but also just below the level from two months ago, with 890,000 permits seen in September. Permits are a proxy for upcoming activity. November's increase was mainly due to more multifamily unit permits, up from 302,000 to 334,000 for the month. Single-family permitting remained virtually unchanged.
Kansas City Fed Manufacturing Survey
The Kansas City Federal Reserve Bank reported that manufacturing activity continues to contract, with its monthly composite index in negative territory for the third straight month. The composite index in December was -2, a slight improvement from the -4 and -6 readings of the previous two months. Pushing this figure lower has been reduced sales in the district, with the index of new orders declining in seven of the past nine months. Much of that decline stemmed from fewer exports, which have been down for seven consecutive months.
This pullback in activity was seen in a number of areas, including production, shipments and employment. The sample comments show that worries about the fiscal cliff are on the minds of business leaders in the Kansas City region. One individual wrote, "Lack of clarity is discouraging. We cannot anticipate the effects of taxes, insurance and other fiscal policies, so we need to conserve cash." Many of the respondents said that uncertainty was causing them to lower their outlook and reduce hiring plans. 
Looking ahead, however, manufacturers continue to be positive about increased production, sales and capital spending. The pace of new orders over the course of the next six months picked up slightly, showing a degree of optimism on the part of manufacturers despite the looming fiscal cliff. However, employment growth will be weak at best, with hiring turning negative, and the average workweek also lower. Pricing pressures are anticipated to accelerate.
MAPI Industrial Outlook
MAPI predicts industrial production growth of 2.0 percent in 2013, down from 2.3 percent in its most recent quarterly forecast. This is also down from the estimated 4.2 percent growth seen in 2012. MAPI expects for production to pick up in 2014, however, with an annual percentage change of 3.2 percent anticipated.
As we have seen in other forecasts, housing continues to be a bright spot, with MAPI estimating starts of 979,000 by the end of 2013, or a 28 percent increase from 2012. This is good news for manufacturers involved in the building materials and furnishings sectors, and it also helps lift the larger macroeconomy. Behind the scenes, historically low mortgage rates - a benefit of the Federal Reserve's quantitative easing initiatives—lifted these improvements.
Transportation is also expected to grow strongly in 2013, with strong demand for aerospace products and motor vehicles. Motor vehicle production is forecasted to increase 5 percent in 2013, slower than the 19 percent growth experienced in 2012. However, MAPI expects vehicle sales to total 15.1 million units in 2013 and grow to average 16.5 million units from 2015 to 2017. Demand for new airplanes will push aerospace production up 16 percent and 17 percent, respectively, in 2013 and 2014.
Outside of those sectors, the sector-by-sector analysis is mixed. Worries about slowing global sales and the fiscal cliff have hampered activity during the second half of 2012. Moreover, consumer spending is only growing modestly, up around 2 percent, which is limiting increased activity in some durable and nondurable goods industries. There is a broad-based deceleration in production in most of the 24 sectors that MAPI analyzes, with 14 of these areas predicted to grow.
NABE Outlook Survey
The NABE expects for real GDP to grow 1.8 percent in 2012, down from the 2.4 percent predicted in May and 1.9 percent in October. Housing, business investment and export growth were the brighter spots observed in the forecast, with residential investment predicted to grow 12.0 percent next year.
Exports, which are expected to increase 3.3 percent in 2012, should grow 4.1 percent in 2013. Meanwhile, consumer spending should rise 2.0 percent next year, continuing to grow more slowly.
Despite the modest growth expected for 2013, respondents to the survey anticipate slower growth for industrial production. The current forecast is for industrial production to rise 2.6 percent in 2013, down from the current estimate of 3.7 percent growth in 2012. This pullback is most likely a reaction of the weaknesses that we have seen in the manufacturing sector since July, with slow sales growth and uncertainties about the fiscal cliff negatively impacting production and employment.
In terms of employment, the business economists surveyed do not anticipate much change next year. Non-farm payrolls grew 156,000 on average each month in 2012, with that pace picking up just marginally to 165,000 per month in 2013. The average annual unemployment rate is forecasted to be 7.7 percent.
Pricing pressures, which have eased significantly over the course of this year, should continue to remain in-check. The Consumer Price Index should rise 2.1 percent in 2013 - the same pace as in 2012. Reduced energy costs help to explain part of the deceleration for both this year and next. The price of oil, which was estimated to be $99.60 per barrel in the October survey, is now expected to average $93.20 per barrel in 2013.
NAHB Housing Market Index
The National Association of Home Builders (NAHB) and Wells Fargo reported that the Housing Market Index edged higher, up from a revised 45 in November to 47 in December. A reading of 50 would indicate that there were an equal number of builders who were positive and negative in their outlook, so this indicates—much as it did last month - that housing contractors have almost become net positive in their attitudes. This is a tremendous improvement from even a few months ago, as it was almost half this level (24) back in April.
Looking at specific regions, there was continued progress in December in the Northeast and Midwest, with a slight downtick in the South and West. All regions have seen steady progress, however, over the past few months. Nationally, single-family sales volume increased from 49 to 51 in the month (up from 41 in October). The traffic of potential buyers was also higher.
NAHB Chief Economist David Crowe said, "While there is still much room for improvement, the consistent upward trend in builder confidence over the past year is indicative of the gradual recovery that has been taking place in housing markets nationwide and that we expect to continue in 2013." At the same time, tougher lending standards and still-weak financial conditions continue to hold back faster growth.
               
Personal Income and Spending
Personal income rose 0.6 percent in November, its fastest pace since February, according to the Bureau of Economic Analysis. Wages declined in October, with slowdowns due to Hurricane Sandy putting a dent in that month's earnings data. Wages were higher in November, including those from manufacturers. Manufacturing wages and salaries rose from $746.4 billion in October to $750.0 billion in November. This puts manufacturing earnings just below what they were in July ($753.9 billion), its recent peak.
At the same time, personal spending recovered from October's lower levels. Consumer spending rose 0.4 percent. This was good news for durable goods manufacturers, which accounted for the bulk of the increase with purchases of these items up 2.7 percent for the month. However, nondurable goods spending was down 1.0 percent, declining for the second month in a row.
Lower energy costs are boosting Americans' pocketbooks. Energy goods cost 4.4 percent less in November than in October. The implied price index from this data remained unchanged at the core level, which excluded food and energy prices.
With income outstripping spending growth, the savings rate rose from 3.4 percent to 3.6 percent. The longer-term trend has been for the savings rate to move lower, as it was 4.1 percent in June and as high as 5.5 percent as recently as January 2011.
The data reflect improvements in personal income and consumer spending from a weakened October, when Hurricane Sandy heavily influenced the data. The rebound is a good sign that income and spending have returned to moderate growth. Personal income has risen 4.1 percent year-over-year, with spending up 3.5 percent over the same time period.
Philadelphia Fed Manufacturing Survey
The Federal Reserve Bank of Philadelphia's Business Outlook Survey observed improvement in December. The composite index of general business activity increased from -10.7 in November to 8.1 in December, only the second time in eight months that this index has been positive. Hurricane Sandy and slowdowns in production negatively affected November's reading. This suggests that manufacturers in the district have rebounded from those impacts.
Stronger sales growth was behind these figures, as well. The index of new orders rose from -4.6 to 10.7, with almost 32 percent suggesting that orders were higher in December than the month before. Given that November's report mostly showed contractions across-the-board, there was progress in most of the measures this time, with only inventory growth and delivery times still negative. Shipments, employment and the average workweek all showed signs of growth. Looking ahead six months, capital spending plans were also higher, as were expectations for manufacturing activity.
Almost half of the respondents anticipate raw material prices to increase, with roughly 41 percent suggesting no change in the prices they pay for inputs. In a series of special questions, manufacturers said that they expect energy costs to rise 0.8 percent on average, with other raw material prices up 2.6 percent. They also anticipate wages and health benefits to rise 2.1 percent and 7.2 percent, respectively.
In general, the December survey indicates that manufacturing activity has picked up in the Philadelphia region, with modest growth expected in the coming year. Overall, however, the district's production has been choppy at best over the course of the second half of 2012, with at least part of December's progress stemming from the rebound in activity after Hurricane Sandy. Growth in the months ahead will hinge on moving on from the current economic uncertainties present in the larger macroeconomic picture, even as respondents to this survey were more upbeat about their prospects for the next six months.
---
Questions or comments? Please contact Chad Moutray at cmoutray@nam.org

Copyright © 2012 National Association of Manufacturers