A Publication of the National Association of Manufacturers

December 2, 2013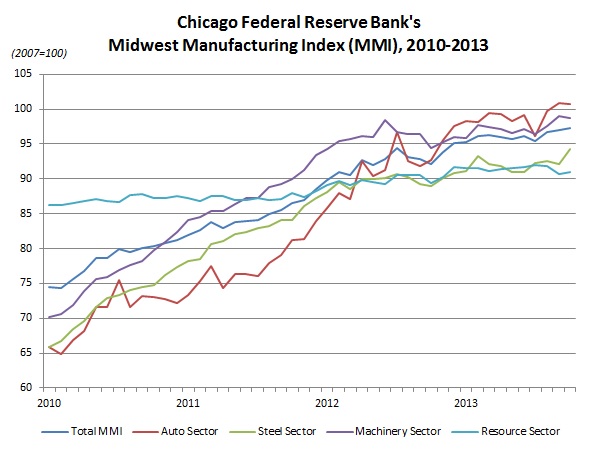 The data released last week were mostly positive regarding improvements in the economy. For instance, manufacturing activity has largely picked up since the summer, an acceleration that is welcome after softness over the past year or so. Reports from the Chicago, Dallas and Richmond Federal Reserve Banks support this, with stronger paces for new orders and production in each region. This is especially true when you look at the mostly positive assessments of future sales and output, with large percentages of survey respondents anticipating rising activity levels. The good news extends to better—although still modest at best—hiring plans. The pickup in the manufacturing sector has also been one of the positive factors helping the Conference Board's Leading Economic Index (LEI) expand for four straight months, an encouraging sign for the economy for the coming months.
Yet, even among these promising reports, there were signs of continuing softness for the sector. In the Dallas Federal Reserve survey, respondents were more upbeat about their own company's outlook than they were about the larger macroeconomy. In fact, the index for perceptions about the economy as a whole declined from 3.6 to 1.9, with 65.0 percent of respondents not expecting macroeconomic conditions to improve over the next six months. In addition, the data on new durable goods orders found broad-based softness in the sector in contrast to the various sentiment surveys. Declines in October sales went beyond the decrease in aircraft orders. Moreover, while new durable goods orders have risen 5.3 percent since October 2012, year-to-date growth in durable goods orders—excluding the highly volatile transportation sector—has increased just 0.9 percent.
Similarly, the latest housing market data were also somewhat mixed. New housing permits in October soared to more than 1 million annualized units for the first time since April. To the extent that permits serve as a proxy for future residential construction activity, this was an encouraging development. Yet, the ascent in the permitting data came entirely from multifamily units, with single-family home permits essentially stalled. Higher mortgage rates have been a factor in dampening current demand for new construction; however, the average 30-year mortgage rate of 4.29 percent last week was better than early September's 4.57 percent. Meanwhile, new housing starts data were delayed until the December 18 release due to the government shutdown, somewhat hampering our ability to analyze the housing market beyond permits.
By now, the holiday shopping season is in high gear. We will need to wait for final numbers on whether retail spending increased over last year, although the National Retail Federation reported mixed results despite deep discounting over the Thanksgiving holiday weekend. We also need to closely look at consumer confidence, particularly in determining how willing Americans will be to open their wallets. The two measures of consumer sentiment released last week moved in opposite directions, providing a bit of confusion regarding current attitudes. The Conference Board's consumer confidence data fell again in November, with respondents suggesting reduced buying intentions. October's budget impasse was not helpful, but overall sentiment has been lower since June. In contrast, the University of Michigan and Thomson Reuters surprised many with a better-than-expected final reading of its consumer sentiment index, improving from the preliminary report released just two weeks prior. Despite the recent gain, however, this report remains below the six-year high achieved in the summer.
This week will be a very busy one on the economic front. Later this morning, we will learn more about the strength of the pickup in manufacturing activity in the Institute for Supply Management's Purchasing Managers' Index, and on Wednesday, new international trade figures will show whether improving economies in many of our major trading partners will increase our exports. In addition, the bigger headlines will come on Thursday and Friday with a revision to third-quarter real GDP and the jobs report for November. Other highlights will be the Federal Reserve's Beige Book and new releases on construction spending, factory orders, personal income and vehicle sales.
Chad Moutray
Chief Economist
National Association of Manufacturers


Last Week's Indicators:
(Summaries Appear Below)

Monday, November 25
Dallas Fed Manufacturing Survey

Tuesday, November 26
Conference Board Consumer Confidence
Housing Starts and Permits
Richmond Fed Manufacturing Survey

Wednesday, November 27
Chicago Fed Midwest Manufacturing Index
Conference Board Leading Indicators
Durable Goods
University of Michigan Consumer Sentiment

Thursday, November 28
THANKSGIVING

Friday, November 29
None





This Week's Indicators:


Monday, December 2
Construction Spending
ISM Purchasing Managers' Index

Tuesday, December 3
Vehicle Sales

Wednesday, December 4
ADP National Employment Report
Federal Reserve's Beige Book
International Trade

Thursday, December 5
Factory Orders
Gross Domestic Product (Revision)

Friday, December 6
BLS National Employment Report
Personal Income and Spending
University of Michigan Consumer Sentiment

Chicago Fed Midwest Manufacturing Index
The Chicago Federal Reserve Bank reported that manufacturing activity in its district continued to improve, expanding for the third straight month. The Midwest Manufacturing Index (MMI) increased from 96.7 in August to 97.0 in September to 97.4 in October. The September and October data were new in this report, which was delayed a month due to the government shutdown. After a brief pullback in July, the MMI has risen 2.1 percent over the past three months.
Taking a longer view, manufacturing output in the Midwest has risen 5.7 percent year-over-year. This suggests that production growth in the region has increased much stronger than what we see nationally, with manufacturing production up 3.3 percent over the past 12 months.
The healthier output growth stems largely from strength in the auto sector, which has expanded by a whopping 8.7 percent at the annual rate. After slowing down in July due to retooling for the new model year, production has mostly expanded since then. There was a slight decline in October (down 0.2 percent), but output has increased 1.6 percent over the past four months. (I went back to June for this comparison to take the large swings in July and August out of the calculation.)
Meanwhile, other components of the manufacturing sector have grown strongly, with steel output up 5.9 percent and machinery production up 4.5 percent over the past 12 months. The resource sector was up 1.7 percent year-over-year. Components of the resource sector, according to the Chicago Federal Reserve, include food, wood products, paper, chemicals and nonmetallic mineral products. Over the past three months, the steel and machinery sectors' production rose 2.2 percent and 2.3 percent, respectively. However, resource sector output declined 1.2 percent.
Conference Board Consumer Confidence
The Conference Board reported that consumer confidence was off again in November, down from 72.4 in October to 70.4 in November. Sentiment had increased earlier in the year, rising from 58.4 in January to 82.1 in June. June's reading had been the highest level since January 2008. Since then, however, Americans have become less confident in the economy, with the government shutdown exacerbating sentiment.
The largest decrease in sentiment came from weakened perceptions about the future economy. The expectations component has dropped from 91.1 in June to 69.3 in November, explaining much of the decline in the overall index.
At the same time, the index for current economic conditions has mostly languished over the past six months, ranging from 68.7 in June to 73.5 in September. November's reading for current conditions was 72.0, indicating a slight decline in views about the present economy since September.
As usual, the data tend to move on expected income and labor market issues. In this case, the percentage of respondents saying that business conditions were bad rose from 23.0 percent to 25.2 percent, somewhat offsetting the improvement in those saying conditions were good (up from 19.5 percent to 19.9 percent). Likewise, more than one-third of respondents continue to suggest that jobs are hard to get, and the percentage expecting higher incomes in the coming months dropped from 15.7 percent to 14.9 percent.
The reduction in consumer confidence weighed heavily on buying intentions. The percentage of respondents planning to purchase a home (down from 5.5 percent to 5.0 percent), automobile (down from 11.9 percent to 11.5 percent) or appliance (down from 50.5 percent to 45.4 percent) were all lower. As such, these survey responses are in contrast to the more positive retail sales numbers released last week for October.
Conference Board Leading Indicators
The Conference Board reported that the LEI rose 0.2 percent in October, the fourth straight month of gains. The main drivers of October's growth were increased building permits, a rising stock market, favorable credit conditions and the interest rate spread. Manufacturing activity provided a modest contribution to the monthly increase, with continuing strength in new orders. There were also factors that weakened the LEI in October, including reduced consumer confidence and increases in average weekly unemployment claims.
Putting the data in perspective, Conference Board Economist Ken Goldstein said, "Overall, the data reflect strengthening conditions in the underlying economy. However, headwinds still persist from the labor market, accompanied by business caution and concern about federal budget battles. The biggest challenge to date has been relatively weak consumer demand, which continues to be restrained by weak wage growth and slumping confidence."
Meanwhile, the Coincident Economic Index (CEI), which assesses current economic conditions, also rose 0.2 percent in October. It was the third consecutive monthly increase, building on September's 0.3 percent gain. The CEI had positive contributions from growth in nonfarm payrolls, personal income and manufacturing and trade sales. However, industrial production, which was off 0.1 percent in October, subtracted a little from the CEI. Decreased output stemmed largely from weaknesses in the mining and utilities sectors, with manufacturing production up 0.3 percent.
Dallas Fed Manufacturing Survey
The Federal Reserve Bank of Dallas reported that manufacturers in its district were more upbeat about their own company's outlook. The indices for production (up from 13.3 in October to 16.9 in November) and shipments (up from 13.2 to 14.8) were both higher, with almost one-third of respondents citing increased output from the previous month. With that in mind, the composite index for general business activity was positive for the sixth consecutive month, suggesting that the Texas manufacturing sector has improved from contractions in April and May.
Yet, November's survey also hinted at some weaknesses. While respondents were more optimistic about their own company, perceptions about the larger macroeconomy edged lower for the month. The composite index decreased from 3.6 to 1.9, indicating only modest growth in sentiment. Indeed, 68.5 percent reported no change in their views of the current business climate.
Behind this figure, new orders (down from 6.2 to 5.4), employment (down from 9.6 to 5.0) and capital expenditures (down from 11.8 to 10.6) grew more slowly. Just 15.2 percent of respondents said they added workers this month, with three-quarters responding there were no changes.
Looking ahead, manufacturers in the Dallas region continued to be mostly positive about future activity levels. There were higher index values across-the-board in many of the key future-oriented areas for the next six months. This included new orders (up from 24.6 to 36.2), production (up from 26.1 to 34.8), shipments (up from 33.8 to 34.2), employment (up from 13.9 to 30.5) and capital spending (up from 17.9 to 21.0). As such, the good news here extends even to hiring, with 39.0 percent saying they expect to add new employees in the next six months. Just more than half do not plan to make changes in their hiring.
Once again, however, the survey indicates a slight degree of caution in these figures. The forward-looking composite measure of macroeconomic conditions was off marginally from 8.1 to 7.0, with 65.0 percent indicating they did not expect improvement over the next six months. Judging from the sample comments provided, this anxiety appears to stem from government uncertainty. For instance, a wood products manufacturer wrote, "Our company and the rest of `Small Business America' seem to be gaining traction despite a perceived lack of economic support from Washington." Other comments mentioned challenges with the Affordable Care Act, new Occupational Safety and Health Administration regulations and the pending farm bill.
Durable Goods
The Census Bureau reported that new durable goods orders declined 2.0 percent in October. The data have been highly volatile over the past year or so, with wide swings due largely to increases or decreases in aircraft sales. Following a significant increase in September, defense and nondefense aircraft orders fell sharply in October. Excluding transportation orders from the analysis, new orders would have fallen by just 0.1 percent.
On a year-over-year basis, durable goods orders have been on a slow-but-steady rise higher, with sales up 5.3 percent between October 2012 and October 2013. Excluding transportation, new durable goods orders rose 4.3 percent. Still, in the broader durable goods sector, growth has been relatively flat for much of the year. New durable goods orders excluding transportation have edged only marginally higher since January, up just 0.9 percent. This suggests broader weaknesses in the manufacturing sector despite recent improvements in activity in other indicators.
Looking at the various sectors, new orders data were mostly mixed. There were increased sales in October in electrical equipment and appliances (up 2.8 percent), motor vehicle and parts (up 1.7 percent), primary metals (up 0.5 percent) and computers and electronic products (up 0.3 percent). Yet, reduced new orders in fabricated metal products (down 1.5 percent), machinery (down 0.3 percent) and all other durable goods (down 0.1 percent) counterbalanced these gains.
Core capital goods—or nondefense capital goods excluding aircraft—were down 1.2 percent, further highlighting softness in total durable goods sales in October. Yet, on a year-over-year basis, new core capital goods orders have risen 3.6 percent, suggesting modest gains overall.
Meanwhile, shipments of durable goods increased 0.2 percent in October, the third straight monthly gain. Since July, shipments have risen 1.7 percent, with year-over-year growth of 4.8 percent. The largest increases in October shipments were in nondefense aircraft and parts (up 2.4 percent), motor vehicles and parts (up 1.7 percent), machinery (up 0.8 percent) and primary metals (up 0.5 percent). Declining shipments in computer and electronic products (down 2.6 percent) and defense aircraft and parts (down 1.2 percent) offset increases for the month.
Housing Starts and Permits
The Census Bureau and the U.S. Department of Housing and Urban Development reported that housing permits soared to more than 1 million units in October, a threshold not seen since April. This is the first release of housing data since the government shutdown, and the report adds to our knowledge of permits for September and October. Housing permits rose from a revised 926,000 annualized units in August to 974,000 in September to 1,034,000 in October.
Unfortunately, this report did not include new data for housing starts and completions. The press release stated, "The lapse in federal funding affected the data collection schedule for the Survey of Construction, the source of data on new housing units started and completed." In other words, we will need to wait until the next release date (December 18) to learn more about new residential construction activity.
Gains in housing permits data stemmed entirely from multifamily units, with permits for that component up from 299,000 in August to 359,000 in September to 414,000 in October. This was the fastest pace since June 2008. Multifamily construction permits have been quite volatile this year. After peaking at 391,000 in April (the last time total permits exceeded 1 million), they declined significantly, bottoming out at 293,000 in June. The latest data suggest that the pace of construction of apartments, townhouses and condos has rebounded to levels not seen since the spring, but future data will tell whether this is the beginning of an upward trend or just another blip in its recent up-one-month/down-one-month cycle.
Meanwhile, single-family residential construction permits have mostly stalled, averaging 611,700 year-to-date. Over the past three months, housing permits have shifted from 627,000 in August to 615,000 in September to 620,000 in October.
Of course, the past few months have also seen a lot of swings in mortgage rates, dampening some enthusiasm in the housing sector. According to Freddie Mac, the average 30-year mortgage rate rose from 3.35 percent the week of May 2 to 4.57 percent the week of September 12. It has settled down a little since then, averaging 4.29 percent last week.
In summary, October's strong housing permits data were encouraging, particularly to the extent that permitting serves as a proxy for future construction activity. The good news in the housing sector is that the longer-term trend remains positive, with homebuilders still mostly upbeat despite recent softness. Lower mortgage rates have also provided a bit of a boost of late, even though they remain above borrowing costs in the spring.
If housing is going to start growing strongly once again, we need more single-family residential construction activity, which I expect to happen moving forward due to recent improvements in the economy from softness earlier in the year and as potential buyers get used to the "new normal" in (still historically low) mortgage rates.
Richmond Fed Manufacturing Survey
The Richmond Federal Reserve Bank reported that manufacturing activity picked up strongly in November, rebounding from stalling out in September and October. The composite index increased significantly from 0 in September and 1 in October to 13 in November. That brought the measure closer to August's 14 reading. In general, the Richmond data have mirrored other regional surveys, with an improvement seen more recently after softness earlier in the year. However, fiscal uncertainties and the government shutdown were not helpful to manufacturers in the district.
In November, the data were higher across-the-board. For instance, the new orders index increased from 0 in October to 15 in November, with similar findings for shipments (up from -2 to 16) and the average workweek (up from -1 to 12). Hiring grew only modestly (up from 4 to 6), but that was still better than September's net decline. Still, capacity utilization was flat, albeit with progress from the month before (up from -5 to 0).
Moving forward, manufacturers in the region remained mostly upbeat, with some gains in sentiment during November. The index of expected new orders six months from now rose from 23 in October to 33 in November, suggesting cautious optimism for stronger future sales. Similar progress is anticipated for forthcoming shipments (up from 30 to 37) and capacity utilization (up from 18 to 20). Moreover, manufacturers expect to continue investing in their businesses in light of improvements in activity, with hiring and capital spending picking up from the current pace.
The prices paid for raw materials increased 1.97 percent at the annual rate in November, down from 2.44 percent in September and 2.27 percent in October. This indicates a continuing deceleration in pricing pressures. Forward-looking expectations for inflation were also lower, down from 2.26 percent in September to 2.08 percent in October to 1.75 percent in November.
University of Michigan Consumer Sentiment
Beating expectations, consumer confidence from the University of Michigan and Thomson Reuters improved in November from what was observed a few weeks ago. Preliminary data, which were released on November 8, had suggested a continued decline in the Consumer Sentiment Survey. The Conference Board observed a similar decrease in perceptions, with the government shutdown cited as a large factor in reducing overall confidence. Weakened views about future income and labor markets were also noted.
With that in mind, the final report from the University of Michigan was higher than consensus forecasts, with the index up from 73.2 in October to 75.1 in November. (The earlier estimate for November was 72.0.) This suggests that Americans have become slightly more positive recently about the economy, something that might be expected now that we are beyond the budgetary impasse. However, even with the better data, overall consumer confidence remains lower than it was in July (85.1), which was a six-year high.

An improvement in the expected outlook helped lift the overall index higher. The forward-looking component of the index rose from 62.5 to 66.8 (versus 62.3 in the earlier estimate). At the same time, the index for current economic conditions edged slightly lower, down from 89.9 to 88.0 (versus 87.2 in the previous release).
The preliminary data for December consumer confidence from the University of Michigan and Thomson Reuters will come out on Friday, December 6. Given the better-than-forecasted release for November, we should expect further improvements in sentiment in the report, even if it takes several months before returning to July's levels.
---
Questions or comments? Please contact Chad Moutray at cmoutray@nam.org

Copyright © 2013 National Association of Manufacturers

To unsubscribe from future Monday Economic Report emails, click here.